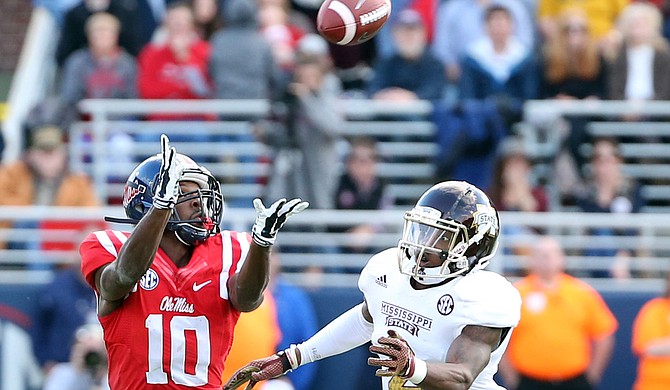 Tonight would be like your average summer night in Canada," Winnipeg Blue Bombers Assistant General Manager and Director of U.S. Scouting Danny McManus explained as the second annual Jackson Combine wrapped up Friday, Jan. 29.
This was the first-night workout for the Blue Bombers from the nine-team Canadian Football League and the Jackson Combine, and it definitely carried a high-school-football-like energy and atmosphere.
It was in the mid-50s when the workouts began with a set of 40 broad jumps. By the time McManus called everyone together, the temperature dropped another 10 degrees, dipping into the low 40s.
The cold didn't stop the 70 to 80 former high-school and college players in attendance, all of whom were hoping to keep their football careers going. A chance to workout for scouts and a possible spot in the Canadian Football League or having their film passed to arena-league teams was well worth the $100 fee.
Several players flashed abilities that stood out, including former Louisiana State University and Louisiana Tech University wide receiver Paul Turner. He spent most of his time at Louisiana Tech with injuries that didn't help his professional chances. But during the workout, he looked fast and healthy as he made catches all over the field.
Recovering from injuries was a theme of the combine. Former University of Mississippi Rebels wide receiver Vince Sanders, who was once a top football recruit in the state, was also at the combine, trying to show that he was back in action after tearing his ACL against Mississippi State University in 2014. Despite that injury during his senior season, Sanders had his best year with the Rebels with career-high numbers in receiving yards and touchdowns, and a tie for his most receptions. Just like Turner, Sanders looked healthy, making cuts and catches throughout the workout.
Another player at the combine, Ernest Smith, played college football at Baylor University and was with the San Diego Chargers in their training camp until early August 2010. These days, however, his chances of having a pro career are starting to look slim. He made some very good catches but struggled against contact and had a few drops.
One athlete who stood out all night was Jereme Jones out of the University of South Alabama. Jones was a standout with the Jaguars, but at 5 feet 8 inches tall, his height held him back even as he tried to start a college career. He might be a bit short, but his ability to make plays was one of the biggest takeaways of the night. There weren't many, if any, passes that he didn't gobble up. He left most of the defensive backs shaking their heads and wondering how he got open. Even when he wasn't open, he pulled down passes that turned McManus' head more than once.
McManus praised the work of the wide receivers and defensive backs after the workout, noting a difference in last year's athletes.
"There was a little more talent and speed this year than last year," McManus said. "That doesn't mean the players this year are better than last year. (It's) just a different group."
The players this year looked better prepared for the differences between the American and Canadian game, which impressed a few of the Blue Bombers' scouts. There were at least four or five players, McManus told me, that drew his and his scouts' attention.
Grant Worsley, the combine's director, said he was impressed with how the event has grown in just two years. It won't be long before the Jackson Combine becomes the place for scouts to be after Senior Bowl practices end.
SPORTS FACT OF THE WEEK
In Salt Lake City, Utah, in 2002, Australian speed skater Steven Bradbury won his nation's first-ever gold medal in the Winter Olympics by simply tagging along behind his opponents, waiting for them to fall.
More stories by this author
Support our reporting -- Follow the MFP.