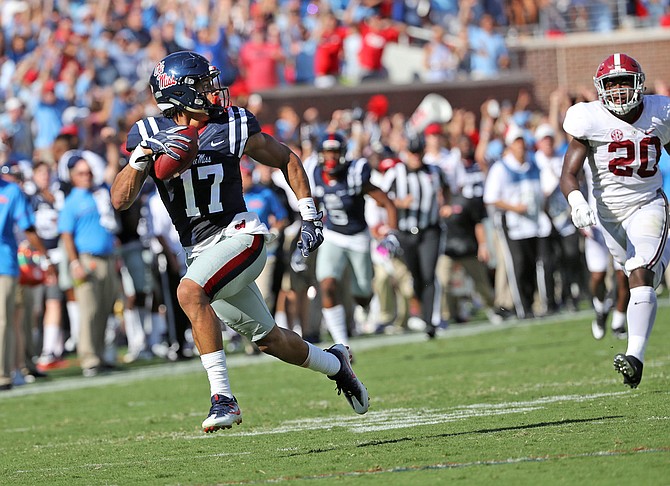 Tight end Evan Engram is one of the few holdovers from the University of Mississippi's stellar recruiting class of 2013. He chose to return to school while the Rebels' better-known stars, defensive tackle Robert Nkemdiche, wide receiver Laquon Treadwell and offensive tackle Laremy Tunsil, all left for the NFL.
The senior who stayed ended up walking away with the 2016 Conerly Trophy, which the best college football player from Mississippi four-year colleges and Universities receives each year. Engram beat out players from the other nine four-year institutions, including defensive end Javancy Jones of Jackson State University, wide receiver Fred Ross of Mississippi State University and running back Ito Smith of the University of Southern Mississippi.
As a senior at Hillgrove High School in Powder Springs, Ga., Engram made 40 catches for 975 yards with 10 touchdowns. He earned All-State honors from the Georgia Sportswriters Association and the Associated Press, and earned All-State honorable mention from the Atlanta Journal-Constitution.
Most sports outlets considered the tight end to be a three-star recruit coming out of Hillgrove, but he made an impact right away as a UM freshman, playing in eight games with six starts and making 21 catches for 268 yards and three touchdowns.
Along with Tunsil, Engram is one of two freshmen in the history of the school to earn All-SEC honors. The Associated Press and College Sports Madness named him second-team All-SEC, and College Football News named him freshman All-American honorable mention.
Engram burst onto the national scene with his play in his sophomore season. He started all 13 games for the Rebels and led SEC tight ends with 662 receiving yards. He was also second among tight ends in the conference with 38 catches for two touchdowns.
After his sophomore season, the 6-foot-3-inch and 235-pound tight end earned first-team All-SEC honors from the Associated Press, coaches, ESPN.com, Phil Steele, Athlon and College Sports Madness. He earned second-team All-American from Sports Illustrated, third-team All-American from Sports on Earth, and fourth-team All-American from Athlon Sports and Phil Steele. He finished the season as a semifinalist for the John Mackey Award, given annually to the nation's best tight end.
Engram's production dropped a bit during his junior season. He started in 12 games and saw action in all 13 games during the season, making 38 catches for 464 yards and two touchdowns. He earned second-team All-SEC honors from the coaches, Athlon and Phil Steele.
The highly touted tight end saved his best season for last, playing in 11 games but missing the Egg Bowl with a hamstring injury. As a senior, he caught 65 balls for 926 yards and eight touchdowns.
Engram set school records for most catches, yards and touchdowns by a tight end for a season and a career. He finishes his college career 2,320 yards, 162 catches and 15 touchdowns in 45 games played.
By winning this year, Engram becomes the sixth Rebel to receive the Conerly, but his is the seventh trophy to come to UM. He joins quarterback Stewart Patridge (1997), running back Deuce McAllister (1999), quarterback Eli Manning (2001 and 2003), linebacker Patrick Willis (2006) and quarterback Bo Wallace (2012).
Engram not only got things done on the field but has been a standout off the field, as well. He has volunteered his time to various good works on and off campus over the years, and the SEC selected him for its Community Service team for the 2015 and 2016 seasons.
More stories by this author