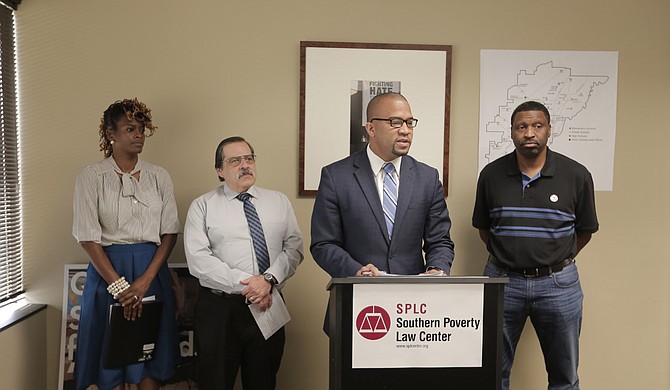 JACKSON — In a small room in the Jackson office of the Southern Poverty Law Center, challengers to the state's funding portion of the charter-school law spoke out about the negative impact they believe the schools have on their children's lives.
The Southern Poverty Law Center, representing a group of Jackson residents, filed a motion for summary judgment Monday, telling Hinds County Chancery Judge Dewayne Thomas that the only dispute in the case involves interpreting the state constitution, making it ripe for a decision, the Associated Press reported.
The state's only charter schools—ReImagine Prep, Midtown Public Charter School and recently opened Smilow Prep—all operate in Jackson. They are not, however, part of Jackson Public Schools, instead operating as separate districts. Plaintiffs say the schools are unconstitutional in the state, and leech money from JPS by attracting former JPS students, who bring along the ad valorem taxes attached to them.
"As taxpayers in Jackson, we expect our property taxes to support public schools in Jackson," plaintiff Charles Araujo said. "I believe that in order for children to receive a quality education in Jackson Public Schools, Jackson Public Schools must have sufficient funding."
SPLC attorney Jody Owens told reporters Tuesday that plaintiffs want to speed the case along because they ultimately expect an appeal to the state Supreme Court.
But now, JPS is not only grappling with districts paying money to the state's charter schools. With the passage of SB 2161 this legislative session, students attending any C-, D- or F-rated school district may enroll in a charter school.
State law prevents students from attending public schools in districts where they don't live unless they receive special permission—unless it's a charter school. Both the cities of Ridgeland and Madison, for instance, have ordinances that criminalize misrepresenting residency to attend a different school in the Madison County School District, promising fines or even jail time for those who violate the rule.
Rep. Charles Busby, R-Pascagoula, authored a failed Mississippi House bill last session that would have opened charter-school enrollment to students in D- or F-rated districts. He told the Jackson Free Press he would support measures for students to attend regular public schools in districts in which they don't live—if he knew it was constitutional.
"I haven't drafted it (the legislation), but it's drafted every year," Busby told the Jackson Free Press. "I don't think it's met with much exception. I just want to make sure that we don't have any constitutional issues when we do that." His concern is whether "the ad valorem taxes collected in a school district can only be utilized by schools in that district," Busby said.
The Associated Press reports that Mike Hurst, a lawyer representing charter-school parents challenging the SPLC suit, says it is not time for Judge Thomas to rule on the case.
"I think the motion for summary judgment is simply a restatement of the plaintiffs' complaint, and I think once the facts come out, the court will rule the Charter Schools Act is constitutional," Hurst told the AP.
A previous version of the story said that two Madison County cities criminalize students for attending school out of district. We have updated the story to clarify.
Sierra Mannie is an education reporting fellow for the Jackson Free Press and The Hechinger Report. Email her at [email protected].
See more stories at jfp.ms/charter.
Support our reporting -- Follow the MFP.