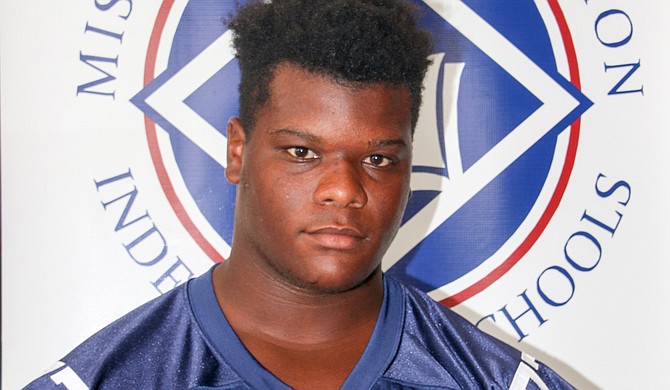 There is no doubt that Madison Ridgeland Academy football player Saahdiq Charles is athletic. At the Nike+ Football The Opening's finals, Charles ran 5.21 seconds in the 40-yard dash, which is impressive for a young man of his size.
At 6 years old, Saahdiq Charles was forced to leave his home in New Orleans when Hurricane Katrina hit. His family fled to Valdosta, Ga., and stayed there for a year. After his stay in Valdosta, the family moved to Montgomery, Ala., for the next three years. The family then moved to Mississippi in 2010 because his mom, Patricia Burrell, got a job at Central Mississippi Medical Center.
Charles spent seventh through 10th grade at St. Joseph High School. He began attending MRA in 2015.
The six-foot, five-inch, 320-pound guard began to hit the weight room at MRA hard and made leaps in how much he could lift. Now, he benches 305 pounds and can power clean 295 pounds.
As a junior, he played mainly at defensive end and blocked tight end on offense for the last three games of the season.
Charles will transition from defensive line to playing offensive guard full-time for MRA this season. He is raw at the position, but his potential had college coaches recruiting him hard to land his commitment.
Two of those colleges were Mississippi State University and Louisiana State University. Both schools recruited Charles hard as an offensive lineman, but LSU landed the three-star recruit. He received the offer from none other than Tigers head coach Les Miles.
"I was watching practice when Coach Miles invited me on to the field to talk with him," Charles says.
"We were just talking about life and football when he offered me to come to LSU."
The MRA star says he is glad the process in selecting a college is over, and he doesn't have to worry about where he is going to play college football.
Charles is hungry to win a title for MRA this season after Jackson Prep soundly beat his school in the championship game last season.
"I have won a state championship in shot put," he says, "but I want to win a team (sport) championship before I leave."
Football wasn't the only time Jackson Prep denied Charles and MRA at title last season. In soccer, Charles plays goalie for the team and lost in the title game to his budding nemesis.
The senior is checking off all the boxes for the goals he set heading into this season. He wanted to make The Open Finals, he wanted to commit to a school, and he is a Dandy Dozen. Only two things are left undone on his list: Charles wants to make All-American, and he wants a state title before he is done at MRA.
CORRECTION: This story has been edited to reflect a factcheck change. In the original version we said he can power cling 295 pounds. The term is actually power clean. The Jackson Free Press apologizes for this error.
More stories by this author
Support our reporting -- Follow the MFP.