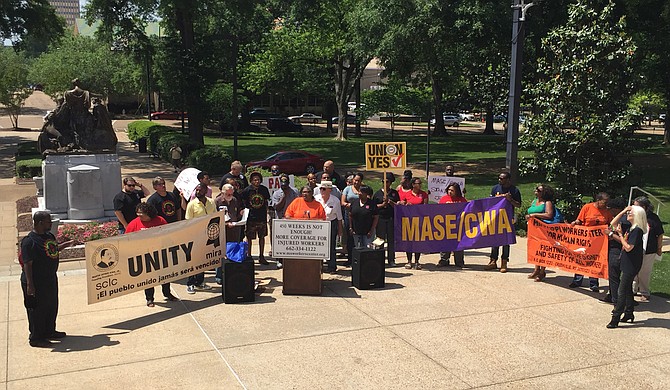 JACKSON — When Sarah White was told she could not use the bathroom until noon at the catfish-processing plant where she worked for 17 years in the Delta, she decided not to take it any more.
White helped organize the 1990 catfish industry strike in the Mississippi Delta because she witnessed an employee fatally injured at work, noticed others working under painful conditions such as carpal tunnel syndrome and was refused raises. She didn't like that the "bathroom clause" restricted employees to a "five-minute only" break. Workers went on a three-month strike, becoming the largest walkout in Mississippi history.
Community supporters gathered on the steps outside the Mississippi State Capitol Thursday afternoon to memorialize workers who have lost their lives on the job, singing union anthem "Solidarity Forever," as the Mississippi heat and sun brought sweat down everyone's faces. Protesters held signs that read "Remember Teenage Fast Food Workers."
"You shouldn't have to die to make a living," White told the Jackson Free Press. "Today is Worker's Memorial Day, and we've been coming (to Jackson) for the past 17 years to wake the community and people up who can spread the word of how workers are injured in the workplace." White is now the board president of the Mississippi Workers' Center for Human Rights.
Mississippi is one of 17 states in the country that provides only 450 weeks of benefits to workers permanently disabled on the job, approximately eight years post accident. The Workers' Center reports that at least 60 to 100 workers are killed in Mississippi workplaces each year, with more than 11,000 workers injured.
"So, if you do have a job, you're already not making ends meet. If you're injured you can lose your livelihood, and people have children and families to uphold," said Tyson Jackson, an organizer for Communication Workers for America who attended the rally.
Bill Chandler, executive director at Mississippi Immigrants Rights Alliance, says Mississippi is the fifth-worst state in the country for worker safety. "Mississippi is one of few states that does not have a State Department of Labor that reports to the federal Department of Labor, which is another way (industries and the state) cover up injuries on the job," Chandler said.
White says people have lost their hands, legs, and lives through accidents on the job, and is asking employers to be mindful of workers in those facilities who are being injured on a daily basis.
"The life of workers is valuable, and (work) is something that affirms human dignity and is not something to be exploited," Father Jerry Tobin from Christ the King Church, said.
White says she want workers to know they can voice their opinion about what is unsafe in their workplace. "A worker is (usually) not going to tell you she or he is injured because employers will terminate workers when they are no longer useful," White said. "A lot of times workers will hide that they (are hurt) and continue to work."
"Nearly 50,000 workers are affected by diseases and poisonings (on the job)," Chandler said. "For example, those who work with asbestos and workers who develop brown lung through the textile and clothing industry."
Jackson says worker's rights are important because public workers who work for the State or City are our lifeline and backbone. "If we don't have anybody working for the City of Jackson, who's going to fix the potholes?" Jackson said. "If people are leaving (Jackson) and looking for jobs elsewhere, they're taking their tax base and money, and we're losing our population."
As a labor organizer, Jackson says he sees injured workers who use their workers compensation as a means of livelihood, and says the pay is not the same as when these individuals are working on the job.
"This goes back to asking ourselves how do we make ends meet," Jackson said. "Houses are going into foreclosure; we have people using payday loans to make sure they get by. We deserve more here in Mississippi; we're a state just like everyone else and deserve the same things the rest of the states are getting that we aren't."
Brandon King, a member of Cooperation Jackson, says if workers aren't in control of their labor they'll usually get the short end of the stick.
"It's crazy to me that these people that work and make these profits for these corporations are in this position, and we want to change the relationship (between employers and employees)," King said. "A lot of businesses, how they're set up now, the workers are the only one taking the risk."
Jackson says you have a small minority of people hold a majority of the power in the state, but the majority of the people are decent, caring and loving people. "Mississippi is the last stronghold of the Confederacy, and you see it in the state flag letting you know (those in power) don't want anything to change here," Jackson said.
Email editorial intern Onelia Hawa at [email protected].
More stories by this author
Support our reporting -- Follow the MFP.