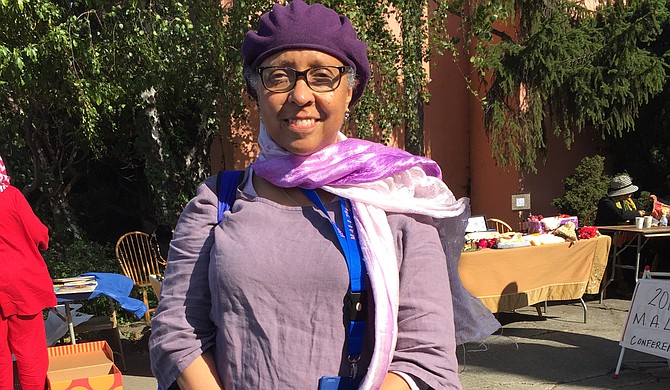 The three front galleries of the Arts Center of Mississippi are covered in creations from Jackson-based artist Ann Saunders. While her work ranges from mosaics to collages to paintings and everything in between, Saunders' exhibit, "The Journey Thus Far," which began April 1 and hangs through May 14, has a united goal: to share her faith through art.
The pieces in the exhibit, which is part of Islamic Heritage Month in Jackson, represent 33 years of her work from the time when she converted to Islam to now.
"There's not a specific progression," she says. "... Hopefully, you see connections between the pieces. ... I'm fortunate in that I have a variety of skills, and I choose the media that seems to work best to express what seems to want to emerge from me. I don't feel limited by one media for another. ... If it seems like it's going to take something more three-dimensional, I move it that way. If I want to work in oils, I work that way."
For Saunders, the title of the exhibit represents her journey as a Muslim. The year before she converted to Islam, she was confirmed as an Episcopalian. The family of her father, Vincent Saunders Jr., was Catholic, and her mother, Doris E. Saunders, was Episcopalian. She says her mother raised her and her brother, Vincent Saunders III, to have an intimate relationship with God.
After Saunders had children, she wanted to give them a spiritual home base and upbringing like she had, so she went through the process of confirmation with an Episcopalian church. Growing up in Chicago in the 1960s, Saunders says, she had an awareness of Islam. By the 1980s, Saunders says that the world was starting to have a broader awareness of the religion.
It was during a trip to Africa in 1981 that Saunders first heard the Islamic call to prayer, or adhan. At the time, she was studying for her master of fine arts degree at Syracuse University and says she had many opportunities to explore the religion. Just a month or two after being confirmed as an Episcopalian, she took a four-week program called Islam 101.
"I found myself sitting in that program and saying, 'Wow. I believe that. I believe that, too.' And what I was learning, I didn't see a conflict with what I was getting from Christianity and Christian church," she says. " ... What I did feel like was I was being pulled toward something that I was really curious about because it seemed to be an extension or an expansion of what I had already learned in terms of Christianity. That's where the interest came and the engagement came. Initially, I was going to church on Sunday and mosque on Friday and loving it."
Saunders fully embraced Islam in 1983. After hearing of her conversion, a close friend was concerned and hurt, she says. The friend asked elders from the church community to have dinner with them to talk about it.
"She was a neonatal nurse that dealt specifically with babies who were dying or young children who were dying, too, and I just felt her work was so important, and her faith was what grounded her and helped her do that work," Saunders says. "When I began to express that, 'Look, I haven't changed as much as you think I've changed,' it was very difficult for her."
At the dinner, a family that her friend had invited asked, "What do you believe?" Saunders said she still believes that Jesus came here to help guide us to be better people, although she doesn't believe he is divine.
"I feel like Jesus was a human being, just like we all are, even though I think he had a miraculous birth," she says.
The couple who was there said, "Well, we don't believe Jesus is God," and Saunders says she could see that it shook her friend. "It felt like I was undermining something that she needed in order to sustain her through the work that she does," Saunders says. After that, she stopped going to that church.
Though some Christians such as her friend have had problems with her faith, she says she has continued going to church, even taking her mother before she passed away two years ago.
"If you understand what Islam is, Islam is submission," Saunders says. "It literally means, 'submitting to the peace.' The peace, meaning God ... so, one of the beauties of Islam, as I thought, was that I didn't have to disavow being Christian, so it was more the Christians who had problems with me as opposed to me having problems with Christianity. It's one of the reasons why I feel very comfortable doing interfaith work. I do a lot of interfaith work because I feel like I have been blessed with a sense of how all of this connects. I may not be able to explain it, ... but I have enough of an understanding so that if you don't believe exactly as I believe, I'm not going to get upset with you. ... The earth is spacious enough for it all."
In Islam, the Quran does not explicitly prohibit the depiction of humans in art; it merely discourages people from idolizing humans and animals, which means Islamic art often consists of geometric patterns, calligraphy and other motifs, though figurative art still has a strong tradition.
"I've never felt like I have to stay away from the figure or form," she says. "I just use it in a way where it's appropriate."
In her work, she says the Quran inspires her, as well as her studies and the idea of Tawhid, an Arabic term that refers to the "oneness," unity and connections between God and creation, everything seen and unseen. She says she likes to examine space and how it connects all of us within her artwork.
For three of the five new pieces Saunders created for this exhibit, she focused on this idea and used the Islam eight-pointed star. For two of them, she used clippings from magazines to create colorful images of the star that raise off the canvas. For the third, she used canvases themselves to create the star. The fourth piece, titled "E.T.C.," meaning "evolution, transformation and change," is a series of 16 canvases with shapes and forms cut out of them, making them look like a scattering of stars, a window or other objects.
The fifth piece, titled "Transcend and Include," is a mosaic she created on a glass shower door. Dark blue and black hues lead toward an off-center black "X," which Saunders says she has noticed often repeats in her pieces. For her, the letter symbolizes the unknown. Bordering on the "X" is a scene that looks almost like sky forms in the background, though Saunders says it actually symbolizes the times of day that Muslims pray—sunset, night, dawn, noon and late afternoon.
"The Journey Thus Far" hangs through May 14 in the second-floor gallery at the Arts Center of Mississippi (201 E. Pascagoula St., 601-960-1500). For more information, find the Arts Center of Mississippi on Facebook.
More stories by this author
Support our reporting -- Become a JFP VIP.
The news business has changed dramatically in the past year, and we need your help more than ever to keep bringing you important stories about Jackson and the Metro. Become a JFP VIP with an annual membership or you can Sign up as a monthly supporter. Thanks for anything you can do to empower our journalism!