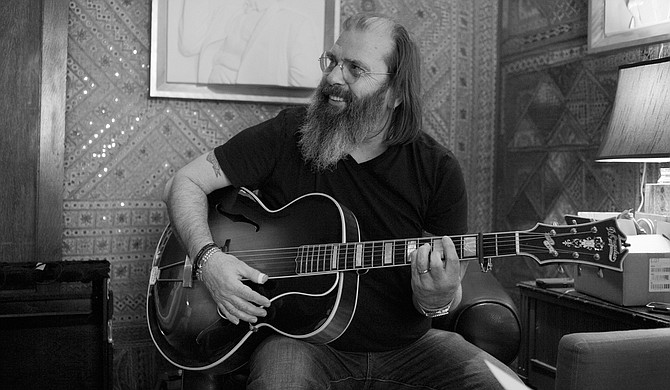 Acclaimed singer-songwriter Steve Earle is the latest person to join the flag debate though his voice comes in the form of a good-old-fashioned protest song. On the track, titled "Mississippi, It's Time," the Virginia-born musician denounces the Confederate battle emblem's position on the Mississippi state flag, which has been a point of contention again following a white-supremacist gunman's slaying of nine African Americans at Emanuel A.M.E. Church in Charleston, S.C., on June 17.
Earle wrote "Mississippi, It's Time" about a month after the shooting while he conducted his songwriting retreat, Camp Copperhead, in Big Indian, N.Y., finishing it only four days before he started back on the road. While in Chicago on the first week of touring, Earle realized he had to release the song, but it couldn't wait for his next record. He and the band found a local studio, recorded the track and played it for the first time that evening. Since then, Earle has played it for an encore at every performance, mostly to positive responses, until the tour crossed the Mason-Dixon Line.
"From what I understand, it's running right at 50-50 on my own f--king Facebook," Earle told the Jackson Free Press Thursday afternoon. "... It shocked me that anyone on my Facebook page hasn't already figured out that I would probably be on this side of the issue. Basically, the person singing is a character—it's not me, but it's not not-me. It's an intentionally southern voice and intentionally inclusive. It's not about, 'You do this.' It's 'we need to f--king do this.'"
Although Earle has resided in New York for the last 10 years, he lived in various parts of the South for 50 years of his life. He's proud of that, he says, but it can also be embarrassing.
"If you looked, you could probably find something with me wearing a Confederate flag in the '80s or something," he said. "I used to do it because I didn't think about it. Then, what happened to me was a guy I know, who happens to be black, said, 'Do you know how offensive that is to me?' (That was) 25 years ago, and I haven't worn one since."
For Earle, it's not even a matter of history or heritage. Mississippi's culture is "Faulkner, it's the blues, it's jazz," he said, so why let the Civil War be what we latch onto?
"Whatever claims anyone wants to make about what (the Confederate flag) meant, what it means now to most people is racism. There's no getting out of that," Earle said. "... I've never seen a picture of a Klu Klux Klan rally that didn't include the Confederate flag. If there was some other meaning for it that needed to be reclaimed, it's too f--king late."
While some may not see Earle's broad southern stock as right enough for him to be the voice for changing the state flag, beyond his strong moral convictions, he also has a quite pragmatic reason for writing "Mississippi, It's Time."
"It's my job," he said. 'Nobody else is going to f--cking do it, just like nobody else was going to write 'John Walker's Blues,' and I'm better at writing this type of song than most people. It's hard. ... The people that are pissed off are going to be pissed off. But any minds that it changes will be people who respond to it because it is in the voice it's in. It's in a southern voice, which is my voice."
Earle and his band, The Dukes, release the song for download on iTunes this Friday, Sept. 11, with all proceeds going to the Southern Poverty Law Center. The lyrics feature a number of powerful and to-the-point phrases, such as, "Mississippi, don't you reckon it's time that the flag came down because the world turned 'round? We can't move ahead if we're looking behind," and "I wish I was in a land that never held a soul in bondage ever. I wouldn't have to drag these chains behind. Mississippi, it's time."
Near the track's close, though, Earle trades any semblance of metaphor for blunt outrage, and homage to a famous song by Nina Simone about racism in the state: "What the hell, Mississippi? Mississippi, you're out of your mind. Mississippi, God d-mn, even Alabama and South Carolina (have) come across the line."
As people from outside and within the state push for the removal of the Confederate flag—and the dark ideals it represents—the decision whether to try to change it ultimately rests with state lawmakers who can't seem to come to an agreement, or who fear political backlash for their decision.
Earle, a pupil of famed songwriters Townes Van Zandt and Guy Clark, has had countless hits on the country music charts, both from his own releases, such as his debut record, 1986's "Guitar Town," and from hits for legends like Johnny Cash, Willie Nelson, Waylon Jennings and Emmylou Harris.
Visit Southern Poverty Law Center's website to listen to "Mississippi, It's Time."
More stories by this author
Support our reporting -- Follow the MFP.