On a rainy Thursday in August, people began gathering in the Mississippi Museum of Art's lobby, milling around displays that featured artwork such as "Superhero Down Time" by Christopher Mitchell, a large painting depicting superheroes such as Wolverine and two of the Teenage Mutant Ninja Turtles playing "PAC-MAN." In the piece, Spider-Man is taking Ninja Turtle Raphael's pizza with his web shooters.
"Death" by Ariss King features the character Death from Neil Gaiman's "The Sandman." Pop artist Adrienne Domnick also had a piece in the show, "Weather Goddess," which depicts the female superhero Storm, one of Marvel's X-Men.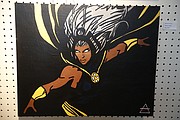 The museum partnered with Phillip Rollins, also known as DJ Young Venom, for Museum After Hours Offbeat Art. Rollins told the Jackson Free Press in an interview that MMA had approached him a while back about a pop-up show.
"I couldn't tell you the exact date because me and Julian (Rankin) were talking on and off about it," Rollins said. "He asked me (if I wanted) to do it, and I said, 'Yeah, cool.' It just kind of went on from there. ... (MMA) is always trying to do something different for their Museum After Hours events ... and (Julian) has been to the store before. We worked together with some projects with some kids, and he likes what vision I'm doing with Offbeat."
For Mitchell's piece, he told the Jackson Free Press that he decided to take his favorite video games and comic book characters and put them together.
"I was in the store shopping for a canvas, and I saw (one), and I just thought about the table games at (places such as) Pizza Hut," Mitchell said.
The Siwell Middle School teacher said he has been drawing his whole life but has only been painting for the last two years.
In The Palette Cafe by Viking, MMA Executive Chef Nick Wallace and his crew prepared for Revenge of the Noodle, which is Wallace's second time hosting a noodle bar for his 'sipp Sourced pop-up menus. This one's menu featured dishes with locally sourced produce and meat, including noodle dishes such as chicken ramen, which had a 48-hour green curry chicken broth, pickled ginger, whole roasted chicken, a poached egg, scallions, lemon thyme, mustard greens, green garlic, radish and soba noodles.
Wallace's bacon dashi ramen featured cilantro, a poached egg, bean sprouts, fermented black beans, pickled ginger, kale, sesame, scallions, pork belly, a bacon dashi broth and soba noodles.
At 7 p.m., the event featured a short film from RecklessMindzTv's "Unlikely Heroes: Narcotic Revelations Ep. 1," which Andre' Carter directed. In the film, which is the first in a series, a superhero who has the power of electricity tries to convince his friend, Aiden, who has the power of fire, to help stop a drug dealer. After the screening, Carter said he wanted it to deal with many of the issues he faced growing up in Jackson.
After the screening, local artist and MMA's Director of Engagement and Learning daniel johnson (who doesn't capitalize his name) hosted Art Bar Pop Trivia, which this time dealt with nerd culture. johnson gave away extra points for things such as having a stranger in your group.
When the trivia was over, the MMA screened video games on the CSpire Stage in The Art Garden. Friends and strangers gathered together and battled each other in "Street Fighter," though Rollins said he would have liked to have more four-person games such as "Mario Kart" or "Smash Bros."
Rollins said that the event helped bridge the gap between people who liked things like video games and comic books but who have never been to the art museum and those who were used to more traditional forms of art.
"I want people to realize that everything you see everyday is a form of art, from the architecture on buildings to (the) cartoons you watch—somebody had to draw that; comic books—somebody had to know how to write, to draw, do storyboards; even toys—somebody had to sculpt the design for that, (and) it was probably a drawing first. All of that takes a precedence in how art influences your everyday life, and a lot of people take it for granted," Rollins said.
Rollins also said that the event helped bring exposure to minority artists in Jackson. He hopes that allowing artists such as Adrienne Domnick and Mitchell getting to display their work in spaces such as Offbeat and for events like Museum After Hours helps push them forward.
Mitchell said events like that have a good effect on Jackson. "It exposes a lot of people to that culture or that artsy side of Jackson," he said. "... There's a lot of people that maybe I know that may not be quick to go to the museum. If I had a piece in the museum, they might come. Then, they see the museum and get interested and want to come back."
The next Mississippi Museum of Art Museum After Hours even is "Lounge and Light," Thursday, Sept. 17, and features Mississippi-made furniture from designers such as d+p Design Build, SwingLab, NunoErin, and lighting from Davaine Lighting. The 'sipp Sourced menu for that day has not been released yet. MMA will continue Screen on the Green with a showing of "Guardians of the Galaxy." For more information, visit msmuseumart.org.
More like this story
More stories by this author