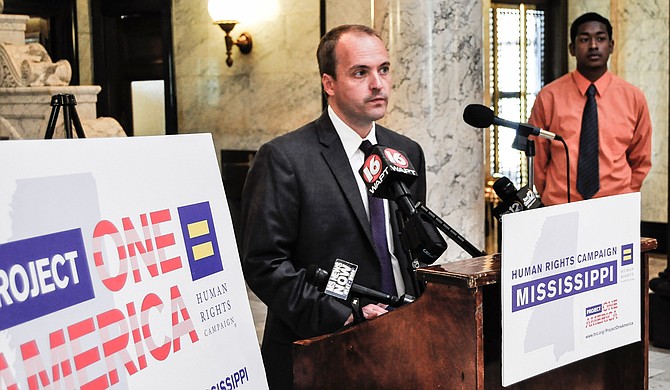 Married on Saturday, fired on Monday.
Rob Hill, executive director of the Human Rights Campaign of Mississippi, said the scenario is a real possibility and fear of LGBT people and their advocates in the state, even if the U.S. Supreme Court strikes down state bans on same-sex marriage next month.
Mississippi is one of 28 states where it's perfectly legal to discriminate against LGBT people, who often face hostile workplace environments. A 2011 study from the Los Angeles-based Williams Institute reported that some 9.2 percent of openly gay, lesbian and bisexual people lost a job because of their sexual orientation. Another 38.2 percent said they were harassed at work. Seventy-eight percent of transgender people reported workplace harassment because of their gender identity.
A more recent Williams Institute study found that same-sex couples raising children have a household income nearly $11,000 lower on average than their heterosexual married parent counterparts who are raising children, which underscores the tenuous economic status of LGBT people and families.
One year after Mississippi passed a controversial Religious Freedom Restoration Act, and months after a similar measure was passed in Indiana and caused a national firestorm, Hill said workplace protections are an important battleground for LGBT equality.
Since Mississippi passed its RFRA, two successful campaigns have emerged to encourage businesses to adopt LGBT-friendly policies, "If You're Buying, We're Selling" and HRC's "Equality Is Our Business" pledge program. Equality is Our Business, which began in February, has drawn support from 200 businesses and 250 individuals, Hill said.
"We've found what we already knew, which is that business is often ahead of government in implementing inclusive policies," Hill told the Jackson Free Press.
In late April, U.S. Supreme Court justices listened to oral arguments in the latest court case over the question of whether state bans on gay marriage violate the Constitution. Last fall, U.S. District Judge Carlton Reeves ruled against Mississippi's prohibition of same-sex marriage; the state appealed to the 5th U.S. Circuit Court of Appeals, which has not ruled on the matter. The Mississippi State Supreme Court also heard oral arguments in same-sex divorce but has not ruled in the case.
Despite the passage of a half-dozen local resolutions around the state, which Hill calls great welcoming messages, no municipality has extended non-discrimination protections to LGBT city employees.
Sam Begley, an attorney who's running for a seat in the Mississippi House of Representatives as a Democrat, attended a presentation Hill put on for civic organization Jackson 2000, and said the state should revisit an anti-bullying bill that died in the legislative session earlier this year. Begley also said LGBT community might already be protected under the Civil Rights Act of 1964; however, federal courts have never ruled that way.
"There's no substitute for being explicitly listed in the law," Ian Thompson, the LGBT legislative director with the American Civil Liberties Union, told the policy-news site Vox in April. "I also think it's a very powerful statement to see that it is the law of the land that discrimination against individuals because of their sexual orientation or gender identity is wrong and illegal."
Valerie Short, a Democratic candidate for governor and Air Force veteran, said she disagrees with Gov. Phil Bryant's decision to block same-sex spouses from applying for federal benefits at Mississippi's National Guard bases.
"I'd like to hope by working with stakeholders who are interested in diversity of input and inclusivity that we would be able to work on protections that would include everyone, including the LGBT community," Short said.
More stories by this author
Support our reporting -- Follow the MFP.