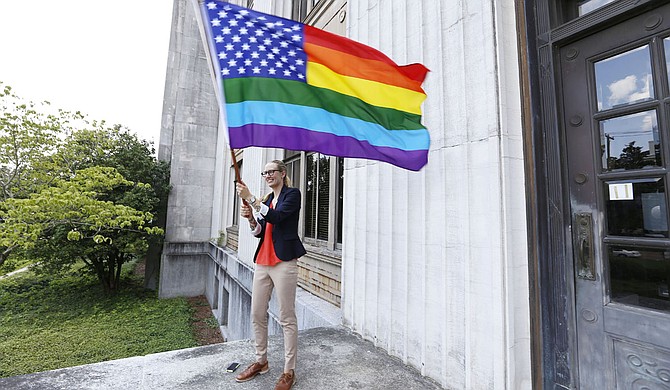 While the U.S. Supreme Court's same-sex marriage ruling was monumental in American legal history and a cause for celebration by LGBT citizens, the reality is that the court ruled on same-sex marriage and nothing more, legal experts say.
The 5th U.S. Circuit Court of Appeals handed down rulings on cases in three states that hinged on Obergefell v. Hodges last week. But the 5th Circuit did not broaden the ruling or offer more protection to members of the LGBT community. Lower courts must follow the Supreme Court's lead.
Michele Alexandre, a professor at the University of Mississippi School of Law, said the Supreme Court opinion on same-sex marriage was limited and specific.
"It gives the fundamental right to (same-sex) marriage, using analysis that it had already used regarding prior cases," Alexandre said. "It leaves the other opinions for another day."
Alexandre says the ruling relied on a different standard of judicial review than previous landmark discrimination cases because the right to marry was in question. When a federal court takes on cases involving sexual orientation, the court has the option to use either heightened scrutiny (mid-level judicial review) or strict scrutiny (most stringent).
Due process and equal-protection cases are typically judged by rational basis review, which means the case is reviewed on its constitutional rationality (the basic level). Cases involving fundamental rights and occasionally equal-protection cases can be tried with heightened or strict scrutiny.
Jaren Janghorbani is an attorney at the New York-based law firm Paul and Weiss, which represented the plaintiffs in the Campaign for Southern Equality v. Bryant case. It involved two lesbian couples asking the state to legalize and recognize same-sex marriage.
Janghorbani said that some federal appeals courts have ruled and written opinions that suggest courts should use heightened scrutiny in addressing cases that classify a person based on sexual orientation.
In United States v. Windsor, the case known for striking down the Defense of Marriage Act and legalizing same-sex marriage in 13 states, the 2nd U.S. Circuit determined that sexual-orientation discrimination is subject to heightened scrutiny.
Obergefell was not a discrimination case and applied a heightened standard based on a right to marry, not based on sexual-orientation classification. The difference in law is important. Obergefell was a marriage case tried under substantive due process for a fundamental right and not an equal-protection classification case Alexandre said.
"It's significant that the (Supreme) court chose to do that because it was trying to leave for another day the other battles," she said.
Janghorbani said that the Supreme Court tends to shy away from making the level of scrutiny explicit—especially when applied to classification based on sexual orientation. "But I think that we've seen quite clearly that the court is giving a hard look to any laws that discriminate against gays and lesbians," she said.
Even though the 2nd Circuit uses heightened scrutiny for sexual-orientation classification, the other U.S. circuit courts are not obligated to follow suit.
The 5th Circuit's opinion in the Campaign for Southern Equality v. Bryant case did not elevate future LGBT discrimination cases to heightened scrutiny, mainly because the case was only focused on marriage—like Obergefell.
When Freedoms Collide
Sexual orientation is not protected under Title VII of the 1964 Civil Rights Act, which focuses on employer discrimination, protecting citizens from being fired because of sex, race, origin, color or religion. Adding "sexual orientation" to that list would offer workplace protection to members of the LGBT community, something that a legal marriage cannot offer. Legislation to add that language has stalled in Congress.
Mississippi is one of 28 states that has not adopted state legislation to include LGBT status in protections against workplace discrimination, according to ACLU numbers. In the meantime, it has focused on religious freedom, including through the Mississippi Religious Freedom Restoration Act, passed in 2014.
Alexandre said the Mississippi RFRA is a different and separate issue from the legalization of same-sex marriage. Under the First Amendment, religion can be used as a legal and legitimate excuse for a pastor not to marry a gay couple. "Individuals will have that right, regardless," Alexandre said. "Individuals are protected from being forced to have to do something that is against their religion."
The real issue with the Mississippi religious-freedom law is its potential collision with existing anti-discrimination laws, Alexandre said. The law asserts that an individual "may assert that violation (of their religious beliefs) or impending violation as a claim or defense in a judicial proceeding."
"People are able to make defenses that might collide with the authority to regulate anti-discrimination as a part of those prior statutes," she said. "That's something I think the courts might litigate in the future, but there's no actual answer for that right now."
RFRA Redux
In the majority opinion in Campaign for Southern Equality v. Bryant, U.S. Circuit Judge Jerry E. Smith highlighted the religious-freedom components in the First Amendment, reminding same-sex marriage opponents that they are free to exercise their freedom of speech and religion rights to voice their displeasure with the Supreme Court's ruling. "It must be emphasized that religions, and those who adhere to religious doctrines, may continue to advocate with utmost, sincere conviction that, by divine precepts, same-sex marriage should not be condoned," Smith wrote.
Gov. Phil Bryant's letter to the 5th Circuit agreed with the plaintiffs and with Attorney General Jim Hood's letters, asking that the federal appellate court uphold the Supreme Court's ruling.
However, echoing Smith's opinion, Bryant emphasized to the court that he would fight for the religious-freedom bill: "While I still deeply disagree with the decision of five U.S. Supreme Court justices to remove the authority to regulate marriage from states, I am heartened by the 5th Circuit's implication that it recognizes the rights of people of faith as guaranteed by the First Amendment of the United States Constitution. As governor, I will my continue efforts to protect the religious liberties of Mississippians."
While LGBT advocates and allies are pleased with the Obergefell decision, many are quick to say the fight is not over. In such a sweeping case that was unthinkable even 20 years ago, Alexandre said Obergefell presents the question of what the courts will do in the future. Going forward in discrimination cases, public opinion will matter in court proceedings, she said.
"The perception of how the class is being treated and the extent of the discrimination that they face can go a long way," Alexandre said.
Read more LGBT coverage and comment at www.jfp.ms/lgbt.
Support our reporting -- Become a JFP VIP.
The news business has changed dramatically in the past year, and we need your help more than ever to keep bringing you important stories about Jackson and the Metro. Become a JFP VIP with an annual membership or you can Sign up as a monthly supporter. Thanks for anything you can do to empower our journalism!