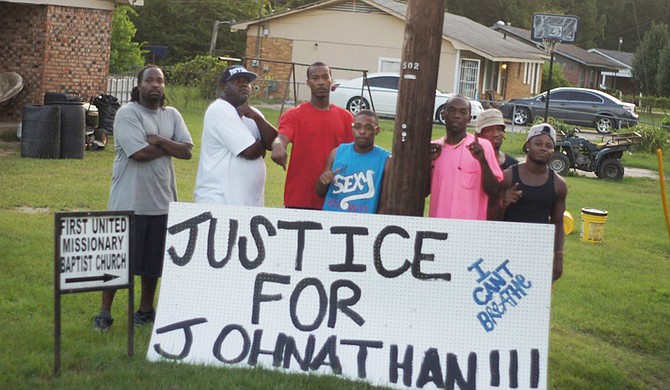 STONEWALL, Miss. — Although a preliminary autopsy report ruling Jonathan Sanders' death a homicide, caused by manual asphyxiation, came as no surprise to his friends and relatives, they hope it is the first step towards justice.
"The community and the attorneys for Jonathan Sanders feel that this is enough to establish probable cause exists with which to indict Officer (Kevin) Herrington," the attorneys for the Sanders family, C.J. Lawrence and Chokwe A. Lumumba, wrote in a press release today.
For many African Americans in Stonewall, a community of fewer than 1,100—a quarter of whom are black and knit closely through family ties and generational bonds to the town—the only acceptable form of justice would be for Herrington to be charged, indicted, tried and imprisoned for Sanders' murder.
Just about everyone the Jackson Free Press spoke to in Stonewall agrees that the town cannot keep Herrington, a part-time employee currently on unpaid administrative leave, on the payroll as an officer. Some neighbors say Herrington has left town.
Kereon Wallace, 20, a cousin to Sanders through marriage, believes Herrington should get prison time, a common sentiment among neighbors who gathered near Leola Street and River Road to speak with the JFP on Wednesday afternoon.
Despite the tragedy, a desire for justice in the case, Wallace and others say, has strengthened bonds there.
"The community is coming together better than I thought they would," Wallace said.
In the meantime, residents are willing to be patient and let the Mississippi Bureau of Investigation inquiry run its course. A number of calls to MBI spokesman Warren Strain have not been returned.
However, many agree that Stonewall is a powder keg. As night fell on Stonewall, there was no question that people are on edge.
Lon McCoy, a friend to Sanders and fellow horse rider, seemed puzzled by a noticeable uptick in police patrols in the week since Sanders' death.
"They see us collected again," McCoy told the Jackson Free Press. "They're rolling around here, wondering 'What y'all doin?' They're worried."
Sanders died late on July 8 as he exercised one of his horses, a mare named Diva, that he planned to take to the Neshoba County Fair next week. Riders often take their horses out after dark when the temperature cools off.
Attorneys say during a late-night ride, Sanders encountered Herrington talking to a man at the Cefco gas station, a popular meeting spot for law enforcement and town officials. Herrington reportedly told Sanders to stop bothering the man, who is white.
Herrington caught up with Sanders, according to attorneys, and startled the horse. Diva reared up and knocked Sanders to the ground. The officer, whom witnesses tell attorneys was accompanied in his patrol car by his wife, Kasey, allegedly applied a chokehold for approximately 20 minutes before backup arrived and Sanders was placed in an ambulance.
Sanders' family was notified of his death early the next morning.
His funeral services take place this Saturday, July 18 at the Family Life Center Church in nearby Quitman. A rally is scheduled on Sunday, July 19 in Stonewall.
Zachary Oren Smith contributed reporting to this story.
Read more of JFP's coverage of Jonathan Sanders' case here.
More stories by this author
Support our reporting -- Follow the MFP.