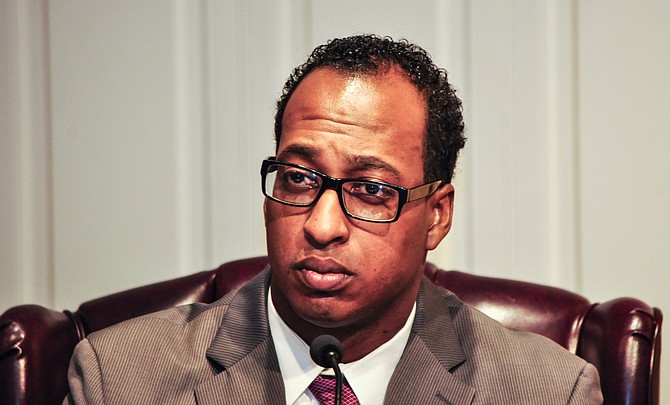 Although City of Jackson officials are doing their best to appear collegial to entities they fear are attempting to force Jackson into a new regional wastewater authority, the city seems poised to play a little hardball of its own.
Last week, after Jackson City Council President De'Keither Stamps made a conciliatory overture and vowed to provide better customer relations to the suburban wastewater-treatment customers, Jackson's legal team laid the groundwork for what could become a fierce battle for the valuable prize of controlling the highly profitable business of treating sewage in the tri-county region.
Currently, Jackson, the state's largest municipality, operates a large wastewater facility that treats sewer water in the city proper as well as for towns in west Rankin County and Madison County.
Due to Jackson's declining tax base—and factors that few people care to discuss on the record—the treatment plants have languished.
So, in 2011, the West Rankin Utility Authority asked state environmental regulators for a permit to construct a new wastewater-treatment plant.
Currently, WRUA is a customer of the City of Jackson, spending about $5 million per year to treat sewage from west Rankin County cities at Jackson's Savanna Street facility.
At a recent hearing of the Mississippi Department of Environmental Quality, which will review the application, Jackson's attorneys urged MDEQ to reject WRUA's application because state law encourages regionalization of wastewater treatment while a new plant would represent "deregionalization."
Chris Pomeroy of Richmond, Va.-based AquaLaw, whom the city freed up $500,000 in unused contingency funds to hire specifically to prepare for the meeting, argued that the proposed facility violates MDEQ's rules about avoiding new discharges and encouraging regionalism. Because Jackson's utility is a regional system, adding new plants would mean a move away from regionalism, in opposition to the state's own regulations.
"This is a mistake, and it does not pass (muster)," Pomeroy testified.
Even if the state approves the application, the WRUA could also violate U.S. EPA for clean water and total maximum daily load allocations for nitrogen and phosphorous. In order to meet the federal standards, the WRUA would have to discharge neither nitrogen or phosphorous, which is unlikely, Jackson's attorneys said.
Also, in its presentation, Jackson officials said losing WRUA's business would result in 25 percent higher rates for existing customers.
Additionally, Jackson's slides show that building a new plant would cost $3.3 million, or 23 percent more, which WRUA would likely have to pass along to its customers.
"This is a pretty high price to pay because of egos of the past," Stamps, the Jackson city council president and Ward 4 representative, said at a public hearing on the proposal in Richland on Feb. 5.
At times speaking directly to audience members, which mostly consisted of attorneys and officials with the Mississippi Department of Environmental Quality, Stamps said approval of the application would "hang the noose" of higher sewer rates on both the citizens of Jackson and Rankin County.
Officials from Jackson included Public Works Director Kishia Powell.
In several recent conversations, Jackson representatives made no bones about what they believe is the motivation for the proposal. "We believe this is a measure to strong-arm the city into ceding control of the facilities," Powell said at a Jackson City Council meeting on Feb. 2.
Attorneys for WRUA did not make public comments at the MDEQ hearing.
In a statement, WRUA president and Pearl Mayor Brad Rogers responded to what he called "misinformation and incorrect statements" in media reports, including a recent story in The Clarion-Ledger that appears to conflate the WRUA plan with a separate proposal of the Hinds County Board of Supervisors to build a wastewater facility to serve the Byram-Clinton Parkway.
The letter also stated WRUA's official position, which the authority says is "to best serve the citizens of Rankin County." Rogers notes the 30-year agreement with Jackson allows the authority to opt out every 10 years, and the WRUA has decided to exercise that option.
"The reasons for building our own wastewater treatment plant are many. These include a bill from Jackson that has more than doubled in the last year and will continue with such increases as Jackson attempts to fix the neglected 45-year-old Savanna Street Wastewater Treatment Plant. It also includes Jackson's position that only the City of Jackson is the correct entity to manage a regional wastewater plant," Rogers wrote.
Mayor Rogers argues that more than one-third of flows to the Savanna Street Plant are from outside Jackson, and he estimates that in two decades, it would be closer to 50 percent, which the City of Jackson disputes.
Rogers goes on to write: "Jackson refuses to consider any arrangement in the management of the Savanna Street plant where Jackson is not in complete control. Should future growth of Rankin County rely upon this arrangement?
"A recently enacted U.S. EPA Consent Decree with the City of Jackson calls for repairs to the Savanna Street plant and Jackson's wastewater collection system that may exceed $400 million. This is a reflection on Jackson's ability to manage the plant," Rogers continued.
Jackson Ward 2 Councilman Melvin Priester Jr. also testified against approval of the application, which he said violates basic tenets of environmentalism.
"It is better to reuse than go through the waste of building something new," Priester said.
More stories by this author
Support our reporting -- Follow the MFP.