Come March, Mississippi might not see much madness. Right now, it looks like a postseason NIT berth might be the best any team does this season. This could be one of the biggest down years in college basketball for our state.
Every team seems to be in some sort of rebuilding mode or in a one-bid league for a NCAA Tournament berth. But one or more teams could always surprise us by the end of the season. It just seems highly unlikely at this point.
The University of Mississippi has several pieces to replace from last year's NCAA Tournament team. Mississippi State University landed some big recruits, but new head coach Ben Howland has plenty of work to do. The University of Southern Mississippi is reeling from the mess that former head coach Donnie Tyndall left with NCAA violations. Meanwhile, Jackson State University's NCAA hopes may once again be contained to winning the SWAC Tournament at the end of the season.
Mississippi Rebels
Head Coach: Andy Kennedy (217-126 overall, 196-114 at UM entering 10th season)
2014-2015 record: 21-13 overall, 11-7 SEC r
Current 2015-16 record: 9-2 overall
Radio: 93.7 FM
Arena: C.M. Tad Smith Coliseum
Last Season Recap
The Rebels were a deep team last season with three reliable stars in Jarvis Summers, LaDarius White and Stefan Moody. UM posted a nice 9-4 nonconference record and served notice to the rest of the SEC when the team pushed the University of Kentucky to the limit in an overtime loss. The Rebels struggled a bit after that loss to the Wildcats in conference play but hit their stride in late January and early February, winning six straight SEC games.
This team stumbled in the home stretch, losing four of its final games, including the first game against the University of South Carolina in the SEC Tournament. The Rebels were named one of the "First Four" teams. They had to play their way into the tournament but did so by beating Brigham Young University. UM looked worn out after its matchup against the Cougars and never could get going in its next game against Xavier University. The Rebels fell 76-57 to end the season.
2015-2016 Outlook
If UM is going to make a run at the NCAA Tournament, Moody is going to need help, and an inside presence from Sebastian Saiz would help the Rebels.
The SEC might not have another coach that gets more out of his players than Kennedy. He will have to do one of his best coaching jobs to squeeze out a postseason bid this season. The Rebels have only missed the postseason twice under him so it wouldn't be shocking to see this team in the NIT at the very least. Right now, it looks like a NCAA Tournament bid might be just out of reach.
Prediction
Last season, the SEC had five teams in the NCAA Tournament, with UM getting the last bid. The Rebels currently look like a middle-of-the-pack team in the conference.
This team will have to find a way to fight past colleges such as the University of South Carolina, Texas A&M University and the University of Kentucky to make a path to postseason play. UM will also have to contend with programs on the rise, such as Mississippi State and the University of Alabama. Kennedy and Moody are the keys to how far this Rebels team goes in March. The team has zero margin for error, but a NIT berth looks possible.
Mississippi State Bulldogs
Head coach: Ben Howland (402-208 overall, first season at MSU)
2014-2015 record: 13-19 overall record, 6-12 SEC record
Current record: 5-5 overall
Radio: 105.9 FM
Arena: Humphrey Coliseum
Last Season Recap
The Bulldogs won one fewer game last season than in 2013-2014 but won three more SEC games. The team started the 2014-2015 season with five straight wins, quickly followed with five straight losses. Last year's team entered conference play with a 7-6 record, but things never really got back on track. The Bulldogs stumbled down the stretch losing six of their final seven games, including a first-round bounce from Auburn University in the SEC tournament. Mississippi State improved incrementally each season under former head coach Rick Ray, but it wasn't fast enough to save his job.
2015-2016 Outlook
The Bulldogs restored some hope to Starkville after they went out and hired former University of California, Los Angeles coach Ben Howland. The new head Bulldog had success at both the University of Pittsburgh and UCLA. With the Bruins, he went to three straight Final Fours. He inherits a nice core of players, including Gavin Ware, I.J. Ready and Craig Sword. He also made a splash landing with one of the top recruits in the nation, former Callaway High School star Malik Newman.
So far this season, three of the five Bulldog losses have come by six or fewer points. Newman was late to start the season with a foot injury, and if he can get in game shape while playing, the Bulldogs' fortunes can improve dramatically.
Currently, four MSU players are scoring double-digit points each game: Ware with 17.7, Sword with 13.3, Newman with 12.3 points and Ready with 11.4 points. If MSU is going to make the NCAA tournament this season, it will have to continue to improve and slowly turn the offense over to Newman.
Prediction
Howland made it clear to the rest of the SEC that MSU would be a force to reckon with when he landed Newman. That may help convince future players to consider the Bulldogs, as well. MSU hasn't played in the postseason since the 2011-2012 season. While playing for the NCAA title would be nice, it wouldn't be horrible if the Bulldogs just made the NIT. Still, overall, the future looks bright for MSU, even if this season doesn't end in the postseason.
Southern Miss Golden Eagles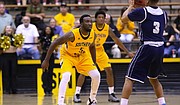 Head coach: Doc Sadler (160-128 overall, 11-27 at USM, entering second season)
2014-2015 season: 9-20 overall, 4-14 Conference USA record
Current record: 2-7 overall
Radio: 105.1 FM
Arena: Reed Green Coliseum
Last Season Recap
The 2014-2015 season already seemed to be a struggle for Southern Miss. Then, the hammer fell as the NCAA found violations stemming from former coach Donnie Tyndall. After he left USM for the University of Tennessee in 2014, the NCAA found that the former head coach had assistant coaches complete homework for recruits, among other violations.
The Golden Eagles tried to make the best of a bad situation and even started the season with two straight wins. USM finished the non-conference slate at 5-6 before heading into Conference USA play.
Southern Miss decided on a postseason ban last season after the NCAA allegations came to light. The Golden Eagles began C-USA play with six straight losses before notching a win against North Texas University in overtime.
USM lost five straight games and even finished the game against Florida International University with just four players due to foul trouble. The Golden Eagles earned their second in-conference victory with a win over Florida Atlantic University. Southern Miss finished the season with losing three of their final five games, but the Golden Eagles recorded their second two-game winning streak with wins over the University of Texas at San Antonio and the University of Texas at El Paso. USM finished the season with a loss to Louisiana Tech.
2015-2016 Outlook
Things look as bleak for USM basketball this season as they did just three years ago for the university's football program. The Golden Eagles are short on talent, and things won't get any better until the NCAA rules on the program's violations. USM is doing everything it can to ease the pain of the NCAA infractions and has self-imposed a second postseason ban on the program this year. Sadler will have to do some of his best coaching to even get this team one win this season.
Currently, only Khari Price is scoring in double digits for the Golden Eagles with 11.1 points per game, but Eddie Davis III and Kourtlin Jackson aren't far off with 9.1 and 9 points per game, respectively.
So far, Southern Miss has only taken down North Dakota State University and South Alabama University, but the team also had a few close games, including a five-point loss to Ohio University and a three-point loss to Alabama. This season may be one to forget about in Hattiesburg and for Golden Eagle fans everywhere.
For all the wins Tyndall brought to Southern Miss during his time as head coach, he did as much damage to the basketball program as former coach Ellis Johnson did to the football program. Sadler will need plenty of time to repair things before and after the NCAA makes its ruling. It doesn't appear like this will be an overnight fix.
One thing Sadler and the USM fans can take heart in is how the football program has bounced back this season. If Sadler is willing to stay at USM and rebuild, he could do something similarly special and bring Golden Eagle basketball out of a dark spot.
That something special just won't happen this year. It may not happen next year. Or the next. Here's hoping for better in the 2018-2019 season.
Jackson State Tigers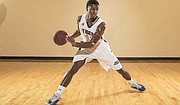 Head coach: Wayne Brent (23-44 overall and at JSU, entering 3rd season at JSU)
2014-2015 season: 11-21 overall record, 9-10 SWAC record
Current record: 4-8 overall
Radio: 95.5 FM
Arena: Lee E. Williams Athletic and Assembly Center
Last Season Recap
The second season under Wayne Brent got off to a rocky start for the Tigers as they lost 11 of their first 13 games. Only victories over Jacksonville University and Southern Miss highlighted the nonconference slate.
The Tigers started conference play with wins in two of their first three games, though they hit a rough patch in conference play with three straight loses. After splitting their next two games, they scored three straight SWAC victories. JSU kept the momentum going but traded brief losing and winning streaks for the rest of the season. The team finished on a two-game losing streak and going 3-3 in its final six games. Jackson State ended the season with a loss against Prairie View A&M University in the SWAC Tournament.
2015-2016 Outlook
After winning just 11 games in his first two seasons, Brent and the Tigers are looking for a breakthrough in year three. Jackson State's route to the postseason is through the SWAC Tournament, but resume building could help with a NIT bid.
The Tigers have started out with a 4-8 record that includes wins over Southern Miss, Savannah State University, Fisk University and Blue Mountain College. Jackson State also played well in tough losses against Arkansas State University, Marquette University and Baylor University.
Currently, three Tigers are scoring in double digits. Paris Collins leads the way with 16.3 points per game; Chace Franklin is second in scoring with 11.8 points; and Raeford Worsham is third with 10.5 points.
Jackson State needed to finish out the nonconference slate strong, but only Southeastern Louisiana State University remains after losses to Louisiana Tech University, Miami University of Ohio and Ohio University on the road. When the new year begins, SWAC play starts for the Tigers and their hopes for a tournament play in March.
Prediction
With luck and avoidance of the injury bug, JSU could be a factor in the SWAC race.
Preseason picks have the Tigers predicted to finish in the middle. JSU will have to battle Texas Southern University, Southern University, Alabama State University, Alabama A&M Universities and Prairie View A&M for the top spot.
Among those opponents, sports analysts widely picked Texas Southern to be the winner of the conference, and Southern closely followed it. But Brent has a nice mix of returning players and newcomers at JSU, putting his team in position to fight for the title. A victory in the SWAC Tournament means a bid into the NCAA Tournament. That is the only way to get a shot at the ultimate title, but a strong season could be the key to a NIT berth should the Tigers fall short of the automatic bid.
More stories by this author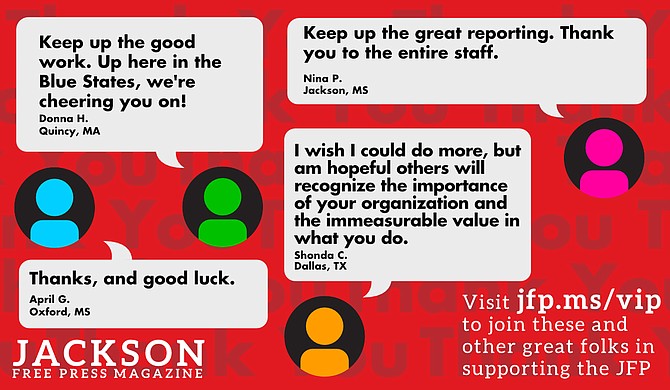 Thanks to all our new JFP VIPs!
COVID-19 has closed down the main sources of the JFP's revenue -- concerts, festivals, fundraisers, restaurants and bars. If everyone reading this article gives $5 or more, we should be able to continue publishing through the crisis. Please pay what you can to keep us reporting and publishing.