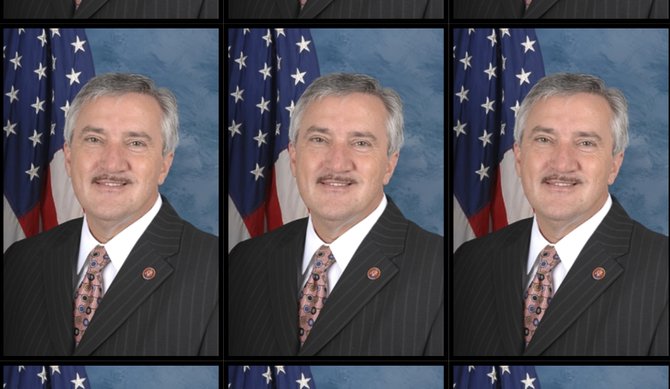 Natalie Maynor was visiting North Carolina when she heard that Travis Childers, the Democratic nominee for U.S. Senate, had signed a so-called no-amnesty pledge of the Federation for American Immigration Reform.
The first Democrat this campaign cycle to sign the document, Childers' pledge raised eyebrows. FAIR's advocacy of limiting illegal immigration into the U.S. has drawn ire from civil-rights organizations such as the Southern Poverty Law Center, which has designated FAIR a hate group due to its extreme views.
In another sense, the move was seen as a bold play for conservatives who are still seething over the loss of state Sen. Chris McDaniel to the incumbent, U.S. Sen. Thad Cochran. For Maynor, self-described liberal and SPLC donor, it was the one of the last straws. Not only did she decide she couldn't campaign for Childers, she also tried to scrape the candidate's bumper sticker off her car, albeit unsuccessfully. When she got back home to Jackson, she covered it up with a spare Unitarian church bumper sticker she found in a drawer.
That was more of a symbolic stance. Then, Maynor says she had a more practical thought: "What am I going to do about voting?"
Maynor has voted for Cochran, who began serving in the Senate in 1978, in past elections, but with control of Congress' upper house tenuously in the hands of Democrats, she realizes the stakes are higher in this election. Then, factor in the possibility that Cochran might not serve another full six-year term, authorizing Gov. Phil Bryant, himself a tea-party ally, to name a replacement, and Maynor was prepared to accept Childers' conservatism.
Now, she's torn about what she'll do when she goes into the voting booth on Tuesday, Nov. 4. As long as he doesn't do anything else to offend her between now and then, she's leaning toward Childers anyway.
"I want him to win," she says, with a hint of reluctance. "I just don't want his name on my car."
Gravel-Road Politician
Maynor finds herself in the same spot as a lot of Democrats in Mississippi.
The choice is between Childers and incumbent Cochran, unless the Mississippi Supreme Court does the unthinkable and overturns the results of the June Republican primary. The polls firmly point to a Cochran victory, but even less-than-enthusiastic Childers' supporters would point to similar polls that showed the veteran senator pummeling his young opponent, McDaniel, as evidence that Childers, too, could pull off a November surprise.
Between now and then, Childers is finely threading with delicate string. He must simultaneously hold together as much of his Democratic base as possible while convincing Republicans who aren't too keen on Cochran that he's every bit as socially conservative as McDaniel.
Of course, after keeping a low profile during the summer's primaries, Childers' first order of business is, or should be, to introduce himself to voters. (His campaign, however, failed to respond over recent months to repeated requests for a question-and-answer interview with this newspaper before this issue went to press.)
Unlike Cochran, who has served in the Senate for almost as long as McDaniel has been alive, Childers remains unfamiliar to voters outside northeast Mississippi, including here in the Jackson metro.
Born and raised in Booneville, Childers often mentions the family role he assumed at the age of 16 after his father died. At the time, Childers worked nights and weekends at a local store to support his mother and sister, a story he likes to tell during campaign stops.
Brandon Presley, a fellow Democrat and a member of the Mississippi Public Service Commission, describes Childers as a "gravel-road politician," who can connect with voters in remote areas of the state. Presley, who has known Childers for a decade, also points to Childers' hard work to support his family as a testament to the candidate's work ethic.
"He came up hard, so hard work is not anything new to him," Presley said.
Childers continued working while a student at Northeast Mississippi Junior College and, in 1980, he graduated from the University of Mississippi with a degree in business and went into real estate.
Eleven years later, Childers won his first election as Prentiss County chancery clerk, which serves as clearinghouse for county records such as land deeds and minutes of supervisors' meetings.
Later, he converted a local high school into an assisted-living facility. With his wife, Tami, Childers continues to run the facility, called The Landmark Community, in Booneville and is a part-owner of two real-estate firms, A&C Enterprises and DLC Enterprises.
Presley said that Childers' pragmatism in business and politics has helped him remain popular even in his former district, which now leans Republican and is represented by U.S. Rep. Alan Nunnelee, who ousted Childers four years ago.
"Standing in a corner screaming isn't going to educate a child. You have to find a way to move the ball down the court," Presley said.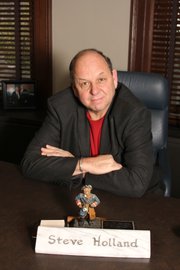 In 2008, Childers jumped into the race to replace Roger Wicker as the 1st Congressional District representative, beating out rivals that included state Rep. Steve Holland of Plantersville.
In fact, most legislation Childers authored during his two years in the U.S. House seemed to align with his campaign messaging of today, combining give-the-little-guy-a-break populism with meat-and-potato issues of social conservatism like championing gun rights, and being against abortion rights and illegal immigration.
During the contentious primary between Cochran and McDaniel, when the candidates locked horns over who could diss Obamacare the hardest, Childers seemed to be staking out new, possibly fertile ground as a fighter for the middle class. And he said he wouldn't vote to repeal Obamacare.
"Mississippians know that I have a solid record of being an independent guy who will work across party lines and stand up to the powers-that-be when needed," Childers said in the press release announcing his bid.
"In the U.S. Senate, I will continue to put Mississippi's middle class first."
At the Neshoba County Fair in July, Childers not only criticized Republicans for spending heftily on their primary race—around $17 million in total—but he made an overture to blue-collar Mississippians.
Holland, the longtime state representative Childers beat in the 2008 primary, said that as a result of Childers' working-man ethos, the candidate continues to have a strong base in what Holland calls "the courthouse crowd."
"That crowd sticks together, and Travis has a way of melding grassroots support," Holland said.
Going Populist
At Neshoba and at other public events in the weeks following, Childers hit three points again and again: He blasted Mississippi Republicans for declining to expand Medicaid even though he voted against the Affordable Care Act, which allows states to put more people on Medicaid, because, he said the law was well-intentioned but "not the right bill."
Childers also supports raising the minimum wage, which now stands at $7.25 an hour. Childers invoked his mother in calling for equal pay for women despite the fact that he voted against the Lilly Ledbetter Fair Pay Act of 2009 while in Congress.
At a September press conference, Childers pointed out that women earn 75.6 cents for every dollar a man makes and that the average woman in Mississippi makes $11,000 less than men and earn the lowest wage of any cohort of women in the nation.
"After my father's death, I watched my mom work two jobs to support our fractured family—needless to say, I only have to look to back as far as my mother to tell you that I support equal pay for equal work. I learned a long time ago to listen to the women in my family," Childers said.
"The votes against equal pay for women show how out of touch Senator Cochran is when it comes to the daily struggles of everyday Mississippians. What's unfair is that women are losing thousands of dollars in income each year and have less money to spend on basic necessities for the entire family," Childers said.
"When it comes to putting groceries on the table, a mother's money counts just as much as a father's—a woman pays the same price for a gallon of milk, a loaf of bread and a tank of gas as a man does."
Democrats like Maynor hoped that with the Republican primary bloodying up the GOP's eventual nominee and making a sizable chunk of Republicans sit out the November election, it would be possible for a Democrat who kept his nose clean and said the right things to scoot into the seat.
Childers was on a good trajectory to do just that. Where early polls had the Democrat trailing by wide margins to either Republican, Childers started to close the gap as the year dragged on. Perhaps Childers' campaign handlers believed that the candidate had to do something bold in the final days of campaign to put him over the top. Signing the FAIR pledge could be seen as political calculation: Courting angry conservative voters will pay bigger dividends that remaining on safe ground of talking about bread-and-butter issues of health care and fairer wages for women and the poor.
A Mixed Record
In some ways, the first and last bills Childers sponsored during his term in Congress define him.
After winning a special election to replace Roger Wicker, who was appointed to the Senate in 2008, Childers joined the House Financial Services Committee and introduced his first bill, which he hoped would spur economic investment in Mississippi businesses that were still feeling the effects of the Hurricane Katrina.  
The Invest in Small Business Act of 2008 would have helped small businesses attract investors and make small businesses eligible for tax cuts. In addition, eligible taxpayers under the bill would pay zero taxes on capital gains.
"This legislation is especially important for communities that are working to rebuild after Hurricane Katrina and are counting on small businesses to create jobs and help their communities rebound. I'll be working hard to pass the Invest in Small Business Act, and continue to do everything I can to create jobs in North Mississippi," Childers said at the time.
The bill died in the House Ways and Means Committee, which Rep. Charlie Rangel, who had been besieged by ethics violations, chaired. Two and half years later, after losing his seat to Nunnelee, Childers introduced the International Child Protection Act of 2010. The bill, which never made it out of committee, would have barred entry into the US for immigrants convicted of sex crimes against children.
In all, Childers was the primary sponsor on 19 bills. Not counting resolutions, several of Childers' bill were related to gun rights, which earned the Blue Dog Democrat high marks from the powerful National Rifle Association, others sought to help homeowners get tax breaks and other regulatory requirements. More of his proposals were aimed at immigration, including a successful amendment to an infrastructure bill that would have prohibited undocumented immigrants from participating in certain federally funded programs.
After the FAIR amnesty fallout, Childers scrambled to clarify the stance.
"As I travel the state of Mississippi, I try to listen to people more than I talk. I ask Mississippians about the issues that are important to them, and I believe it's equally important for me to provide them with answers on where I stand and how I would vote if elected to the U.S. Senate," he said through a statement to the news media.
"In every town I visit, voters continue to voice their serious concerns over high unemployment and the lack of job opportunities in our state and want to know where I stand on closing the gap. I continue to believe that Mississippians would be well served by hearing both candidates debate these tough issues, but in the absence of agreement on a public debate from Thad Cochran, I'll continue to explain my positions on the issues."
He added that Mississippi's unemployment rate remains one of the highest in the nation, at 8 percent. "Until we get Mississippians back to work, I can neither support legislation that would grant work authorization or amnesty to people that came here illegally, nor can I support increases in guest foreign workers—many of whom accept work at sub-standard wages," he wrote.
"There are too many corporations in our state and across the nation who are hiring illegal immigrants and guest workers instead of providing unemployed Mississippians with opportunities to perform hard work at a decent wage," he wrote. "... Washington insiders backing Senator Cochran argue that these corporations just can't find Mississippians willing to do the hard work. However, I know that if the jobs are actually offered to Mississippians and provide livable wages, the people of our state would readily accept the work and do it proudly."
Double-Edged Sword
When Childers sought reelection in 2010, his Republican challengers seized on his vote for Nancy Pelosi for House Speaker. Childers countered, putting out a television ad about his nearly 300 votes against Pelosi's agenda. Those votes included Childers' no vote on the Affordable Care Act.
While those rebukes of Pelosi and President Obama may play with the tea party, they risk alienating African Americans, the most single most powerful voting bloc for Mississippi Democrats.
A look at recent elections show that the proportion of votes Democrats typically receive in statewide elections closely mirrors the state's black population of approximately 37 percent. Plus, most of the Democratic members of the Mississippi House and Senate are also African American as are hundreds of local city and county officials, who give Mississippi the distinction of having the most black elected officials in the nation.
"The Democratic Party in Mississippi, for all practical purposes, is a predominantly African American party," said Rickey Hill, interim chair of the political science department at Jackson State University. "Childers' track record is not conducive to convincing rank-and-file Democratic black voters to come out and vote for him."
It's not that Childers' record necessarily turns blacks off, particularly in Mississippi where African Americans are likely to align with conservatives on social issues and even gun rights, considering the large number of black farmers and hunters in Mississippi. Rather, Childers and Democrats have not yet connected with their black base on kitchen-table economic issues, Hill said.
For example, while Childers' support of equal-pay-for-equal-work may resonate with white blue-collar men and women, he has stopped short of talking about economic inequality and the challenges of building generational wealth in Mississippi, which might get the attention of African Americans, who have endured generations of Jim Crow segregation and slavery.
"He doesn't calibrate those issues along racial lines," Hill said. "He can talk along party lines."
Some might argue that Cochran did this masterfully during the Republican primary, when Chris McDaniel had Cochran on the ropes. Over the years, Cochran has toed a fine line on race relations. In 1989, Cochran refused to sign onto a resolution commemorating civil-rights workers James Chaney, Andrew Goodman and Michael Schwerner on the 25th anniversary of their murders by the Ku Klux Klan just south of Philadelphia. Cochran also voted against a federal hate-crime bill, and he failed to support a symbolic Senate resolution apologizing for the federal government's failure to legislate against lynching, the most of which took place in Mississippi.
Still, with his back against the wall this summer, Cochran advertised in Mississippi publications with large black audiences to tout his record of supporting historically black colleges and universities over the years, which included co-sponsoring legislation designating a week in 2010 as National Historically Black Colleges and Universities Week. Cochran also enlisted the support of state officials, including every Republican statewide office holder, and local black leaders who depend on the millions of dollars worth of federal funds Cochran has helped appropriate during his time in the Senate.
Childers faces a tall order to convince blacks to abandon Cochran, who typically receives anywhere from 20- to 30 percent African American support in his elections.
The last time Mississippi had a U.S. Senate election in a mid-term election, then-Sen. Trent Lott beat then-state Rep. Erik Fleming by 30 percentage points. In subsequent elections, in 2008 and 2012, both presidential election years with Obama on the ballot, the Democratic Senate nominees—Fleming again in 2008 and Albert N. Gore Jr. in 2012—did just as poorly.
Essentially, Childers is asking conservative Republicans to support a Democrat, and he is asking black Democrats to support a conservative who is making overtures to the tea party. With so little time remaining before the election, Childers should be spelling out in no certain terms why those seemingly divergent strategies are compatible, Hill argues.
"Two weeks before the election, we should be engaged in a sharp debate around the issue areas Childers have laid out, but we haven't seen that," Hill said.
A Golden Opportunity
The FAIR pledge touched off a spate of criticism from Democratic voters, including Natalie Maynor, who took to social media to disavow Childers. But Grant Sowell, head of the Tupelo Tea Party and a constituent of Childers' former district, believes Childers' move might actually have the desired effect of appealing to former McDaniel acolytes.
Sowell said he could not personally support Childers because he voted for Nancy Pelosi as House Speaker, and he believes that raising the minimum wage will hurt the bottom wage earners.
Still, Sowell said fellow tea-party members who believe that they don't have a conservative in the race to support are taking a long, hard look at Childers.
"I think he has the opportunity to peel off some of the McDaniel voters," Sowell said. "Most people I know who were McDaniel supporters, there is no way they're going to vote for Thad Cochran."
Top Contributors*
Thad Cochran (R)
Contributor / Total
Telapex Inc. $71,350
General Atomics $57,100
Baker, Donelson et al $47,450
Tenax Aerospace $41,500
Votesane PAC $35,500
Northrop Grumman $34,000
Balch & Bingham $32,950
Raytheon Co. $30,000
Southern Co. $24,000
Huntington Ingalls 
Industries $22,700
Entergy Corp. $22,600
Seemann Composites $21,500
Boeing Co $21,300
Sanderson Farms $20,600
Sierra Nevada Corp $20,500
Butler Snow LLP $20,300
Cornerstone Government
Affairs $20,200
Podesta Group $19,950
Airbus Group $18,600
Altria Group $17,600
CME Group $17,600
Travis Childers (D)
Contributor / Total
Langston & Lott $11,400
Moderate Democrats PAC $10,000
Operating Engineers Union $10,000
Langston Law Firm $5,200
Common Sense Colorado $5,000
Empire PAC $5,000
Great Land PAC $5,000
Hoosiers First PAC $5,000
Searchlight Leadership Fund $5,000
Jr Broadcasting $2,600
Morton Construction $2,600
Advanced Healthcare 

Management $2,500
America's Leadership PAC $2,500
American Assn for Justice $2,500
AmeriPAC: The Fund for a 
Greater America $2,500
First American Financial Corp $2,500
First State PAC $2,500
Jones & Jones CPA $2,500
Lobo PAC $2,500
Peak PAC $2,500
Rosewood Residence $2,500
*Through June 30, 2014
Source: Center for Responsive Politics
More stories by this author
Support our reporting -- Follow the MFP.