On the night of June 24, state Sen. Chris McDaniel took the podium from his fellow Mississippi state legislator Michael Watson after results came in for the Republican primary run-off for the U.S. Senate.
McDaniel stepped to the microphone not to concede, but to reject defeat and to issue a call to arms.
After losing in his bid against incumbent U.S. Sen. Thad Cochran by around 7,000 votes, McDaniel started weaving the narrative that would serve as a clarion call to his supporters in the Tea Party to help him claim the seat he believed was rightfully his.
"There were literally dozens of irregularities reported all across this state. And you know why. You read the stories. You're familiar. You're familiar with the problems we have," he signaled, to grunts of assent as the sentence trailed off.
The tea-party movement—a radical faction of the modern conservative movement, itself an offshoot in many ways of mainstream Republicanism—was slow to arrive in Mississippi, like a lot of things. The tea party made its mark on the national stage in 2010, when it dislodged mostly conservative Democrats, but no self-professed tea-party members from Mississippi went to Capitol Hill. Arguably, the tea party did not become a force in Mississippi politics until 2011, when it dubbed Phil Bryant the nation's first tea-party governor.
As tea-party popularity surges in Mississippi, the movement's influence is waning elsewhere. In 2012, the Republican nominee for president, former Massachusetts Gov. Mitt Romney, openly rebuked the tea party, while the U.S. Senate bids of tea-party darlings Todd Akin in Missouri and Richard Mourdock of Indiana quickly went off the rails.
Icons of the Republican establishment, such as Senate Majority Leader Mitch McConnell, Speaker John Boehner and Utah Sen. Orrin Hatch have all handily beat down scrappy primary challengers from their right flanks in recent years.
The matchup between McDaniel and Cochran was the tea party's last best hope to knock off one the oldest of the old Republican guard. This was supposed to be their revolution.
'Something a Bit Strange'
During his 10-minute-long speech at the Laurel Convention Center, McDaniel, 42, invoked President Ronald Reagan, whose presidential bid began in Mississippi and flourished throughout the South with the help of a strategy that not-so-subtly stoked the embers of racial animus. Reagan's strategy, developed by Republican strategist Lee Atwater, substituted words like "welfare queen" and "thug" for African Americans.
Today, adherents to the Southern Strategy deploy a different lexicon to characterize blacks: "Democrats."
The epithet is a clever one. Look at exit polls of just about any statewide political race and the African American vote mirror the votes received by the Democratic nominee. Today, most of the Democrats in the state Legislature are African Americans. In the state with the most black elected officials (but none statewide), African American mayors, county supervisors and other government officials abound, almost all of whom are Democrats.
That means black Democrats have power. And in the McDaniel-Cochran race, they wielded that power with shocking precision.
Three weeks after the June 3 primary resulted in a near tie, with McDaniel coming up just about 1,500 votes short, Cochran got a more than 8,000-vote swing to win the June 24 runoff election by a total of 7,667 votes. Almost half the votes Cochran picked up came from heavily Democratic precincts in heavily African American Hinds County, which voted for Barack Obama in 2008 and 2012 at higher rates than most other counties in the Deep South.
After the near-loss in the June 3 primary, the Cochran campaign unapologetically went hard for African Americans and others who had sat out the Democratic primary—meaning they could legally vote in the runoff.
McDaniel took note. "There is something a bit strange. There is something a bit unusual about a Republican primary that's decided by liberal Democrats," said McDaniel as his supporters cheered, some thrusting their fists toward the ceiling like 1960s radicals.
He is probably right on that point: This was a bizarre election. In few places have African Americans ever before influenced the outcome of a Republican primary, certainly not one in the South nor one with national implications. More importantly, after years of southern Republicans gerrymandering electoral districts, pressing for voter ID and developing other policies to dilute black voting strength, black Mississippians may have discovered a new way to assert strength.
For making overt appeals to Democrats, McDaniel accused Cochran of "abandoning the conservative movement" and told a hushed crowd:
"Today, the conservative movement took a back seat to liberal Democrats in the state of Mississippi. In the most conservative state in the republic, this happened. If it can happen here, it can happen anywhere."
A Known Commodity
In the aftermath of the Republican Senate primary, race has become the defining issue for Mississippi Republicans, trumping even issues that are typical flashpoints in conservative politics such as national defense, immigration reform, dismantling Obamacare or abortion.
On July 18, McDaniel appeared on a radio show produced by the conservative American Family Association to echo the claim his campaign has made for weeks: that mainstream Republicans, including Cochran, colluded to demonize him and engage in race baiting in radio ads that warned black voters that he would not be friendly to them—and some that associated him with the Ku Klux Klan.
"It's bad enough they called me a racist. They said if I'm elected, and we get our way, that we're going to end food stamps. They said if I'm elected, and we get our way, we're basically going to keep minorities from voting. They said if I'm elected, and I get my way, I'm going to cut off funding for historically black colleges and universities," McDaniel said on the AFA program.
Some of these charges were suggested ever subtly through the Cochran outreach effort that involved advertising with local media with large black audiences, including the Jackson Free Press, the Jackson Advocate and the Mississippi Link, which the family of developer and political power player Socrates Garrett owns.
Part of what has the McDaniel campaign, their supporters and campaign-finance watchdogs crying foul is that the minority outreach was not done by the Cochran campaign, but by Democratic-affiliated groups.
The most notable among them is a political-action committee called All Citizens for Mississippi, founded by Bishop Ronnie Crudup, the powerful pastor of New Horizon Church International in south Jackson. In addition to leading the church, Crudup heads the Jackson Redevelopment Authority and community-development LLCs.
The bishop, who has a long history of working with Republicans, including Gov. Haley Barbour whom he endorsed in 2007 for re-election, explained his rationale for starting the pro-Cochran PAC in an interview with the Jackson Free Press at the church last week. "Senator Cochran is a known commodity in the African American community," Crudup said.
Take Jackson, for example. In the last year before Congress did away with earmarks, projects in and around the capital city received approximately $38 million from the federal government due to Cochran's influence for the city of Jackson, University of Mississippi Medical Center, Jackson State University, the Jackson-Evers International Airport, the Medgar Evers historic site, and other local projects and organizations. In all, Cochran sponsored 243 earmarks that added up to $497.6 million in fiscal year 2010.
Cochran foes, including those in the tea party who support McDaniel, have derided the incumbent as a king of government pork. But even Republican leaders, who talk a good game about limiting government spending, as well as local Democratic officials, need Cochran to bring home the bacon.
Not only did every statewide Republican official, including Bryant, the tea-party governor, put their necks on the line to campaign hard to send Cochran back to Congress, but so did local Democratic and Republican officials. Gary Rhoads, a Republican and mayor of Flowood, said at a June Levee Board meeting that voting against Cochran would be "dumb." At the same meeting, newly elected Democratic Jackson Mayor Tony Yarber said that of the all candidates, he would support the one who would provide funds for Jackson's infrastructure.
Cochran's fan base also extends to McDaniel's own backyard. Melvin Mack served as Laurel mayor for eight years after stints on the city council and the Jones County Board of Supervisors. A city of 18,548, Laurel's population is 55 percent black. Beyond the city hiring McDaniel's law firm Hortman Harlow to do contract legal work, Mack said he doesn't know McDaniel well.
"I believe he's a good person, but our paths didn't cross that much," Mack, a black Democrat, said in a phone interview.
Cochran, meanwhile, received high marks from him.
"I was mayor when (Hurricane Katrina) came through," Mack said.
"Anything that we wanted, we would just ask him. And if Thad could do it, he never would hesitate. Things happen here in Laurel. Thad Cochran put the party behind him to do the right thing."
Asked about former Congressman Travis Childers, his party's nominee for U.S. Senate, Mack pauses.
"I don't know him that well," he said. "I think I met him one time, but I know Thad much better, and I know what he's done. I think Childers and Thad would make good senators."
Rocky Race Histories
That race would figure prominently in the U.S. Senate primary was a given from the moment McDaniel stepped up as the only Republican official with the moxie to run against Cochran in the fall of 2013.
In October of that year, Mother Jones, the liberal investigative-news magazine that broke the story of Mitt Romney's 47 percent remark during the presidential campaign, reported that McDaniel was a featured guest speaker for "a neo-Confederate conference" in Laurel. Attendees were reportedly urged to dress in "Confederate uniforms and antebellum ball gowns or wee kilties," the magazine reported.
McDaniel said he never showed up for the speaking engagement because he missed his flight coming back from a meeting of the American Legislative Exchange Council. Up until the June 3 primary, McDaniel was dogged by comments that had a whiff of antipathy for blacks and black culture, including a snippet of a radio show he taped in which he railed against hip-hop as a culture "that values prison more than college ... that can't stand education (and) can't get control of itself."
Cochran is not without his race-related demons, however.
In 2005, the U.S. Senate formally apologized for the body's failure over the years to pass a federal law that might have been used to intervene in lynchings that occurred in the past century, many of them in the South.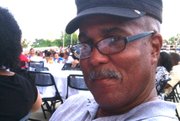 It was a purely symbolic move, but drew 80 co-sponsors from both sides of the party divide. Neither Cochran nor then-Sen. Trent Lott signed on to the resolution despite Mississippi's horrid reputation as a safe haven for racial terrorism—and as the state with the most lynchings on record.
Earlier, in 2002, both Cochran and Lott voted against a federal hate-crime bill. That legislation, the Matthew Shepard and James Byrd, Jr. Hate Crimes Prevention Act, has been used to convict and indict Deryl Dedmon and several other white men and women in connection with the murder of a black man, James Craig Anderson, in 2011, on federal hate-crime charges.
Most recently, on July 16, federal prosecutors announced that a federal grand jury indicted four more people for their role in Anderson's death, all under the federal law that Cochran voted against.
Cochran also refused, in 1989, to sign onto a congressional resolution commemorating civil-rights workers James Chaney, Andrew Goodman and Michael Schwerner on the 25th anniversary of their slaying by the Ku Klux Klan just south of Philadelphia, Miss.
Strange Bedfellows
Even if it's rare for African Americans to play such a direct role in Republican politics, black Democrats and the Mississippi GOP have had a long history of working together, albeit in secret.
Jackson has frequent examples of how white Republicans inject themselves into mayoral elections in Mississippi's largest city.
For instance, in 2009, the Better Jackson PAC, which ran crime-hysteria ads about Jackson in support of then-candidate Marshand Crisler, was actually funded by supporters and architects of the controversial Two Lakes project, a largely Republican group that even included donors to Ron Paul's presidential campaigns.
Four years later, when businessman Jonathan Lee ran for mayor of Jackson, his political opponents tarred him as a "Rankin County Republican," which, to black Democrats, is code to describe white people. It didn't help Lee's cause that many of his top donors had given millions to Republicans in federal elections over the years.
Even more recently, in this year's mayoral election, a consulting firm with ties to the former chief of staff of Republican Gov. Kirk Fordice, did polls and placed television advertising for the Tony Yarber campaign, although it played a middleman role and was not listed on Yarber's campaign reports.
Those ads were aimed at responding to a set of anti-Yarber ads placed by a secretive PAC that late attorney Precious Martin set up, and which never registered as a PAC or reported donations or expenditures.
In cities like Jackson, the game is all about parties trying to forget—or conceal who's affiliated with which political party— said Stephanie Parker-Weaver, who has been a political organizer since the early 1990s.
"Republicans have played in traditional big D—Democratic—politics for years," she said. Weaver points to her own experience working on the campaigns of late Jackson Mayor Frank Melton.
Melton's team of supporters consisted of "radical" progressives like herself as well as ardent conservatives such as developer Leland R. Speed, whose father served as mayor of Jackson in the 1940s, and Wirt Yerger Jr., the Mississippi Republican Party's founding chairman.
Parker-Weaver said Republicans who need to do business with the Democrats who control City Hall have to find ways to put aside philosophical differences, sometimes publicly and sometimes on the down-low.
One way to hide money is through bundling. State law requires donations over $200 to be reported on campaign-finance disclosure forms, but bundlers can convince large numbers of people to donate smaller amounts to avoid detection.
Parker-Weaver says the subterfuge is about race politics.
"No black candidate wants to be seen as being bought and paid for by white people who have the green. You don't want it showing up that Leland (Speed) and them still control everything," she said.
Rick Whitlow, who is black and ran for mayor of Jackson as a Republican in 2005 and as independent in 2009, was on the receiving end of that reluctant bipartisanship.
"Politics makes for strange bedfellows," Whitlow said last week.
Whitlow, who settled in Jackson from Michigan City, Ind., and first worked as a sports broadcaster here, said that despite his carrying the GOP banner, Mississippi Republican power brokers largely ignored his bid against Melton, who claimed he could "solve crime in 90 days" and who also was ready and willing to rubber-stamp Republican pet projects such as Two Lakes.
"I was ignored by the Republican Party. They all thought Frank hung the moon," said Whitlow, who received some small donations from Republicans such as Karen and Stuart Irby and then-Gov. Haley Barbour. "They thought Frank would solve all their problems."
It was Melton, who invited Whitlow to join his staff, who turned out to be the problem, eventually involving state and federal felony indictments, and he soon began losing support from his biggest backers. Whitlow described his experiences in a new book titled "Swagger."
Whitlow has observed many of the same cloak-and-dagger tactics employed in the Mississippi Senate race, all to hide the fact that white Republicans and black Democrats are working together.
"It seems like a very shrewd move to reach out to liberal Democrats to get over the hump," Whitlow said of the Cochran campaign. "This harmonious blending of the races—it's set up for conflict. But it also lends itself towards cooperation and trust. No group gets everything they want, but everyone gets a little something."
'Stank and Taint'
Whether African Americans get something from their support of Cochran remains to be seen. After blacks carried him to victory on June 24, members of the Congressional Black Caucus wondered aloud whether Cochran would reward blacks.
"Those votes were delivered, and I'm hopeful he will be responsible and responsive to the voters that pushed him over the top," U.S. Rep. Hank Johnson, a Georgia Democrat, told Politico after the runoff.
To deliver those votes, Cochran, through Bishop Crudup's All Citizens for Mississippi PAC, leaned hard on Democratic operatives. The PAC paid Bill Washington $34,000 in three separate payments and Roosevelt Daniels $20,000 in four payments, all for the purpose of get-out-the-vote efforts.
Washington and Daniels also recently worked for Democratic state Sen. John Horhn during the 2014 special election for Jackson mayor. Daniels is a former aide to former Jackson Mayor Harvey Johnson Jr., also a Democrat.
James Warren, known as "Scooby Doo," or usually just "Scooby," in political circles, received $16,000 in three separate payments for door-to-door, get-out-the-vote efforts. Warren told The Clarion-Ledger in mid-June that he would get involved with the Republican primary despite his longtime association with the Democratic Party.
Other hired guns who received smaller amounts were Ronny Barrett, Levon Owens and Democratic state Rep. Credell Calhoun.
Bill Chandler, executive director of the Mississippi Immigrant Rights Alliance, believes that the race points out the need for public financing of election campaigns.
"I think it's a real attack on democracy. I think it's good this controversy is going on because it's bringing attention to these issues," Chandler said.
"Chris McDaniel has been an adversary to immigration, but there's probably weight to the accusations that he's making. I've been involved on the election side, and I see the kind of corruption that he's talking about."
But neither Cochran nor Mississippi's other Republican officials who also benefitted indirectly from African Americans helping his re-election effort have indicated that they would support any African American agenda items, such as Medicaid expansion or increased funding for black cities.
Stephanie Parker-Weaver says there should be no shame in African Americans asking Republicans for something in exchange for supporting Cochran.
"That means that we are an informed electorate that knows how to play the game. White folks don't vote for white folks without asking for something in return," she said. "Crudup and his bunch saved Cochran's cahones."
Parker-Weaver believes that African Americans' success in influencing Mississippi's Republican primary is likely to be replicated nationwide, albeit altered to "remove the stank and taint" that has emerged since June 24.
"This is the awakening of a sleeping giant," she said.
Investigative reporter Anna Wolfe contributed reporting to this story by interviewing Bishop Ronnie Crudup.
More stories by this author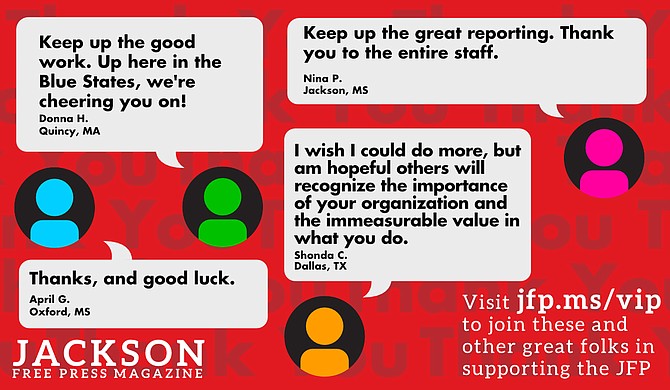 Thanks to all our new JFP VIPs!
COVID-19 has closed down the main sources of the JFP's revenue -- concerts, festivals, fundraisers, restaurants and bars. If everyone reading this article gives $5 or more, we should be able to continue publishing through the crisis. Please pay what you can to keep us reporting and publishing.