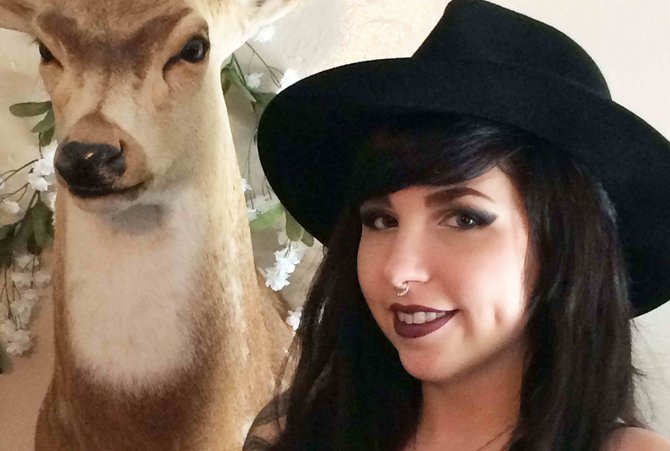 It wasn't some intrinsic skill that turned tattoo artist Azha Sanders into the artistic inker she is today. While she's a talented artist in her own right, translating art into tattoos is as much discipline as it is ability.
"It's a lot of patience with yourself and how much you're able to be taught," Sanders says of tattooing. "It's definitely nothing to be rushed into, but it's something you have to do to make it happen."
Though she's lived in the Fondren area for a number of years, Sanders, 26, is originally from Kosciusko. She attended the Education Center School in Jackson before transferring to Ridgeland High School. Even then, she was fascinated in tattoos as an art form, though admittedly, her interest exceeded her knowledge.
"I actually didn't know much about tattoos until I started working at a shop," Sanders says. "I just knew it was what I wanted to do. I had that absolute feeling—'This is it.'"
Luckily, she spent plenty of time educating herself before taking a needle to anyone. In 2009, Sanders began her nine-month apprenticeship at Twiztid Images (557 Highway 49, Richland, 601-
664-0000) under veteran artist Lorin King.
"It was hard, which it's supposed to be," she says of her training. "It's very difficult because you don't get paid to be an apprentice. It's a lot of work and taking initiative. You have to take charge and prove why you should be there." Sanders apparently proved herself. Next January marks her sixth year as a licensed tattoo artist for Twiztid Images.
Although the route from thinking to inking becomes smoother with experience, taking something from an idea to a workable blueprint is still tricky.
"The hardest part of the process is trying to get what's in someone's head onto paper or even in words," she says, and what a customer wants doesn't necessarily equate to the perfect piece. "Sometimes people have something in their heads that won't necessarily make a good tattoo. I try to work with them, and as long as they're willing to compromise, it usually turns out great."
Sanders has an undeniably classic style to her work, but she says she would rather not ascribe to a single approach when creating pieces for customers.
"I try to make tattoos that are bold and that will last through the test of time," she says. "I'm thinking about a person's future and how it will look 10 or 20 years from now."
Both in the design and application processes, Sanders' main focuses are quality and longevity. To her, a truly great tattoo is about the long term, and in the tattoo business, it is very long-term.
More stories by this author
Support our reporting -- Follow the MFP.