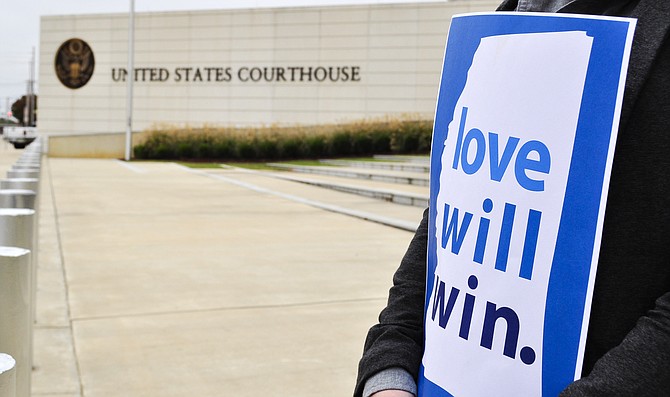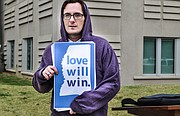 Predictably, U.S. District Judge Carlton Reeves—as most federal judges appointed by Presidents Clinton and Obama did before him—last night ruled that same-sex couples in Mississippi should be allowed to marry.
And, predictably, Mississippi's conservative political establishment didn't take the news very well. That includes Democratic Attorney General Jim Hood—who argued on behalf of the state to uphold Mississippi's constitutional requirement limiting marriage to one man and one woman—as well as Republican Gov. Phil Bryant and Speaker of the House Philip Gunn.
"It is unfortunate that one judge has decided to ignore the will of the people of Mississippi," Gunn said in a statement to the press this morning, citing the 2004 law that drew 86-percent support to prohibit gay marriage.
For Reeves, the issue was bigger than the will of the people of Mississippi; it was about protecting the rights of all American citizens.
In a 72-page order handed last night, Reeves posited: "In reviewing the arguments of the parties and conducting its own research, the court determined that an objective person must answer affirmatively to the following questions:
Can gay and lesbian citizens love?
Can gay and lesbian citizens have long-lasting and committed relationships?
Can gay and lesbian citizens love and care for children?
Can gay and lesbian citizens provide what is best for their children?
Can gay and lesbian citizens help make their children good and productive citizens?
Without the right to marry, are gay and lesbian citizens subjected to humiliation and indignity?
Without the right to marry, are gay and lesbian citizens subjected to state-sanctioned prejudice?
"Answering 'yes' to each of these questions," Reeves went on to say, "leads the court to the inescapable conclusion that same-sex couples should be allowed to share in the benefits, and burdens, for better or for worse, of marriage."
Then, Reeves' money line, which tackles the fundamental federal question that judges in his position must grapple with: "The court concludes that Mississippi's same-sex marriage ban deprives same-sex couples and their children of equal dignity under the law. Gay and lesbian citizens cannot be subjected to such second-class citizenship. Mississippi's same-sex marriage ban violates the Due Process and Equal Protection Clauses of the Fourteenth Amendment."
As expected, Hood, on the state's behalf, indicated that he would appeal the ruling to the U.S. 5th Circuit Court of Appeals. In fact, he argues that he has a statutory duty to defend the state's constitution.
That's where the case—which the Campaign for Southern Equality filed along with plaintiffs Andrea Sanders and Rebecca Bickett and Jocelyn Pritchett and Carla Webb—is expected to get interesting. Only one other federal appeals circuit has ruled that gay-marriage bans are lawful under the federal constitution. If the 5th Circuit—regarded as the nation's most ideologically right-leaning—follows the Midwest's 6th Circuit, the U.S. Supreme Court will assuredly hear oral arguments this term to settle the matter once and for all.
Matt Steffey, a constitutional law professor at Mississippi College School of Law, says the 5th Circuit will almost certainly grant Mississippi's request for a stay, which would prevent circuit clerks from immediately issuing marriage licenses to same-sex couples. Reeves has already granted a two-week stay to allow the state time to prepare its appeal, although the Thanksgiving holiday will likely slow the state's lawyers down a bit. Staying Reeves' ruling will prevent a chaotic on-again-off-again legal situation where some marriages are legal and some are not.
"From a systemic perspective, you don't want to be schizophrenic about it," Steffey said. "The state has an interest in avoiding marriages of questionable legality."
If the odds bear out and the case goes to the U.S. Supreme Court, the vote will likely hinge on Justice Anthony Kennedy, who wrote the majority opinion in striking down the federal Defense of Marriage Act. Kennedy tends to vote with the conservative majority on the court, but has been a key swing vote on some cases, including DOMA.
Even if SCOTUS ensures same-sex marriage, Steffey believes that state leaders may look to regulate marriage in the state as politicians have attempted with issues such as abortion. Despite the federal constitution protecting abortion access, Mississippi has passed a number of laws regulating abortion providers.
"The first thing we will see is a law that says nobody has to marry anyone if they don't feel like it," Steffey said of the possible legislative response to same-sex marriage in Mississippi. "It will be interesting to see what people will try to do to stand in the way."
Anna Wolfe contributed to this story.
More stories by this author
Support our reporting -- Follow the MFP.