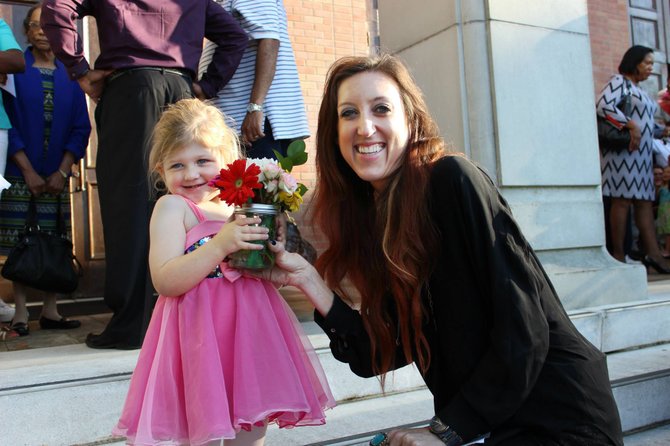 As an only child, I grew up spending a lot of my time around adults. I was never one of those teenagers who babysat to make spending money, and to this day, babies generally make me uncomfortable; I don't know what to do with them. But, being a grown-up, I do now have friends who have kids—and I find that they can be fun once they reach an age where they start to become little people.
Particularly, I've gotten to be buddies with the almost-4-years-old daughter of lawyer Dorsey Carson, with whom I practice law. (I think it is because she's an only child, too, it helps me relate more). Her mom, Susan, manages the office, so Hays tags along often after being picked up from school. While a Fisher-Price princess castle makes for unconventional conference-room decor, it can be fun to have her around. For instance, when a day of drafting pleadings starts to drag mid-afternoon, a gleeful little blonde bounding into your office to exclaim, "I got a happy face at school today, and I brought you a yellow flower!" does wonders. And we have very important discussions about "My Little Pony," Queen Elsa, Cinderella and ballet class.
Which brings me to the important topic of recitals. Hays takes ballet and tap at Ballet Mississippi, and as her end-of-year recital approached, it brought back memories of my own years of dance at Alpha School of Dance in Meridian. From the age of 4 until I graduated high school, I took lessons there, and dance recital was a huge deal. This being Hays' first, I wanted to go show my support and grew increasingly excited for the big event. This year, due to Thalia Mara Hall's renovation, the Belhaven University Center for the Arts served as the venue and, because of its capacity limit, the little kids' recital was at one time and the bigger kids' at a later hour. (Confession: This cheered me verily, because I knew the event would not last for hours.)
After picking up some flowers to take the Tiny Dancer, I headed to the performance hall, where I found myself seated next to a gentleman who provided excellent company. Ed Payne was there because he is a patron of Ballet Mississippi, and his appreciation for the talent of the Ballet Mississippi teachers, instructors and students was contagious. With watchful eyes, we enjoyed the joy with which the girls danced, while also taking careful notice to identify those we thought showed lots of promise, even at such a young age.
Referring to a 10-year-old dancer who this year had a big role in the company's production of "The Nutcracker," Payne told me, "She really had been training for that role her whole life, and some of these girls are that way, too."
In addition to the fun of looking for future stars, I enjoyed the music and found myself tapping my toes and singing along—the recital's theme of "Dancing Through the Years" included songs ranging from "Raindrops Keep Falling on my Head" (a number that, naturally, included parasols as props) to "Dancing in the Street" to, yes, "Let It Go" (with their fur-trimmed tutus, this class was no doubt the envy of all the other dancers). I'd never been to the Belhaven Center for the Arts, and was impressed with the facility as well. The job that the lighting crew did to enhance the performance was especially impressive—for instance, bathing the class who danced to "Here Comes the Sun" in a warm yellow light that made the dancers seem radiant.
By the end, I was in a grand mood and eagerly met Hays—who danced very enthusiastically, if not totally in sync—out front. But I was also excited about having gone to a Ballet Mississippi event. I haven't attended many of the ballet's performances, and now I think I'll make more of an effort to go. The USA International Ballet Competition, coming up June 14-29 and celebrating its 35th anniversary this year, offers a perfect chance to take in the beauty of some fantastic dance (for schedule and tickets, visit usaibc.com).
Who knows? Maybe I'll even get inspired to sign up for one of Ballet Mississippi's adult class offerings this fall.
See balletms.com for class and performance information.
More stories by this author
Support our reporting -- Become a JFP VIP.
The news business has changed dramatically in the past year, and we need your help more than ever to keep bringing you important stories about Jackson and the Metro. Become a JFP VIP with an annual membership or you can Sign up as a monthly supporter. Thanks for anything you can do to empower our journalism!