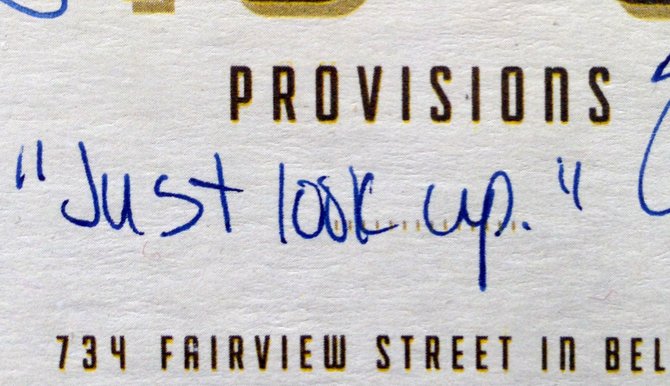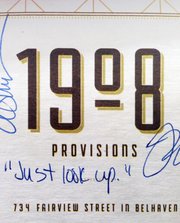 Not to sound cliche, dear readers, but I think it's true that you find out who's really there for you not during the fun times out and about town, but, rather, when things aren't so awesome. Which is a nicer way of saying that the people who care will be there when you're wearing slouchy pants and somehow find yourself ugly-crying at a bar. Sure, the pants were leather jogging pants and I had on red stilettos, but, still.
On the night in question, I was to meet my friend Anna at 1908 Provisions, the new Belhaven neighborhood restaurant formerly known as Sophia's, at the Fairview Inn. Proprietor Peter Sharp and Chef Gary Hawkins worked wonders with the transformation of the space and the menu, including the addition of a new 10-seat bar near the entrance. My gal pal and I planned drinks and dinner there to discuss, as gals are wont to do, her latest adventures in dating.
Just as I was getting ready, I got a call from my dad about something unexpected and upsetting. Though there was nothing I could do to help, it's disconcerting when something bad happens to a family member. But I knew my friend was disconcerted about her dating situation, and I didn't want to cancel on her. I vowed to put my dad's call in the back of my mind and go have a nice evening. I did, however, put on my comfy pants, because that just helps sometimes. I also took a moment to let my man-friend know what was going on.
So, to 1908 we went. Bartender Josh Sherman was fully on board when we arrived and told him we both needed beverages, stat, to numb some feelings, and pantry chef Corey Ellison (a friend of Anna's) came out to say hello and offer suggestions on small plates. But before entrees were ordered, my fellow showed up for support, knowing my dad's news, and I ended up talking about it. Having someone who just shows up without you asking because he knows what you need, even if you don't want to admit it ... that's the good stuff.
So we ate, and we talked. And the food was delicious. But then we got the cheese plate, and things took a turn. Maybe it's the power of dairy products (and I don't know exactly what kind of fruit spread was on it, but it rocked my face), or maybe I just couldn't hold it in any longer, but at that moment, I finally processed what my parents were dealing with. Being there with people who cared about me, I felt free to let go—and I did. Suddenly, there I was, ugly crying at a bar. On a Tuesday. Over cheese.
But here's the thing that's so great about having people who love you and know you so well. When I pulled myself together, and as I nuzzled up to my fellow, Anna looked at me with complete seriousness and said: "That's amazing. Your mascara is totally still in place. It hasn't run at all."
Which is exactly what I needed to hear. I responded: "The key is to look up when you ugly-cry. Don't look down. Look up." And with that, I was laughing.
Looking up, we decided, is important on dual levels. When bad things happen, look up—literally (to keep from having raccoon eyes) and metaphorically (to stay positive that better times will come). With that mantra memorialized on a 1908 coaster, and secured with the support of those who care about me, I slept soundly that night, knowing that when I return to 1908, there may be more cheese, but there will be fewer tears.
More stories by this author
Support our reporting -- Become a JFP VIP.
The news business has changed dramatically in the past year, and we need your help more than ever to keep bringing you important stories about Jackson and the Metro. Become a JFP VIP with an annual membership or you can Sign up as a monthly supporter. Thanks for anything you can do to empower our journalism!