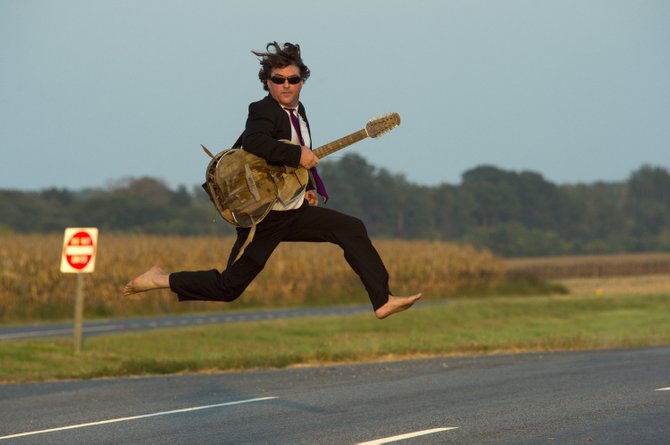 If there's one word to describe musician Keller Williams, it might be "energy." The self-taught 44-year-old performer can play multiple instruments and has been dubbed a one-man jam band by audiences all over the world. Williams has toured with the likes of The String Cheese Incident, The Travelin' McCourys and Mickey Hart of The Grateful Dead. He plays a variety of styles from bluegrass to rock. He is currently touring with the funk band More Than a Little in support of his latest recording, the aptly titled "Funk."
"(My music) is definitely a reflection of everything I'm into," Williams said. "I wouldn't be spending time with it or on it if it wasn't for my deep love for music in general. I'm constantly surrounding myself with and seeking out new music. I feel very grateful that people allow me to change it up so much with different projects."
When it comes to recording or playing live, Williams has a preference.
"The live thing is more of a day-to-day thing for me," Williams said. "The recording really happens so seldom. I don't do a lot of session work. The last record (2013's "Funk") was a live recording. The studio can be a little tricky. It's all about documentation and trying to make it as close to what you think is perfect. I do love going to the studio and documenting where my life is musically. That's what those earlier CDs are. It's like a period piece for an artist. Between the two, though, I prefer playing live. There are's a lot of people who like to hear music performed live. With the technology today, live performances are almost like recording studios with a lot of people in them."
This year's tour finds Williams working with a full band called More Than a Little. In putting the group together, he started playing with the drummer, Toby Fairchild, who was doing a Tuesday night R&B night at a local bar in Williams' hometown of Fredericksburg, Va.
"I think there was a cast of musicians that would come and play," Williams said. "The night I came in, it was the band minus the singer, Sugar Davis. I sat in, and it really clicked. At the time, I was finishing up a keyboard trio thing I was playing bass in and starting in with The Travelin' McCourys, so it wasn't a good time to start anything new. So, I put it in my back pocket and saved it. In the fall of 2012 we started rehearsing for some shows later in the year. We recorded those shows and those recording became the record. The record came out great, so now we're pushing it."
Keller Williams and More Than A Little will perform material from "Funk" at Duling Hall (622 Duling Ave.) Wednesday, March 5 starting at 9 p.m. Tickets are $25 in advance and $30 at the door and may be purchased at ardenland.net. For information about Keller Williams visit kellerwilliams.net.
More stories by this author
Support our reporting -- Follow the MFP.