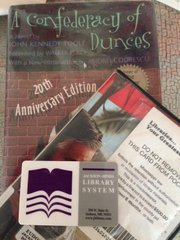 As a little girl, I loved the library. My mother read to me from birth, and we frequented the Meridian Public Library so much that it almost felt like a second home. During summers, I attended a weekly book club-like group there and always looked forward to it. Of course, we had stickers to mark each book read, and at the end of the summer, we received certificates.
I always did everything I could to read the most out of anybody. In elementary school, I added the school library to the rotation. I awaited the book fair each year with almost the same anticipation as Christmas. I read and read and read.
During college and law school, my extracurricular time with books waned a bit; I read so much for classes that in my leisure time, I was less likely to pick up a book. I did still manage to read some for pleasure, though, and often visited the now-shuttered Davis-Kidd bookstore in Nashville to browse and to take my laptop to study among the books and other readers.
In my adult life, I've picked up my pace at pleasure-reading. I try to always either be in the middle of a book or have just finished one for a number reasons: I like having something to talk about besides work or TV; I think reading makes me more well-rounded. It makes me think and consider experiences I might not otherwise have; it can be an escape (fiction) or a way to learn something new (non-fiction). A recent research study even concluded that reading fiction improves one's ability to sense and understand others' emotions. Plus, I just like to read.
But with all the reading comes a wrinkle—I am one of those holdouts for real, tangible books. I don't own an e-reader. I don't read on my iPad, and when I've tried, I hated it. I like the feel and smell of actual pages, and I also better process what I read in hard copy. The only problem with this is that, well ... shelf space runs out. And while I like to own copies of some books—ones I'll read again, or recommend to friends and let them borrow, or that just look pretty—I don't need all the books.
So I thought back to those childhood memories of the library, and for the first time as a grown-up (I'm embarrassed to confess), over lunch one day, I got myself a library card.
When I arrived at the Eudora Welty Library, the parking lot was packed, and I ran into an acquaintance on her way in to return a stack of books.
I thought, "How exciting! Lots of people reading!"
Getting the card was quick and easy, but only because I was lucky enough to have a piece of mail in my car; a photo ID and two proofs of your address are required.
That small hurdle cleared, I was off to browse. I decided to ease my way in, starting by checking out only one book and a DVD. Yes, the library is a respite for those of us (like me) who lack a Netflix account, Amazon Prime or Apple TV, and wonder what we are to do now that video rental stores are no more. I was thrilled at the DVD offerings—movies, television show sets, instructionals—they were all there.
I giddily checked out and returned to work, but I was eager to get home that night to start my new novel.
That's another plus of the library—not only does it save money and shelf space, but it also puts you on a deadline. I don't want an overdue fine, so I'd better get cracking. Besides, there's now a whole library full of books that await my return.
More stories by this author
Support our reporting -- Become a JFP VIP.
The news business has changed dramatically in the past year, and we need your help more than ever to keep bringing you important stories about Jackson and the Metro. Become a JFP VIP with an annual membership or you can Sign up as a monthly supporter. Thanks for anything you can do to empower our journalism!