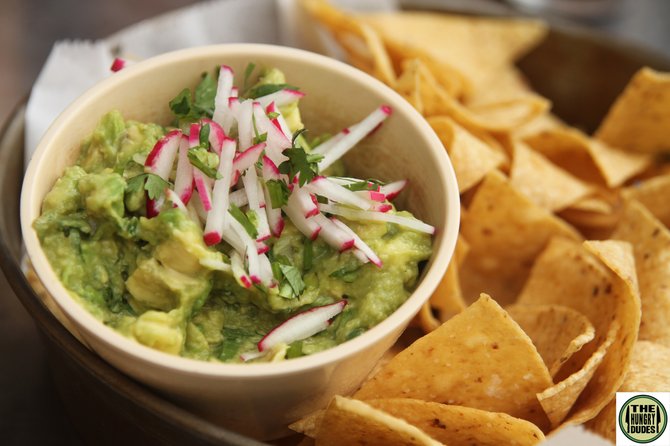 Being a vegetarian or vegan means you have to get accustomed to all kinds of awkward situations. It doesn't have to be complicated, though. The truth is that some meals people prepare are already vegetarian to begin with, and meat eaters hardly ever notice. But during a potluck, barbecue or gathering, you often have make that you eat—especially if beer or other alcohols are involved. When in social situations with carnivores, I try to take delicious vegetarian snacks that I can eat and share with friends. Here are some quick vegetarian and vegan snacks that pair great with beer.
Pale lagers are very popular in the spring and summer. They're refreshing, light, and appropriate for the weather. If you're vegan, and you know you're going to a party, or are hosting one yourself, you can make a killer guacamole—all you need are avocados, tomatoes, onions, lime and salt. You just have to put everything in a bowl and crush it, but you'll get the best results if you use a mortar and pestle. Add jalapenos if you'd like, some tortilla chips, or some kale chips if you want to be adventurous, and voila! Now all you have to do is take some pale lager along, and perhaps some lime and salt as garnishes for your beer, and you have a perfect appetizer for any get-together.
But what if you're attending an indoor event where traditional southern foods are being served? Contrary to what people may believe, you can make vegetarian versions of your favorite southern foods. Some things, such as deep fried okra or macaroni and cheese are already vegetarian. Deviled eggs aren't strictly southern, but they are popular and easy to make. Just hard-boil eggs, separate the yolks and mix them with mayonnaise and mustard, or even ranch dressing and mustard to taste, and season with paprika. If you choose flavors like these, I suggest going local—Lazy Magnolia is a Mississippi brewery based out of Kiln, and it brews a Southern Pecan beer. The saying "if it grows together it goes together" is just as true for beer-food pairings as it is for other gastronomic food combinations. I can't think of any other beer in the world that uses pecans to flavor its beer.
If you prefer to try something else, hefeweizens are another good choice. They're light in color, but full-bodied, with fruity notes. Many popular German dishes are heavy, just like southern food, so I find hefeweizens pair well with vegetarian versions of southern dishes. If you're vegan, perhaps a kristallweizen would be a better choice. Kristallweizens are filtered versions of hefeweizens. They have a bit less body, but similar fruity and spicy notes, and will complement vegan snacks well.
If you're interested in other ideas, look at cultures around the world. In South Korea, it's common to have an anju such as a fruit plate while drinking. In Argentina, you can expect to eat a picada and can make a quick version using cherry tomatoes, bocconcini cheese, marinated artichokes, green olives, hearts of palm and pickled eggplants. There are no rules for what kind of beer goes with these snacks. Though it may seem weird to your friends that you eat such healthy things while you drink, people will appreciate your efforts to share a few recipes and snack ideas with them.
More stories by this author
Support our reporting -- Follow the MFP.