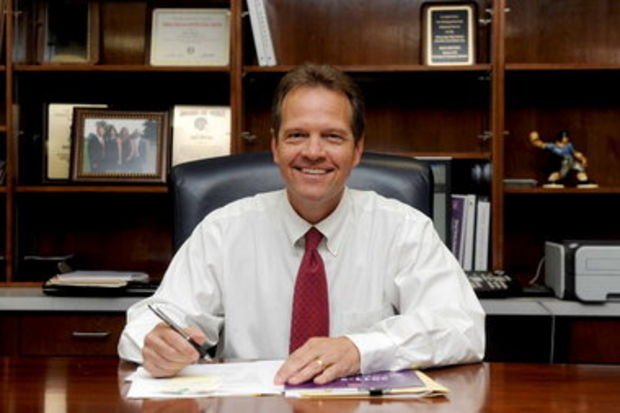 Jackson could see its second major sports-related economic loss in three years by the end of this month, when the capital city possibly loses the state football championships held at Veterans Memorial Stadium. The city has hosted the games since 1992.
Don Hinton, executive director of the Mississippi High School Activities Association, wants to showcase the event in other parts of the state, letting Mississippi State University, University of Mississippi and University of Southern Mississippi host the championship on a rotating basis instead of it being exclusive to Jackson.
Hinton became executive director of the MHSAA July 1, 2011, when Mississippi Sports Hall-of-Famer Ennis Proctor retired after 20 years in the position. Hinton served seven years on the MHSAA executive board before becoming executive director. He has 30 years of experience in Mississippi educational and sports activities.
The MHSAA director has worked at Northwest Rankin High School, Callaway High Schoool, Murrah High School, Jim Hill High School and other schools during his time as a teacher, principal, and coach for football, girls' basketball and track and field.
Hinton graduated from Bay Springs High School and played football at Jones Junior College. He later went to Mississippi College and graduated with a bachelor's degree in physical education before going on to complete his master's degree in educational administration from USM.
One of the possible new formats Hinton and the MHSAA are debating would have MSU and Ole Miss host the title games from 2014 to 2017 at whichever school does not host the Egg Bowl, and USM would host the event in 2018. Another format would have USM, MSU and Ole Miss rotate the event each year.
No matter who hosts the event, Jackson will lose out on the estimated $2 million fans spend in the capital city each year during the championships and the Capital City Classic.
JSU, which owns Veterans Memorial Stadium, did get a chance to host the event. However, the school has a hang up with putting in a bid, saying MHSAA still owes the school $37,000 from last year's event.
The MHSAA disputes some of the charges but still hopes to work out last year's contract with JSU and get a proposal from the school for hosting the games. JSU has declined to bid until last year's contract dispute has been settled.
While the plan seems to have support from coaches, it will be interesting to see how things play out if a team from the Gulf Coast has to travel all the way to Starkville or Oxford to play against a team with a much shorter trip, or for a team from far north Mississippi to travel to USM.
More like this story
More stories by this author