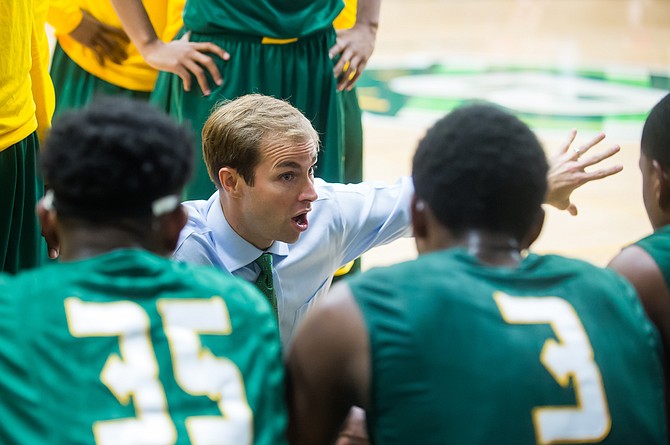 Alcorn State University
Alcorn State University has to be one of the favorites to win the SWAC this season. The Braves return with preseason SWAC Player of the Year and preseason first-team All-SWAC LeAntwan Luckett. ASU should have some help for Luckett in the form of preseason second-team members Marquis Vance and Octavius Brown. Head coach Luther Riley has done a good job of slowly building this program he took over in 2011. This could be the year the Braves break through in the conference.
Mississippi Valley State University
Mississippi Valley State University let Chico Potts have just two seasons. Now, the job of turning around the Delta Devils basketball program falls to Andre Payne. MVSU returns with DeAngelo Priar and Jeffrey Simmons this season. The team isn't ready to be a player for the SWAC title, but nothing says they can't try to make an early run this year.
Delta State University
Delta State University went from 11 wins in the 2012-2013 season to 26 wins last year and a berth in the NCAA Division II Tournament. DSU lost six players who were major contributors to last year's squad. That doesn't mean the Statesmen are without players who were on last year's squad. Devin Schmidt, Jack Madgen and Alister Chisholm return to help this team make another run at the NCAA tournament. Head coach Jim Boone might have to do his best coaching job since taking over. The question is: Can DSU live up to the higher expectations? It will all depend on how quickly this team comes together.
Mississippi College
Mississippi College faces a bumpy road this season. The Choctaws make their jump from Division III to Division II, following their 11-14 record last season. There are going to be some major growing pains for head coach Don Lofton. MC can't play for the NCAA Tournament for the Gulf South Conference this season. Don't expect much from Mississippi College for a couple of years as this program goes up in divisions.
Millsaps College
Millsaps College looks to build on last year's 8-16 team that finished 5-9 in conference play. Mac McElveen returns this season and currently leads the team in scoring. Also returning is Marc Robertson who is second in scoring. The Majors are currently 4-5 and have already won a conference game. Tim Wise returns this season as head coach to give the Majors stability on the sidelines.
Belhaven University
Belhaven University hopes to improve on the 10th-place finish the Southern State Athletic Conference predicted for the team. This season, the Blazers will also break in new coach Jonathan Vines. This comes on the heels of successful season that saw the Blazers finish 18-15 overall and 14-6 in conference play with a third-place finish in the conference tournament along with a National Association of Intercollegiate Athletics National Tournament bid. Belhaven returns with five players from last year's squad including leading scorer Jordan Bedford.
Tougaloo College
Tougaloo College didn't just go out and hire anyone to replace head coach Harvey Wardell. No, the Bulldogs brought in legendary Lanier High School coach Thomas Billups. That doesn't mean Billups will have an easy time this season. Tougaloo finished sixth in the eight-team Gulf Coast Athletic Conference. The Bulldogs did already get a win that will have fans talking for years. Billups led his team in a 88-67 upset against Jackson State University in an exhibition win. That might be the highlight of the season since Tougaloo currently has just one win in the regular season.
More stories by this author