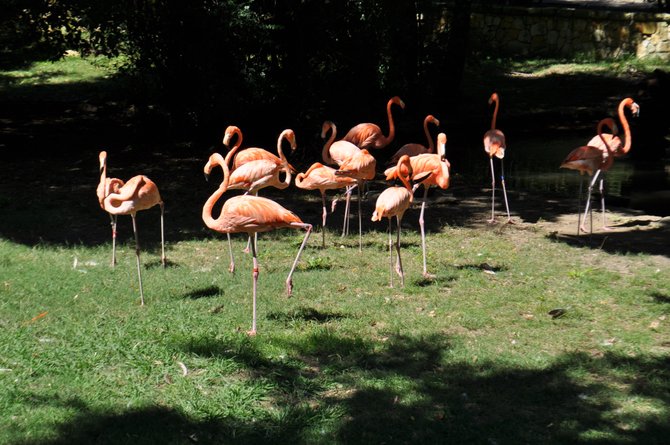 When the Zoo Area Progressive Partnership was formed in the mid-1990s it was designed to get the Jackson Zoo involved in improving the west Jackson neighborhoods around it. Wednesday night, by stark contrast, the group met to discuss ways to encourage the zoo not to leave those neighborhoods behind.
Zoo Director Beth Poff opened the meeting by giving the eight people in attendance a description of the appeal process the zoo's leadership is going through to retain its status as Mississippi's only accredited zoo.
The national Association of Zoos and Aquariums denied the zoo's request for reaccreditation in early September, Poff says, on the grounds that the zoo was not financially stable. Because Jackson and Hinds County leadership has since pledged to help fund the zoo's budget ($1.4 million in 2012), Poff believes the appeal process will go smoothly.
"We have a nice letter from the mayor pledging his support, and I'm confident that we'll win our appeal because the only problem they listed on our review was an uncertainty around our funding," Poff said. "In the meantime, we remain an AZA accredited zoo."
Accreditation brings with it a couple of perks. AZA-accredited zoos have exchange programs for animals, for breeding or health-care-related reasons, where member zoos trade out animals for periods of time. Poff said a number of the Jackson Zoo's 750-plus animals are on loan from other zoos or "visiting" for the purpose of mating. If the zoo lost its accreditation, they would have to contact all of their affiliated partners and let them know.
But the bigger problem for the zoo is dwindling attendance numbers that do not match up with its spending on exhibits and staff. Poff pointed out that zoo has spent $12 million on new exhibits in the past 10 years, but has experienced stagnant visitor numbers.
Something has to give, she said, because the zoo's attendance isn't half of what it should be for a region the size of the greater Jackson metro area.
"We're going through a situation now where we are having to shrink the size of our staff," Poff said. "We have to have a staff to match our attendance, and if our attendance is only going to be 100,000 visitors a year, we've got to find a way to pay. With our metro area, we should be doing 230,000 visitors a year, so what's wrong? We've had $12 million in new exhibits in the past 10 years, so what's wrong? ... That's what the board has to wrestle with. We have to have a hard direction: It's either fix where we are, get the help of (the area) around us to come up to a certain level, or maybe the zoo is in the wrong spot."
For more information about the Jackson Zoo, visit jacksonzoo.org, or call 601-352-2580. ZAPP holds regular meetings at noon on the second Tuesday of each month at the zoo.
More stories by this author
Support our reporting -- Follow the MFP.