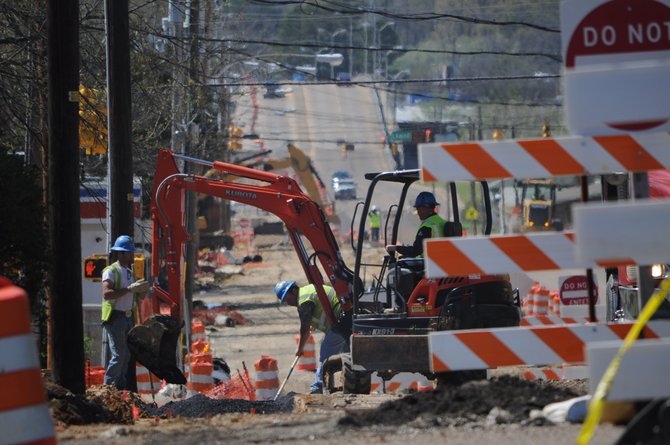 Jackson's Department of Public Works may have found a way to break the impasse with the city council that has slowed construction on the Fortification Street renovation project for almost a month.
Public Works Director Dan Gaillet and Mayor Chokwe Lumumba put forth an order Tuesday, Sept. 24, that would partially fund the change order the council previously rejected with a 2-2 vote July 30. The order asks the council to give the mayor authorization to spend $36,988 to replace a damaged pipe and place a fence along the construction site to protect homeowners from an 8-foot drop "just feet from the resident's front door," Gaillet said yesterday.
In July, the council rejected the original change order that would have paid the contractor, Rankin County-based Hemphill Construction, $151,000 to complete both of those tasks, plus blow out 30-plus years of debris clogging up another drainage pipe.
Gaillet said on Sept. 24 at the city council work session that his department would try to clean out the drainage pipe in-house, without the help of a private contractor.
City Council President Charles Tillman said he did not want to see the same items come back before the council broken up into smaller pieces. Gaillet responded that Public Works genuinely "is planning, at this point, to do that work in-house."
Ward 4 Councilman De'Keither Stamps, who voted against the change order, along with Ward 3 Councilwoman LaRita Cooper Stokes, said he's still skeptical.
"They broke the order up," Stamps said Tuesday morning.
"So if you pass this now and pass another one later, did we save any money? I believe Mr. Gaillet is being sincere, but my standpoint with Public Works hasn't changed—we need to invest in building our capacity so we can do more work without contracting it out.
"If it's an issue of our workers and whether they are well-trained enough to do the work, then we should invest in (improving) our employees (through) training."
Stamps believes this will save money in the long-run, but didn't indicate how he would vote today. City Council President Charles Tillman (Ward 5) and Ward 2 Councilman Melvin Priester voted in favor of the change order in August. All other members were absent.
The City Council approved the measure Tuesday night on a 4-2 vote. Melvin Priester Jr. (Ward 2), Charles Tillman (Ward 5), Tony Yarber (Ward 6) and Margaret Barrett-Simon (Ward 7) voted for it, and LaRita Cooper-Stokes (Ward 3) and De'Keither Stamps (Ward 4) voted against.
Before the vote, Public Works Director Dan Gaillet said the city would still try to blow the debris out of the drainage pipe, but warned that such action could open the door for the contractor, Hemphill Construction, to void the one-year warranty on work it had already completed.
CORRECTION: In an earlier version of this story that appeared on JFP.com and in our Sept. 25 issue, the writer incorrectly stated that the first vote came on Aug. 13 and Tony Yarber (Ward 6) voted to approve the change order. The story has been updated to show the vote took place on July 30, and it was Councilman Melvin Priester, Jr. (Ward 2) who joined Charles Tillman (Ward 5) in voting for the measure. Yarber was absent.
More stories by this author
Support our reporting -- Follow the MFP.