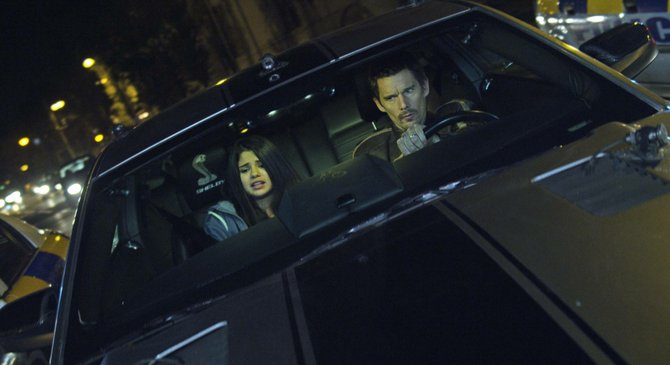 I invited prodigal son for a Sunday afternoon movie getaway, giving him sparingly few details on the movie "Getaway." He asked if this was a remake of the Steve McQueen classic. I shook my head no. Michael said no. Given that Michael's college getaway is only two weeks away, I pressed my case. It may have been my relentless nagging, the thought of seeing music-idol Selena Gomez on the big screen or the fact that college tuition is due soon, but Michael caved. We packed into my high-powered VW Golf and headed to the theater.
We both regretted the decision. This movie is screechingly bad; it's a turbo squealing disaster.
"Getaway," directed by Courtney Solomon ("Dungeon and Dragons," "An American Haunting")—who is not female as his name might suggest—provides a visual essay on the excesses of the car chase. The film stars Four Wheels, a customized Shelby Super Snake Mustang complete with cobra stickers. The first time we meet Four Wheels, the camera lovingly languishes on the sinister cobra tattoo affixed to her lovely bumper. While some might think this is a tramp stamp, Four Wheels is as smooth and sexy as a Barry White song.
How Four Wheels gets implicated into the never-ending car-chase sequences requires some explanation. Somewhere in Bulgaria, former racecar driver Brent Magra (Ethan Hawke) opens the door to his flat and finds shattered glass ornaments, a ransacked Christmas tree and blood pools staining the floor. He looks high and low, but his beautiful wife (Rebecca Budig) is missing.
A cell phone rings. The scene cuts to an extreme close-up of a mouth surrounded by gray whiskers (Jon Voight). "Whiskers" explains that he has taken Magra's wife and she will live if—and only if—Magra follows his every instruction. These instructions lead Magra to Four Wheels.
After a harrowing police chase through the Christmas-park displays, Four Wheels and Magra idle in a dark underground location waiting for Whiskers' next instruction. Snicker alert. Enter The Kid, a hoodie-clad, cherub-cheeked Selena Gomez, who carjacks Four Wheels and Magra.
The Kid is the rightful owner of Four Wheels, we learn through screenwriters Sean Finegan and Gregg Maxwell Parker's less-than-golden prose. While she barely looks old enough to be out of the house without nanny protection, The Kid is smart. Another snicker alert. The Kid figures out the plan to save the day based on her understanding of computer hacking, power stations, investment banking and spy cams.
The only remotely developed character in "Getaway" is Four Wheels.
Four Wheels has a performance-enhanced, supercharged engine, wildwood brakes with six-piston fronts and four-piston rear calipers She wears front-break cooling ducts, which are necessary for high speed chases, slam downs and reverse runs.
She has a unique hood, which never crushes upon impact, and beautiful stripes. She has a six-speed manual transmission, which a passenger can easily handle in case the driver has to shoot a round at a madman on a motorcycle.
(It amazes me that the bad guys, armed with automatic weapons and an unlimited supply of ammunition, always miss, but the good guy takes the killer out with a single bullet from a kid-driven moving car.)
Four Wheels starts off magnificently and ends with barely a tire to her bombed-out, gun-blasted shell.
No one else in the film is really worth mentioning, except that Selena Gomez, a kitten-cute child-woman, shoots off more profanities than a sailor after a six-month tour of duty. But The Kid does provide canny insight when she says, "This is sh*t."
No truer words have been spoken. My cliche-filled advice is that "Getaway" is a train wreck without a train. Get away from "Getaway." Steer clear unless you have a crush on muscle cars.
My hope is for world peace and that Four Wheels will star in something more substantial in the future—like "Fast and Furious 13."
More stories by this author
Support our reporting -- Follow the MFP.