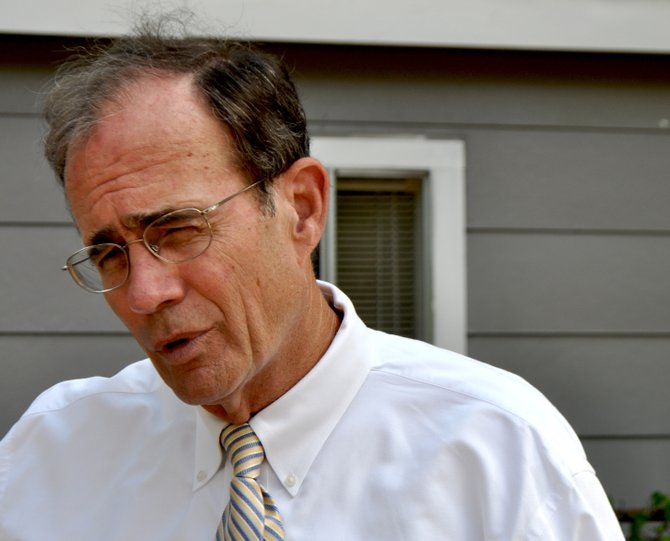 JACKSON — The Mississippi secretary of state is accusing David Watkins and his company, Watkins Development, of securities fraud for misusing half a million dollars awarded for Metrocenter redevelopment to purchase a building in Meridian for a different project. Secretary of state attorneys issued a "notice of intent" July 30, 2013, to impose administrative penalties and demand restitution from Watkins for the money transfer.
In conjunction with the order, the secretary of state held an administrative hearing that began Tuesday and concluded Wednesday to allow Watkins to address the allegations that he misused part of a $5.2 million bond to help fund his Meridian Law Enforcement Center project. Mississippi Business Finance Corp. awarded the bond April 12, 2011, for the revitalization of the first floor of the old Belk building in Metrocenter.
As Wednesday morning's hearing wrapped up, Watkins flatly denied the charges against him and finished his testimony by answering his attorney Brad Pigott's plainly stated query: Did he have any reason to conceal information from investors, as the state has suggested?
"Mr. Pigott, I have every reason to avoid any kind of concealment or any fraud," said Watkins, who is also the new chairman of Downtown Jackson Partners. "I've spent almost 40 years as a lawyer, and over half of those years in public finance and public bonding. Securities fraud is a career-ending disaster."
The secretary of state accuses Watkins of failing to disclose in the bond documents "the intent to use and or convert any portion of the proceeds to finance the activities of MLEC." Because he did not disclose that intent, it is "material omission" under the "General Fraud" section of the Mississippi Code of 1972.
The Secretary of State's office claims that Watkins should have disclosed that he intended to use the proceeds of the bond money to purchase the building in Meridian, and that he did not disclose to bond buyers that Watkins Development had already agreed to be the developer for Metro Retro.
The "notice of intent" explained the secretary of state's case against Watkins: "On April 12, 2011, the same day that bonds were issued, Watkins filed a certification of formation with the Mississippi secretary of state's office for Meridian Law Enforcement Center LLC for the purpose of purchasing the property and leasing it to the city of Meridian." Watkins filed his certificate of formation with the secretary of state's office for MLEC on April 12, but backdated it to be effective April 1.
The secretary of state accuses Watkins of then moving $587,084.34 on June 8, 2011, from a BankPlus account registered to Retro Metro to a real-estate closing account for the law firm of Hammack, Barry, Thaggard and May, LLP of Meridian to purchase the old Cowboy Maloney's Electric City building in Meridian to redevelop into the Meridian Law Enforcement Center.
The notice said Watkins made "an untrue statement of material fact" when he said in bond documents that Retro Metro had no other financial obligations beyond refurbishing Metrocenter. The indication is that as Retro Metro's manager, Watkins is responsible for this untrue statement and is guilty of fraud under state law.
Watkins did not deny transferring the money to Meridian but adamantly refuted charges of wrongdoing. He said in the hearing Wednesday morning that his "whole life has been one of integrity" and commitment to community and good works. "I would never do anything that would put myself in a position that would end my career or damage my reputation or the reputation of the good works I've been able to accomplish. This is a serious problem for me, personally. It's caused a lot of emotional distress, because it's undeserved," he said.
If the secretary of state moves ahead with charges, Watkins could face an administrative fine of $25,000 and be forced to pay back the transferred money to Retro Metro LLC as well as "all profits made by misuse of the proceeds of the bonds." The secretary of state's website shows that Retro Metro directors are LeRoy Walker, Socrates Garrett and Howard Catchings, with Watkins still listed as the company manager on the site.
The notice calls Retro Metro a "tenuous success" that remains in danger of default on its debt under the loan agreement because bond purchasers were deprived of material information when they decided to purchase the bonds. It further implies that Watkins' misuse of the bond proceeds to finance activities of MLEC undermined the viability of Retro Metro, which is still responsible for repaying its debt.
Watkins said in the hearing that he only moved money that Retro Metro owed his other company, Watkins Development, at the time, and that the only reason he moved the money directly from Retro Metro to MLEC was because he was under a time crunch to do so.
In cross-examination Wednesday, prosecuting attorney Jessica Long asked Watkins to indicate how many checks he made out to Watkins Development out of Retro Metro's account. Pigott, however, objected, saying the bank records were already in evidence and spoke for themselves, and Long discontinued her line of questioning.
Pigott called Archie McDonnell Jr., the chief executive officer of Citizens National Bank in Meridian, who corroborated Watkins' contention that he had a very short time to get his financials in order in Meridian.
More stories by this author
Support our reporting -- Become a JFP VIP.
The news business has changed dramatically in the past year, and we need your help more than ever to keep bringing you important stories about Jackson and the Metro. Become a JFP VIP with an annual membership or you can Sign up as a monthly supporter. Thanks for anything you can do to empower our journalism!