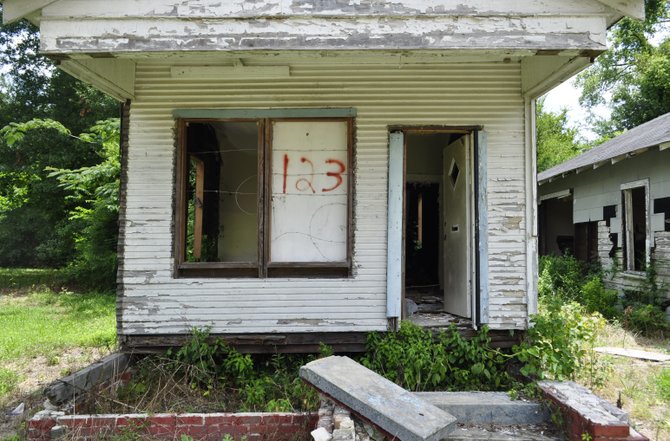 Downtown is abuzz over the ongoing feud between the Jackson Redevelopment Authority and one of Jackson's most prominent developers, David Watkins, and his Farish Street Entertainment District project.
Mississippi Sen. John Horhn (D-Jackson), who sponsored the $6 million, low-interest loan program that paid Watkins to develop the infrastructure of Farish Street, said he is more concerned about seeing some progress on the beleaguered project rather than listening to the back-and-forth.
"It's very frustrating that after 14 years, we haven't seen the area developed," Horhn said Monday. "I think that if cooler heads will prevail, and JRA and Mr. Watkins sit down and try to work their way through this process, we can get some develop on Farish Street, and very soon.
"There are other financial contributors and developers interested, but the current parties are so angry at each other that they can't see beyond playing a game of 'gotcha,' and yet the project is going wanting all this while."
That hope for a compromise took a hit last week, when JRA filed a lawsuit against the Farish Street Group and Watkins Development, LLC., seeking to expunge its name from liens and recoup nearly $5 million in penalties for breach of contract.
JRA filed the lawsuit Wednesday [LINK Friday story about it], the same day Watkins was named chairman of Downtown Jackson Partners,the organization that directs the downtown business improvement district.
A copy of the lawsuit[LINK IT], provided to the Jackson Free Press by Watkins' attorney Lance Stevens, says liens filed by Ellis Custom Construction LLC. and Dale Partners Architects, P.A. are Watkins', and by extension, the Farish Street Group's problem, and that a third lien Watkins himself filed against JRA is unlawful.
Watkins filed that lien on behalf of his company Watkins Development on Oct. 7, 2013, and claims it "supplied equipment, labor, materials, and development services, and otherwise performed work on the project."
Under the lease agreement, the Farish Street Group agreed to waive its rights to place liens on any of the Farish Street property, but it does not prevent a third party from filing liens. In this case, that's Watkins Development, even if it has the same "manager" as the Farish Street Group.
Stevens said Watkins Development's lien was filed on the advice of one of the most prestigious business lawyers in the state at one of the state's most prestigious firms, but did not name that lawyer or firm.
JRA says in the lawsuit that it never had any contract or agreement with Watkins Development, and is not indebted to that company "for any sums whatsoever."
Further, it alleges that Watkins' lien, filed through his company Watkins Development, was "done with gross negligence or malice, with the intent to coerce the JRA to reverse its termination of (The Farish Street Group)" and, therefore, is cause for Watkins to forfeit the money listed in the lien. In this case, that's the roughly $4.76 million Watkins says he had invested in Farish Street.
Because the property in question is publicly owned, JRA says it's unlawful for Watkins to file a lien. Under a provision in state law pertaining to debtor-creditor relationships, "any person who shall falsely and knowingly file the notice... without just cause shall forfeit to every party injured thereby the full amount for which such claim was filed."
Watkins has 28 days to respond.
Despite the acrimony, Stevens, speaking on behalf of Watkins, said there is still ample room for discussion between the parties to resolve the issue and get the project completed.
"We have offered that olive branch," he said.
Horhn said he can foresee an agreement where Watkins is involved but without serving in a leadership position.
"I think what needs to be developed is an exit strategy for Mr. Watkins from the Farish Street development, but one that compensates him fairly for the work that he's done," he said. "We're at a point where a new developer can come in with a fresh equity to get the thing done."
Contact city reporter Tyler Cleveland at [email protected]
More stories by this author
Support our reporting -- Become a JFP VIP.
The news business has changed dramatically in the past year, and we need your help more than ever to keep bringing you important stories about Jackson and the Metro. Become a JFP VIP with an annual membership or you can Sign up as a monthly supporter. Thanks for anything you can do to empower our journalism!