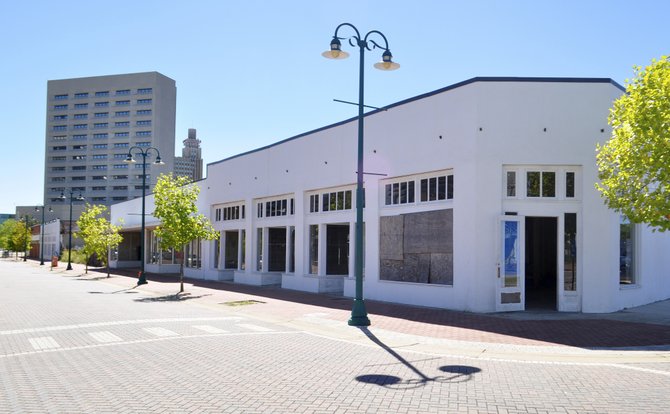 The sewer and water pipes that run underneath Farish Street are ready to support businesses. The bricked street and landscaping along the sidewalks are ready, too. Some storefronts look revamped and new, and the wiring inside the buildings is damn-near state of the art. It ought to be—the mixture of private and public investment for the historic district since renovation began now totals more $20 million.
So why isn't Farish Street thriving?
That's a question Jackson Redevelopment Authority officials are apparently tired of asking, leading them to cancel the contract with developer Farish Street Group LLC at the Sept. 25 JRA meeting. The group, and its lead investor and developer David Watkins, had held the development lease for Farish Street since 2008.
Jackson Mayor Chokwe Lumumba said during his mayoral campaign earlier this year that it was time for JRA to go in a new direction. In late September, Lumumba called the board's decision to cut ties to the former contractor "long overdue."
"Unfortunately, it just didn't work out, and it was time for a change," Lumumba said. "Hopefully, some of the people who were involved with the previous group will be able to remain involved, but I just don't think they will be able to do what was originally planned. Either way, it didn't make sense for the city to be held hostage by one long-term contract."
Lumumba has called for Watkins' group to be kicked to the curb since December 2012 when he served on the Jackson City Council.
The history of Farish Street's renovation efforts, which Jackson architect Steven Horn first proposed in 1983, is as shameful as the area is illustrious.
Once a bustling downtown strip that served as a business and social hub for Jackson's African American community, much of Farish Street sat abandoned for years, contributing to making the area increasingly prone to crime.
At its peak from 1900 to World War II, the strip housed African American attorneys, doctor's offices, a bank, two hospitals and a dentist's office. Later, in the 1950s and 1960s, civil-rights leaders held meetings in the area's churches, restaurants and homes. Icons of the movement, including Stokely Carmichael and Medgar Evers, made the push for equality out of an NAACP office located at 507 N. Farish St.
The area suffered a rough economic downturn following school integration and was almost completely vacant from 1975 to 1983, when plans to revitalize the area surfaced. In the three decades since, planning, renovations and new construction have been ongoing, but little has come to fruition.
The Farish Street Group was the latest, but certainly not the first development group—or the last, hopefully—to get involved. It generated renewed hope, however, because of Watkins. He was known for his prominent role in renovating the historic King Edward Hotel and Standard Life buildings, both of which are now fully operational and breathing life into downtown Jackson.
That momentum didn't carry over to nearby Farish Street. It does have one nightclub, Frank Jones Corner, open at the corner of Farish and Griffith streets, and a small handful of legacy businesses hanging on, but none of that was Watkins' doing.
The Farish Street Group's plans included 13 venues on the stretch of storefronts from Amite Street to Griffith Street, but the future of those buildings is once again unclear. Watkins had hoped to have a B.B. King's Blues Club open on the street by the end of 2012, but after architects finalized designs for the club, engineers discovered that the structure was not capable of supporting the capacity load. In fact, the building didn't even have a foundation.
Watkins did not return phone calls for comment.
All of that leaves the JRA board with the decision on what to do with the property next. When the Jackson Free Press asked for a comment concerning Farish Street, JRA board member Beneta Burt deferred to board President Ronnie Crudup. Crudup, the bishop at New Horizon Church, has not returned numerous calls for comment.
Farish Street Timeline Since 2008
2008: Watkins' Farish Street Group buys the contract for Farish Street from Performa Entertainment Real Estate Group, which had officially held the contract for six years, for $400,000 and takes on $1.5 million in debt.
July 2008: Gov. Haley Barbour signs a bill to grant special permission to businesses on Farish Street to serve alcohol, despite the proximity to the Mississippi College School of Law.
May 2011: B.B. King Blues Club signs a lease with Farish Street Group. The deal comes with additional investment requirements on Watkins' part.
June 2011: After the Mississippi Legislature turned down a request for funds, and investors were slow to come forward, Watkins puts up $5 million of his personal money to keep the renovations moving.
November 2011: Watkins asks for and receives an $8 million bond from the city to finance further renovations, based on his claim of having eight tenants lined up to move in once work is complete.
October 2012: Watkins' partner Jason Goree tells the Jackson City Council the group hopes to close on $11 million in historic and new-market tax credits to keep the project moving.
December 2012: Watkins fails to close on the tax credits, which Goree said were necessary to complete work on four entertainment venues on the block between Amite and Griffith streets.
January 2013: JRA board members express disgust over news of setbacks in the renovation of the building that is supposed to house B.B. King's Blues Club.
September 2013: JRA cancels the lease agreement with Farish Street Group, citing breach of contract.
More like this story
More stories by this author
Like independent media outlets around the world, the Jackson Free Press works hard to produce important content on a limited budget. We'd love your help! Become a JFP VIP member today and/or donate to our journalism fund. Thanks for considering a JFP VIP membership or one-time support.