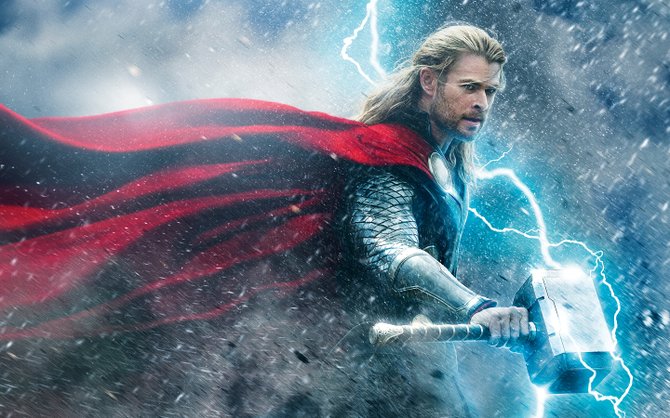 Before Marvel supersized the hammer-wielding Norse god Thor into a mega-movie franchise, Thor made thunder and lightning, created rain and storms, protected mankind, and promoted healing and fertility. Thor was a one-stop, full-service deity.
Superhero Thor (Chris Hemsworth), whose godly status is somewhat diminished by flying around in a red cape and not in a chariot pulled by majestic beasts, focuses on protecting the golden city of Asgard and the Nine Realms. That doesn't leave Thor much time for other diversions—except one.
Thor has a crush on Jane Foster (Natalie Portman), an astrophysicist who understands the once-in-a-millennium alignment of the Nine Realms, the occurrence of gravitational displacement in London and the intergalactic mush that threatens to extinguish light and throw the multiple universes into chaos and eternal night. Thor's impressed. He may be a blond, bulked-up muscle god, but he knows Jane is special.
Thor rushes Jane to Asgard after she and her interns discover some funny business in an abandoned warehouse in London. Thor's father, King Odin (Anthony Hopkins), doesn't approve of an Asgardian-Earthling relationship. Odin's a realist. Jane's a human; she will die.
Loki (Tom Hiddleston), the dark-haired, skinny, shifty-eyed adopted brother of Thor, likes the plucky Jane, who greets him with a face slap for what he did to New York in "The Avengers." Thor's mom, Queen Frigga (Rene Russo) makes Jane feel at home on Asgard.
Thor is not my favorite Marvel superhero, but the mythology behind him is wonderful. I thoroughly enjoyed the incongruity of the story written by a gaggle of writers, the creative terrains of the Nine Realms imagined by animators and graphic designers, and the embellishment of the good versus evil story with imploding stone monsters and evil Keebler elves running around in white masks.
I hate when women in film are depicted as objects to be saved. You know the types: The women that cower about in Michael Bay films such as "Transformers," and get paralyzed when danger arrives. Sure, Jane needs saving, but that's only because she becomes a host for the red anti-matter energy, known as "aether." He or she who possesses the aether rules the Nine Realms.
Aether makes Jane woozy and, eventually, it would destroy her, but for Thor's bold action. Thor treasonously defies King Odin's orders, breaking Loki out of his prison cell and whisking Jane with Loki's help to the evil elves' home territory for a showdown.
The women in "Thor: The Dark World" are strong, smart and resourceful—not one single shrinking violet or crybaby in the bunch. When Queen Frigga receives a surprise visit from the Malekith (Christopher Eccleston), the king of the evil elves, she doesn't swoon. She challenges him with her sword. 
Directed by Alan Taylor (HBO's "Game of Thrones"), this movie does a 360 of genres. From large-scale battles to hand-to-hand combat, good and evil fight for the light. Don't expect a single second of suspense, though. The outcome is predetermined. Thor wields a mighty hammer. He sees danger through his modified Bo Derek braids and rushes forward to confront the enemy. He's not afraid to die. "My hero," you might gasp.
The film is funny, irreverent, mischievous, broody, moody, epic and over-the-top. Like a three-ringed circus, it appeals to a large audience, because it has something for everyone. It may not be great art, but the acting works, and the rampant violence seems no more real than a videogame. This movie doesn't aim for realism, but it hits its target.
Make sure you stay for the credits.
More stories by this author
Support our reporting -- Follow the MFP.