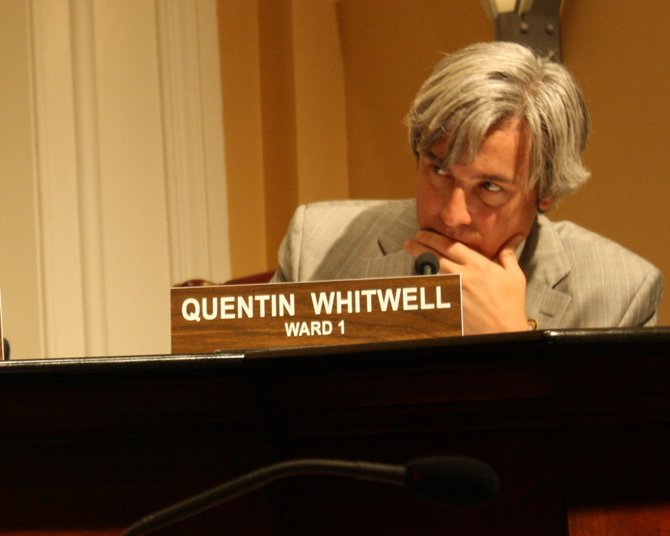 Jackson residents waging an underground write-in mayoral campaign for Ward 1 Councilman Quentin Whitwell are wasting their time, individuals familiar with Mississippi election law say.
"I can't quote the statute, but I believe it says unless someone dies or drops out at the last minute, then we will not honor write-ins. People can waste their vote if they want to," Jackson City Clerk Brenda Pree, who oversees elections in the city, told the Jackson Free Press Tuesday.
The portion of the Mississippi Code that addresses write-in voting states: "There shall be left on each ballot one (1) blank space under the title of each office to be voted for, and in the event of the death, resignation, withdrawal or removal of any candidate whose name shall have been printed on the official ballot, the name of the candidate duly substituted in the place of such candidate may be written in such blank space by the voter."
In the event a candidate dies or drops his or her bid after ballots are printed, the exited candidate's political party would need to submit potential replacement names to the local election commission for certification before the election, which is Tuesday, June 4. Then, voters would have the option to write in the name of the replacement candidate.
No Republican mayoral candidates qualified to appear on the June ballot. Three independents are in the race against Democratic nominee Chokwe Lumumba, councilman for Ward 2. Whitwell is a Republican.
"You can't do it," said Hinds County District 4 Elections Commissioner Connie Cochran plainly when phoned by the Jackson Free Press today. "Whoever's out there doing it is doing it in vain."
The Jackson Free Press broke the news Tuesday that an email was going around to northeast Jackson residents, alerting them to a secret campaign to get Whitwell elected. It read:
"We need your help! A week from today we have one last chance to vote in a mayor that will work for us!

 We need each of you to text, send emails, to at least 20-30 people in Jackson to go write in vote Tuesday June 4th for Quentin Whitwell! 

We believe that the turn out for Chuckwe [sic] will not be huge, due to the fact he thinks he already has won. 

We have to keep this off Facebook, and on the low until the actual day June 4th! That day we need as many volunteers, to help get out the vote for Quentin. 

We need each of you to tell your neighborhood associations to send out an email, go door to door Monday and Tuesday. 

We will need signs made to hold up in ridgewood, Old Canton, and anywhere else. 

I truly believe if we all can do our part we can pull this off! 

Please let me know if you are willing to help in anyway!"
As of today, no committees are registered with the Jackson City Clerk to collect and spend money in a campaign on Whitwell's behalf.
Lumumba, who sits next to Whitwell at city council meetings, said today that he and Whitwell enjoy a "respectful relationship." Lumumba also said Whitwell, who was out of state on a rafting trip when the email went out, assured him that "he is not behind it and not interested in being mayor."
"If people feel that (writing him in is) the best thing to do, I'm not mad at them. Of course I think the best thing for people to do is to support me so we can work this thing out together. That's pretty much what Quentin said to me on the phone, that he's going to support me and make sure we can get this thing off the ground on the right foot," Lumumba said.
When asked Tuesday night on Facebook if he knew who sent the email to drum up support for the stealth campaign, Whitwell answered that he had no knowledge of the email: "I know nothing about this email or who sent it. When I run for the Mayoral Office, it will be taken it seriously and I won't use Shenanigans to get elected. ... As I mentioned. I intend to be the voice for whomever is elected as the mayor of Jackson, MS - for the purpose of making Jackson, MS a better city!"
The source of the Whitwell-for-mayor organizing effort remains shrouded in mystery, although several sources have told the Jackson Free Press that they originally received it from Lea Hester Easley, who is a business partner of Whitwell's wife, Ginger. The secretary of state's office lists her, Ginger Whitwell and Helen Summerford as officers of DSquared LLC that runs Dancing Divas studio and boutique in Highland Village. Quentin Whitwell is the registered agent of the business.
The secretary of state's office also shows that Ginger Whitwell runs a political fundraising/strategy firm, VictoryWorks LLC, as well as Donor Tree, a credit-card processing company used by nonprofits and political campaigns, including Gov. Phil Bryant, the Jackson Academy Choral Department and the Phi Mu Foundation. She is also the chief operating officer of her husband's lobbying and communications firm, The Talon Group (formerly Meadowbrook Strategies). His partner in the firm is former Jackson City Councilman Chip Reno.
In a social media posting Tuesday, Easley apparently reacted to the JFP asking questions about the secret campaign: "It is all good. Everyone just keep low and if the Jackson press [sic] calls you just say no comment y'all are crazy and this is blown out of proportion! We can get this done."
Several postings on Whitwell's Facebook page and the Jackson Free Press website seemed to reflect that advice. "[A]s I've stated... I don't live in jax. This seems to becoming a witch hunt on your part. It's crazy that we 'supposedly' live in a free country yet you are instigating a witch hunt. Who cares who sent the email!!!!!" one woman wrote last night.
Another wrote on the JFP site: "I think this is a joke of 'so-called' news and makes your JFP look less credible than it previously did. Having said that, it would do wonders for Jackson if it were true because Councilman Whitwell would be our Saving Grace so to speak but sadly it's not."
Businessman Jeff Good, who campaigned for Jonathan Lee for mayor, took a different stance in a post on his Facebook page Tuesday night that he called an "open post to all those circulating the 'election write in email,'" urging the Whitwell campaigners to accept the decision by Jackson voters. It began:
"Emotions run high when we don't know what the future will bring. They also run high when the team we rooted for (or in this case, the Mayoral candidate we voted for) doesn't win. It is natural to be upset. Natural to be disappointed. But when a game is over, it is over. The score is the score. The bleachers empty out. The teams go home.
"We need to realize that the next mayor of the city of Jackson will be Councilman Chokwe Lumumba. This is reality. He won the Democratic primary, and he will easily win the general election. This is fact."
Messages left on Easley's mobile and business phones as well as for Quentin and Ginger Whitwell were not immediately returned this afternoon. Neither was an email to Summerford.
Tyler Cleveland and Donna Ladd contributed to this story.
---
UPDATE, June 2, 2013: As of Friday evening (May 31), neither Quentin or Ginger Whitwell or Lea Easley had returned messages to answer questions for this story. Late in the week, he posted photos of a Jackson Academy rafting trip he was on with his daughter on his Facebook page. He began tweeting (@quentin_W) the JFP on May 31 to register disdain for the story above: "you chose to create a false timeline to insinuate crazy ideas about my wife." When we tweeted back to ask him to return calls to correct it, he answered, "my wife was not on vacation when you alleged" and "you stated on Facebook that you figured out how my wife concocted the plan with someone."
To be clear, the JFP did not allege that he and his wife did anything wrong, and have no evidence that they did. We have said consistently that we do not know all the facts about the email and how/why/where it originated, but we reported facts about the chain of events last week that we could confirm and said that there are questions we wish to ask them to fill in missing details. The day after we learned about the email (and Ms. Easley posted the above statement about the JFP on social media; see above), a friend of Ms. Whitwell and Ms. Easley friended editor Donna Ladd. On the top of that woman's page were photos of Ms. Whitwell and Ms. Easley, from Sunday, May 26, riding bikes together on the beach in Florida. Ladd reposted the photos of the woman who friended her on her Facebook timeline, but took it off the next morning when the woman asked her to. She also mentioned seeing it in the comments below this story.
The photos, as well as Ms. Easley's social media posts and multiple reports saying she had sent the email, did not answer all the questions, but it did raise some that we had hoped the three of them would address. We have not alleged, as Mr. Whitwell suggests, anything about the three of them except what we have reported. It now seems clear that he was not on vacation with the two women when the email went out early in the week. Ms. Easley's office told our reporter Wednesday that she was at the beach, but we could not confirm whether Ms. Whitwell was still there or not without them returning calls, which none of them have. We are also fully aware that Ms. Easley may not written the email she forwarded, and had planned to ask her about that when she returned calls. If someone else wrote it and sent it to her, we are eager to report that.
Instead, all of them—purposefully or not; we have no idea—seem to be doing what Ms. Easley suggested in her social media posting: "Everyone just keep low and if the Jackson press [sic] calls you just say no comment y'all are crazy and this is blown out of proportion!"
Also, instead of responding to the JFP's calls, Councilman Whitwell chose to get The Clarion-Ledger's Brian Eason to blog a response that, essentially, says that the JFP is crazy and blowing the story out of proportion:
"Sadly, it is worse than a funny story taken too seriously," Whitwell said, complaining that the paper had disparaged his reputation and that of his wife by implying that they were running an illegal campaign. "But the end of this story is that my integrity and credibility are still intact and I don't have to spend my time concerned about the effect of this nonsense on others. The soon-to-be mayor was very gracious in his comments because he, too, knows there was no upside to me doing anything like this and took me at my word."
Here's the bottom line: The JFP has not implied that the Whitwells were running an illegal campaign, which we made clear in all of stories and social media, and we tried to get all of them to respond. We wanted to find out what they, and their business partner knew, and when they knew it about the effort to run a secret campaign--which was distributed widely in northeast Jackson and beyond. We sympathize that Mr. Whitwell (or or wife) may have been thrust into this by other people who did not ask them what they thought of a secret campaign to run him for mayor. But he is an elected public servant, and if he would return calls about the email that pulled him into it, we would include his comments, as well as those of either of the women. We want the whole story represented factually as always. We urge them all to return our calls.
Read Donna Ladd's blog post responding to The Clarion-Ledger's blog post on behalf of Quentin Whitwell here: jfp.ms/brianeason.
More stories by this author
Support our reporting -- Follow the MFP.