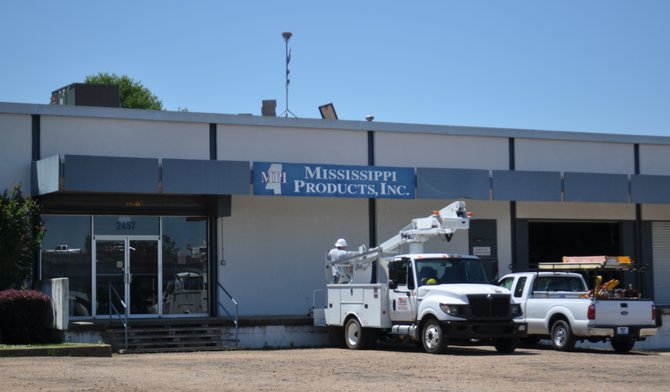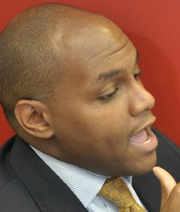 The JFP broke the story April 24 about mayoral candidate Jonathan Lee's business problems.
For almost a year now, Jonathan Lee has run for mayor of Jackson not just as a businessman, but as a small business owner.
In other words, the 35-year-old Lee would say that in addition to working in the business world for more than a decade, he has been a successful owner and operator of a local company—his family's business, Mississippi Products Inc.
But when information came to light in late April about default judgments against MPI, Lee started backing away from his claims about running the business.
Lee, in an interview with the Jackson Free Press editorial board in late April, attributed the default judgments—four in all, with a fifth lawsuit pending—to a disagreement between MPI, vendors and a former customer/contractor who had ordered the products through his company and then decided they didn't want them.
"Ironically, this has all kind of come to a culmination since I stepped away from my position as president," Lee told JFP editors, adding that he stepped down as president on Dec. 31, 2011. (State records indicate Lee helmed the company until October 2012). "But this has been an ongoing dispute and, because of that, there's very little I can say about it."
Lee provided a statement to the JFP indicating that MPI was caught in the middle of a three-way dispute between a local customer/contractor and out-of-state vendors. He refused to name the contractor, however.
Sources close to multiple campaigns later told the Jackson Free Press the customer/contractor might be the University of Mississippi Medical Center.
Reached for comment, UMMC confirmed they had a three-year contract with Mississippi Products Inc. starting in August 2008, but has not confirmed whether the state-owned hospital ordered supplies through Lee's family business that it did not pay for.
UMMC provided the contract with MPI to the Jackson Free Press this week in response to a public-records request.
Since fiscal year 2009, UMMC has paid MPI $1.9 million for various disposable products. The sums paid to MPI dropped off substantially in 2012, when UMMC bought $127,572.20 worth of goods from MPI compared to $463,661.61 in 2011 and $952,850.95 in 2010. So far, fiscal year-to-date, UMMC has paid out only $14,025.70 to MPI, records show.
Jack Mazurak, a UMMC spokesman, told the Jackson Free Press Monday afternoon that the hospital decided to allow the three-year group-purchasing contract between UMMC and MPI to expire in August 2011. Mazurak said it was a "business decision" to allow the MPI contract to expire, but declined to provide specifics.
Mazurak added that the hospital was still looking into a JFP public-records request seeking information about whether the hospital ordered supplies from MPI without paying for them, leaving MPI responsible for the costs.
"To the best of my knowledge, we worked with Mississippi Products to buy out the stock that we had ordered when we were winding down the contract," Mazurak, adding that Lee was a "stellar" supplier and that UMMC continues to use MPI as a vendor but not under its group-purchasing agreement.

Followers of Jonathan Lee's career up until now know him as the good-humored moderator of a weekly coffeehouse forum, from his time as president of the Jackson Chamber of Commerce or his involvement with local nonprofit boards of directors, all positions that resulted from Lee's taking over his family business at age 24 when his father died of cancer.
Fewer people know much about MPI or how the company makes its money. Lee's father, John, founded Mississippi Products Inc. in November 1992 in Pearl. John Lee, who had an MBA from Mississippi College and worked in manufacturing for Ford Motor Co. and Siemens Entergy and Automation, previously co-founded and served as president of an electrical components manufacturer called Craft-Co.
A year after founding MPI, John Lee moved the company to a 14,000-square-foot building in Jackson. When John Lee died, the company had 11 full-time employees and generated sales of about $3 million per year, according to a resolution the Mississippi Legislature passed in Lee's memory in 2004.
Enter Lee's then-24-year-old son, Jonathan. In his mayoral bid, Lee touts born-and-raised-in-Jackson bona fides, although his parents moved the family from the capital city to Rankin County in 1988 when Jonathan was 11. (Lee's campaign website states the Lee family moved to Morton in 1990). Jonathan graduated from Northwest Rankin High School in 1996 and went on to earn a bachelor's and master's in business administration from Mississippi State University.
A certified minority- and veteran-owned company, MPI is a disposable-goods distributor and warehouser—a "middleman" between large institutions such as hospitals, government agencies, manufacturers and procurement clearinghouses known as group-purchasing organizations (GPOs).
Using MPI and one of its customers, the University of Mississippi Medical Center, as an example, the process works this way: Since 2008 UMMC has had a group-purchasing agreement with Dallas-based Novation LLC and University Health Consortium. Under the agreement, UMMC uses certain vendors under Novation's umbrella for specific merchandise—janitorial products from Georgia Pacific in the case of the 2008 contract provided to the JFP between UMMC, Novation and MPI.
From there, the relationship is complicated, but this is how Lee explained it in his endorsement interview with the Jackson Free Press in April:
"What manufacturers (such as the companies suing MPI) will do is that they will sell us goods at what's called an inter-dealer stock price for a contract company (such as UMMC), and that price is artificially high, OK? So let's just say a truckload of something may cost us $120,000. I turn around and sell it to my customer for $100,000," Lee told the JFP editorial board.
"I have to provide what's called a chargeback or sales tracing to prove that I sold it to the right person (meaning a contractor like UMMC). When I provide that documentation, they (the manufacturers) charge me back, or rebate me back, the money on the back end, once I can show that I sold it to the right person at the right price."
MPI owes what Lee said is approximately $200,000 to five companies, all of which are headquartered out of state, with one at least outside the country. In June 2012, Hinds County Judge Melvin Priester Sr. signed three default judgment orders against Mississippi Products Inc. for at least $123,296.71 to three vendors. Diversey Inc., has also sued MPI in Hinds County for $ $23,923.75. In its response, filed right before the primary on May 2, Mississippi Products denies the company owes Diversey.
In addition to UMMC, Mississippi agencies—including Mississippi State Hospital at Whitfield, Boswell Regional Center, Mississippi State Tax Commission (now the Department of Revenue), Mississippi Department of Finance and Administration and Mississippi Department of Human Services—have paid MPI $168,401.66 since 2003.
When pressed about the judgments, Lee added: "What happens when there's a contract dispute, without warning, is I can't sell the goods to the customer because they're not going to give me my back-end money."
What isn't clear is why MPI has no recourse to deal with unsold inventory from a variety of vendors, including Georgia Pacific, particularly if it's true that the contract with UMMC is the one that led ultimately to the default judgments. Georgia Pacific, in March 2013, was granted an Order Allowing Examination of Judgment Debtor against MPI, enabling them to move forward with an audit of MPI's assets.
Despite multiple requests, Lee declined a followup interview with the Jackson Free Press.
UMMC's Mazurak also pointed out that UMMC and MPI are not suing one another, nor are there pending legal disputes between UMMC and group purchaser Novation.
More like this story
More stories by this author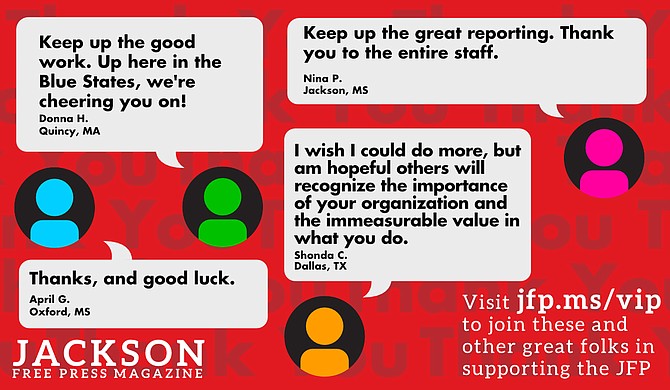 Thanks to all our new JFP VIPs!
COVID-19 has closed down the main sources of the JFP's revenue -- concerts, festivals, fundraisers, restaurants and bars. If everyone reading this article gives $5 or more, we should be able to continue publishing through the crisis. Please pay what you can to keep us reporting and publishing.