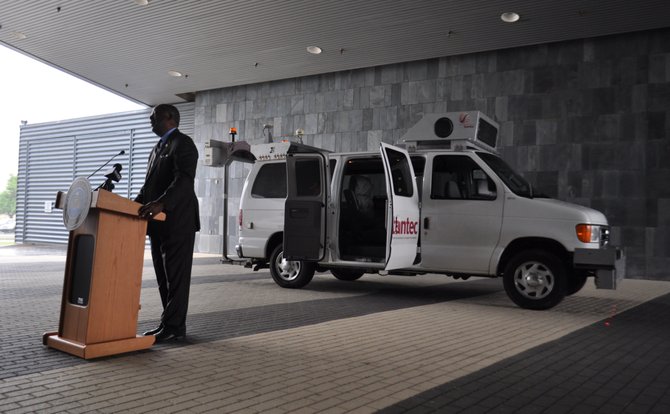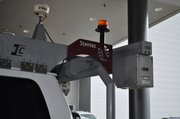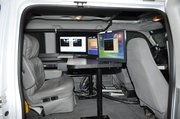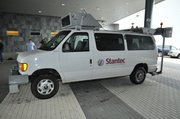 If you see a funny-looking white van canvassing the streets of Jackson, don't get too excited. It's not the ghost busters. But it might help Jackson target its worst thoroughfares for repaving.
The city of Jackson contracted the van through Stantec, a Canadian-based company that specializes in infrastructure and construction, to grade the city's streets. The van is outfitted with sophisticated laser technology and shocks that feed information into a computer set up inside the van, on a desk that looks like something out of a "Star Wars" movie. An analyst sits, reading the information in real-time as the vehicle moves down the street.
The analyst gathers the results of the readings, and processes them into feedback the city can use to objectively determine the streets that are most in need of repaving.
"For years, we've had people come out and grade our streets with human eyes," Jackson Mayor Harvey Johnson Jr. said. "But no matter whose eyes they were, they can't be 100 percent objective, so we've decided to do away with that."
Instead, the city has hired the van, which has already covered 1,600 miles since the survey began in early April. The city has roughly 1,200 miles of roadways, but the van must travel each road in both directions to get an accurate assessment of the street. It grades the roads with a rating from zero to 1,000, with 1,000 being immaculate and zero being completely impassable.
Johnson said the information-gathering portion of the job is about five days from completion, after which Stantec will provide the city with a full report. That report should be delivered "over the next couple of months," the mayor said.
Chris Mims, the spokesman for the city, said that the compete review is expected to cost $390,000.
The Johnson administration has said throughout the 2013 mayoral campaign that the city has paved 87 miles of streets since 2009, but Johnson has been under fire from opponents, who say he hasn't done enough to make Jackson's roads drivable.
In April, the Jackson City Council approved a $10 million bond to kick start work on major thoroughfares in every ward, even though the mayor previously said bonds were not the best way to pay for road paving.
"What we're trying to do (with this program) is establish a systematic approach to maintaining our streets," the mayor said.
More stories by this author