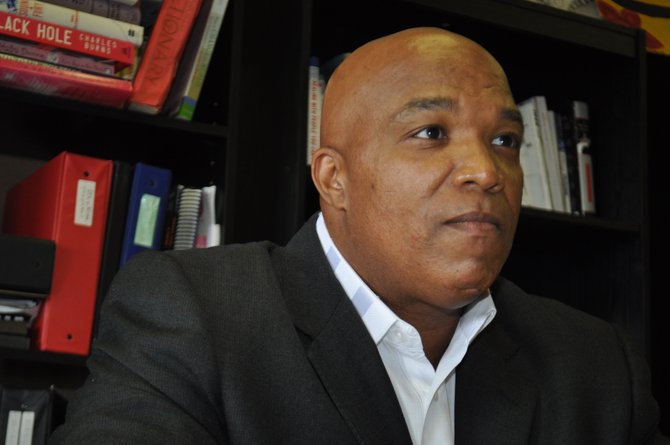 If you've seen Zachery Williams canvassing the neighborhoods of Ward 3 looking for votes in his effort to win a city council seat, you've probably met his father J.C., too. That's because when it comes to campaigning to unseat incumbent LaRita Cooper-Stokes, it's a family affair for the Innovative Behavioral Services mental-health specialist.
"I take one side of the street, and my dad takes the other," the 47-year-old Zachery said. "He's my unofficial spokesperson."
The former police and Mississippi Gaming Commission officer is running on a platform of stabilization for Ward 3. A Murrah High School graduate, he holds a bachelor's degree in criminal justice and a master's degree in guidance counseling from Jackson State University.
After earning his second college degree, he took a job at the Mississippi Gaming Commission and wrote the first laws in the state for Bingo. Later, he worked for five years as a reserve officer for the Jackson Police Department. He's been working as a mental-health specialist for the last couple of years, but he took a sabbatical to run for office because the office he worked for receives federal funding, which he saw as a conflict of interest.
Williams has put in his time in public service. He ran for this Ward 3 council seat in the 2012 special election, but before that, he served on executive committees for the Farish Street Festival and the nonprofit organization 100 Black Men. He is also a graduate of the FBI's Citizens Class and Leadership Jackson, and he mentors kids at Rowan Middle School.
Why are you running for city council?
I'm a lifelong resident of the city of Jackson, and I'd like to see our area improve. I feel our city is on the decline, and I'd like to see it come back. There are some things we need to do in order to improve our city so we can stabilize our wards and bring back homeowners and businesses. Jackson is the capital of Mississippi, and I think we deserve a lot more than we've received, not only inside the ward but within the city.
How are you different from the incumbent?
I'm different because I have a passion for the ward. I have a passion to see the ward improve. I have a passion to see the residents become homeowners. When we're looking at crime, we need to more involved in (preventing it). We need to be more involved in stabilizing our ward. We need to get more people back in order to be homeowners. I have a desire, and I will be accountable. I'll make sure we receive the things we need to stabilize our community and bring back jobs and citizens to ward 3.
Have you supported Councilwoman Stokes in the past?
No.
What is your top priority for the ward?
Stabilizing our community. What I would do there is take some of the abandoned homes and find a way to make people homeowners and place them back on the tax rolls. I think that's what we need to start with--stabilizing our community by revitalizing some of the homes. Find developers that are willing to come into our area to rehabilitate those homes.
How can we fast track that process of tearing down or rehabilitating dilapidated housing?
I would put into place a system that individuals who purchase a home have the same stipulations of the current homeowners. One of the things I've noticed that goes on is if someone buys a home, the process starts all over. ... Once (the city) finds out (the former owner) no longer owns the property, they have to go through the process of finding the homeowner, then give them the 30 days to respond, when the former owner already had that time. One thing I would do is change it around so the new homeowner is on the same schedule as the old homeowner, so we can get some of these houses cleaned up.
What would be your top priority for Jackson?
Business retention and what we can do to stabilize business. We need to look at what we can do to maintain businesses within the city. I would look at trying to develop a system so we can show ourselves to be more business friendly, so we can make life easier for them, and then attract some new businesses.
What can we do to slow down the crime rate?
We can address Jackson's crime problem by getting the citizens involved. There's a no-snitch, don't-tell type of mentality. We have to look at how we change that. What is it going to take? It's going to take involvement from the citizens. In addition to that, I would look at how can we better educate the citizens to help make our community safer. When you talk about crime, crime is policing, but we, as citizens, have to help and inform them on illegal activity, because (the) police work off of tips.
How important are the big private development projects for revitalizing Jackson?
Those developments are very important to Jackson for several reasons. Jackson needs that development in order to create jobs here, in order to create stability. Jackson has more of a black eye from businesses leaving the city rather than new businesses coming in. Any time we have a chance to bring more companies and businesses to come to the city, that's a plus. We need as many pluses as we can get right now.
If elected, what would you do to bridge the divide between the mayor's office and the city council?
Well, I would look at how can we work together. A lot of things should be handled before you get to the point where we are out before the media per se. I would definitely look at opportunities to say, "Hey. We can agree to disagree but, at the end of the day, we still need to come together to move this city forward."
We have to look at what is in the better interest for the citizens of Jackson. What we need to do for the people of Jackson is find a way to work together. That's what is important. We need to have accountability.
Do you support the 1-percent sales tax as passed by the state legislature?
I would support a position of being for the tax, but only if it is going to be used for the betterment of the citizens. If (the oversight commission) is what it's going to take to make sure the funds go to the particular designated area, I would be for it, but I would want to make sure that everything is as it appears to be. I'm for making sure that everyone is accountable for our dollars. We have to have that accountability.
How do you overcome the fact that barely 20 percent of Ward 3 voted in the 2012 special election?
Hopefully, we can get more people engaged by the individuals who are out here soliciting their votes. I hope and pray that it makes a difference. There's no real answer to what it's going to take to mobilize the people to say, "Hey. We need to increase the percentage." These are people that said, "I want to vote," but for whatever reason they haven't come out to vote.
Who are your influences?
My parents. They have been my greatest influence. They support me whole-heartedly in all my endeavors. They are my champions. They are my role models. They are the ones I look up to. Those people who know me, they know my father, because we're always together. My mother passed last year in July, and that has been a great loss in my life.
More like this story
More stories by this author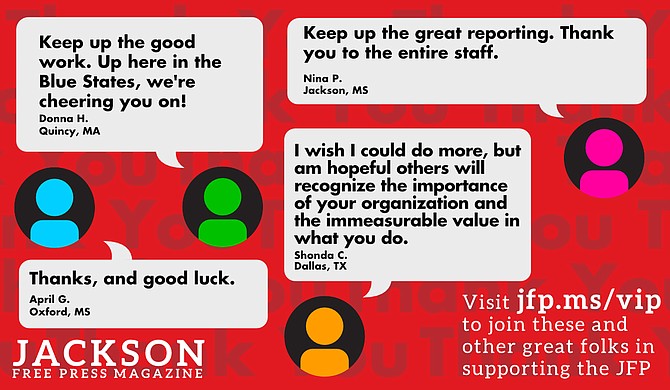 Thanks to all our new JFP VIPs!
COVID-19 has closed down the main sources of the JFP's revenue -- concerts, festivals, fundraisers, restaurants and bars. If everyone reading this article gives $5 or more, we should be able to continue publishing through the crisis. Please pay what you can to keep us reporting and publishing.