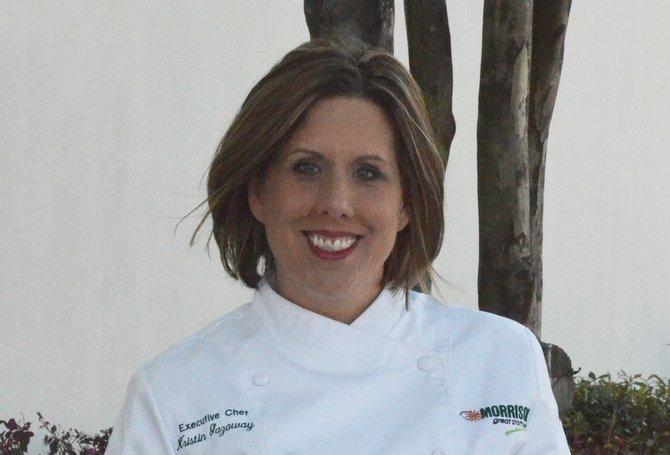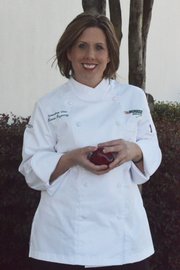 Recently I had an opportunity to meet a newbie to Jackson who is shaking up the world of school food: Kristin Gazaway. I am working with her to plan a Family Fun Night at Woodville Heights Elementary School, where I work. During her visit, she will talk to families about portion control, whole grains, fresh ingredients and how to eat healthy on a budget. As parents and students snack on fruit nachos, prepared during her cooking demonstration, she will share nutritional tips to help students as they enter the grueling test-taking season.
Gazaway, who is the regional executive chef for Morrison Healthcare Food Services, currently stationed at the Central Mississippi Medical Center in Jackson, has been passionate about cooking since she was a youngster growing up in Paragould, Ark.
"When my parents would come home at night, my brother (Jason) would do a salad, and I would do a side. ... Someone would set the table, and we all had duties," she said. Over time, it progressed to where she and Jason would rotate cooking nights. "They loved what I would fix. The time that I put cinnamon in my spaghetti sauce--maybe not that night. But for the most part they loved what I was experimenting with," she said.
While in high school Gazaway researched a handful of top culinary schools and decided to apply to one. "I prayed, and I was like, 'God, if it's not meant for me to be in this field, then don't let me get accepted.' Because at that point it was very hard to get into these schools with a seven-to-one student-teacher ratio. They only took like 20 students a semester," she said. Despite having little experience aside from some catering work, she got in. "I never looked back. I graduated high school on a Monday night, and Friday, my parents shipped me to Vermont."
In 1998, Gazaway graduated from the New England Culinary Institute in Burlington, Vt., with an associate's degree in food and nutrition. After completing a culinary internship and working for restaurants in Tennessee, Kentucky and Arkansas, she joined Morrison Healthcare in June 2009 as a retail manager at Baptist Memorial in Memphis. In March 2011, she moved to Jackson to assume her current role at CMMC. With 13 hospitals in Mississippi and Tennessee under her wing, she manages food cost, troubleshoots obstacles, helps organize and control inventory, creates special menus, and trains cooks and staff on new culinary techniques. Recently, she developed one of her line cooks into a sous chef role.
"My team inspires me. My team at CMMC has been incredible. ... Their energy inspires me to be better at what I'm doing and to help them grow. I want them to grow. I believe in my team. ... I let them experiment with their own ideas," she said.
Her visit to Woodville Heights is not her first involvement with the Jackson Public Schools. After a visit to a health class last year, where students eagerly inquired about the culinary arts field, she piloted a six-week after-school culinary program at Peeples Middle School.
"It's kind of like the hot career to be in (right now). When I went to culinary school in 1996, I didn't have a clue. I just knew that I loved to cook, and it was my passion. I didn't understand really the different opportunities that this industry has. I was not a strong student in high school, and I don't think a traditional college would have been the best choice for me. I'm very hands-on. ... My brain works very hands-on. I'm very creative. I just have that personality. So when the kids started asking questions, I was like well these kids don't have to go to a traditional college. ... They could go to culinary school and have a great career," she said.
Currently, Gazaway is working with eighth graders to develop their knowledge of fresh ingredients, different cooking methods and healthier choices.
"It started off as me introducing the culinary field to the 12 kids that I work with, and it changed halfway through," she said. "Now I'm focusing on (things like) making healthier choices, learning portion control, how to make ranch (dressing) with Greek yogurt (rather than) mayonnaise and how to make things healthy on a budget."
Due to the success of the program at Peeples, she is working with senior corporate executive chef at Morrison headquarters, Kevin Dorr, on a curriculum that can be replicated. "Hopefully, by the end of this year, I can roll it out so that (Morrison) chefs across the country, that want to get involved in schools, they can," she said.
At 35, Gazaway is excited about the direction her career is going. She was recently selected to attend the Culinary Institute of America through Morrison's Masterworks program--only one chef is chosen from each region. She will spend one week this April in San Antonio, Texas, with top corporate chefs learning new things. "It's like chef boot camp! ... It's a huge honor to be selected," she said.
Gazaway is not letting a historically male-dominated field slow her down. The Bureau of Labor Statistics reports that nationally, 79 percent of chefs and head cooks are men. Gateway Gourmet reports that 25 years ago, women made up only 10 percent of students in culinary arts programs. Today the number of men and women in those same programs is about equal. Yet, the median base salary for male executive chefs is nearly $18,000 more than that of a woman, based on 2011 data released by the American Culinary Federation.
"I always worked really hard and could get in there and scrub an oven just like a guy could. (I could) be busy on a Friday night and keep up. I never got in the 'weeds' so to speak. I was very strong. ... Society has embraced women in culinary (arts) and has been supportive," Gazaway said.
For young women who might consider going into the field, she says you've got to stick to your guns, continually educate yourself and keep up with culinary trends. "Don't back down--ever. ... If you know the trends and what's going on, you can hold a conversation--speak your game," Gazaway said.
More stories by this author
Support our reporting -- Become a JFP VIP.
The news business has changed dramatically in the past year, and we need your help more than ever to keep bringing you important stories about Jackson and the Metro. Become a JFP VIP with an annual membership or you can Sign up as a monthly supporter. Thanks for anything you can do to empower our journalism!