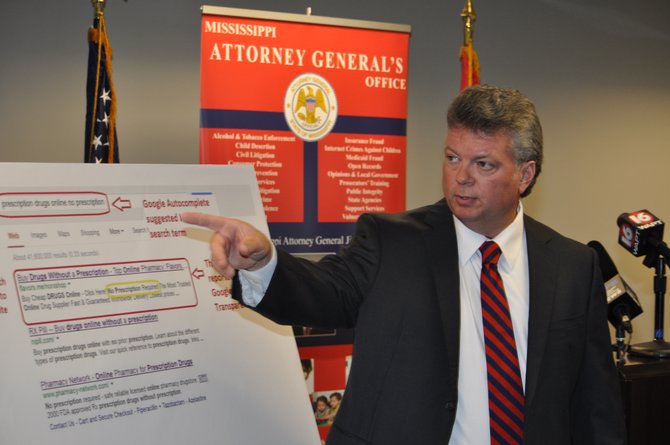 In the past six months, Mississippi Attorney General Jim Hood has sued Entergy, Toyota and State Farm Insurance. Now he's got his eyes set on his biggest opponent to date: Internet titan Google.
At a press conference Thursday, June 6, Hood laid out his case against the media giant, which owned roughly 66.5 percent of the market for online search engines this time last year. He accused the search engine of shrugging off accountability in several areas, including auto-completing searches for buying prescription drugs online without a prescription, linking to websites known for trafficking unlicensed music and movies, and in at least one instance, profiting from a video on YouTube.com that shows viewers how to illegally buy prescription drugs online without a doctor's referral.
"Unfortunately, we have a fight brewing with Google," Hood said. "The attorneys general have asked Google to clean up its act, and it's done nothing but obfuscate."
Hood said he has not filed suit against Google, but felt the need to go public with his frustration after going back-and-forth with the company through letters dating back Feb. 13.
In that first letter (addressed to "Search Engines"), Hood thanked the addressees, all heads of major search engines, for attending a Nov. 28, 2012, stakeholder discussion of the National Association of Attorneys General's Intellectual Property Committee. He called the meeting "a critical first step" in addressing intellectual property crimes in the global online marketplace, and requested written comments on the companies' takedown process, their use of Digital Millennium Copyright Act notifications and auto-complete features, among other issues.
Google, based in Mountain View, Calif., responded with an April 19 letter addressed to Hood and his counterparts in Virginia and Hawaii, Kenneth Cuccinelli and David Louie.
Included in the seven-page response from Google's Director of Public Policy John Burchett were details addressing each of Hood's concerns, one-by-one.
It outlined that the key to Google's success is its algorithm, the step-by-step data-processing procedure and automated reasoning that fuels the search engine's popular search tool. That algorithm, he argued, delivers the most relevant results to users who enter search queries.
"Google's search index simply reflects existing content on the Web, and the sites linked to in Google's search results are created and controlled by those sites' webmasters," Burchett wrote. "Removing a page from Google's index does not remove it from the Web, and people will still be able to see that page by going to it directly or via another search engine."
Burchett added that the auto-complete feature displays the most searched terms, and argued that removing generic terms such as "prescription" or "online" would be "vastly overbroad."
Hood was unsatisfied with the letter and responded May 21. In that letter, Hood called Google's answers "insufficient and inadequate," and invited Google CEO Larry Page to attend a meeting of the NAAG on June 18 in Boston "to answer these questions and any questions the attorneys general may pose."
Not having received a response to that letter, on Thursday Hood demanded in front of television cameras that Page attend the meeting, saying he hopes Page is unaware of the problem.
This is not the first time law-enforcement has targeted the hugely successful search engine. Google topped $50 billion in revenues in 2012 and its shares traded at a remarkable $738 last year. The company paid $500 million in 2011 to settle legal claims for selling ads to pharmacies that were illegally shipping drugs into the United States.
Hood said that activity is still ongoing.
"On every check we have made, Google's search engine gave us easy access to illegal goods including websites which offer dangerous drugs without a prescription, counterfeit goods of every description, and infringing copies of movies, music, software and games," Hood said. "This behavior means that Google is putting consumers at risk and facilitating wrongdoing, all while profiting handsomely from illegal behavior."
Google did not respond for this story, but spokesman Aaron Stein told the Associated Press in an email Friday that Google takes safety "very seriously," and added that he has explained how it fights illegal pharmacies to Hood.
"In the last two years, we've removed more than 3 million ads for illegal pharmacies," Stein wrote in the email. "We continue to work on this issue with industry partners and groups like the Center for Safe Internet Pharmacies." He added that the company has responded to more than 16 million requests to remove copyrighted material in the last month alone.
On Tuesday, the USA Today reported that Google had removed nearly 1,000 web pages flagged for illegally selling pharmaceuticals from its search results.
"We are pleased to see Google finally take action after months of delays," Hood said late Tuesday. "However, we think more action from Google is going to be required to alleviate our concerns regarding dangerous products including the illegal sale of prescription drugs without a prescription. Google has declined to participate on the panel at an upcoming conference of the attorneys general in Boston June 18. We will discuss possible further action at that meeting."
More like this story
More stories by this author
Support our reporting -- Become a JFP VIP.
The news business has changed dramatically in the past year, and we need your help more than ever to keep bringing you important stories about Jackson and the Metro. Become a JFP VIP with an annual membership or you can Sign up as a monthly supporter. Thanks for anything you can do to empower our journalism!