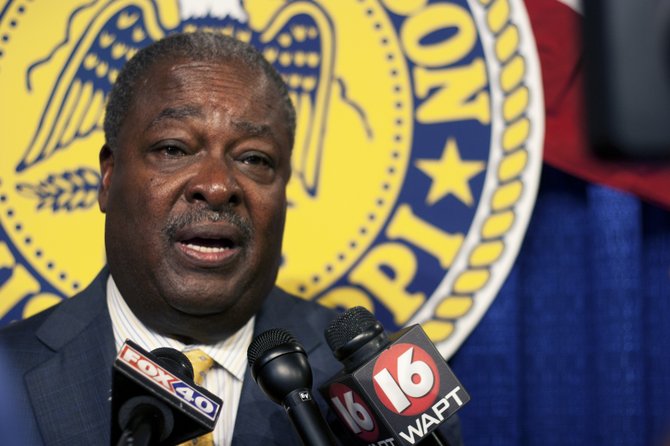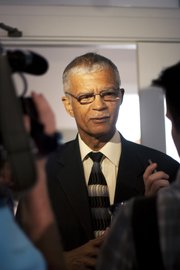 More than 30 years of service to a city and a state culminated in one 4,000-word speech at the Smith Robertson Museum and Cultural Center May 29.
In the same room where he first announced his candidacy for Jackson mayor 21 years ago, Mayor Harvey Johnson Jr. gave what is likely to be his final State of the City address. Johnson is moving on after losing in the primary round of the Democratic nomination process after serving as mayor for 12 of the last 16 years.
As the heir apparent to the mayor's desk, Ward 2 City Councilman Chokwe Lumumba looked on as Johnson fought back tears while speaking about his legacy and thanking his supporters, staff and family.
"I'm so honored to stand before you today as a public servant who has dedicated over four decades to using whatever skills, knowledge, wisdom and experience God has allowed me to gain to do my part in working to make the lives of others better," 
Johnson said.
Johnson didn't just sound like a man who had poured his heart and soul into his work; he looked the part, too. His eyes were heavy and his hand-motions animated as he talked about some of the accomplishments over the 12 years of his administration.
The mayor was overcome with emotion as he talked about the support he received from his wife of 44 years, Kathy. Johnson said words couldn't express how much he owed her for supporting him in his 24-7, 365-day-a-year job, but said his marriage "has been and still is what brings me the greatest joy of my life." When he landed that line, the mayor wasn't the only one with tearful eyes.
After thanking all the city's employees and his staff, Johnson got to the business of telling the crowd what it came to hear: The state of the city is strong.
"I've said it before, but I'll say it again: We put the City of Jackson back on track to move ahead, and the state of the city is better now, due to this important work we've done over the past four years," Johnson said.
That statement gained gravitas as Johnson noted that the city has faced some unprecedented challenges in recent years, including the national recession, aging infrastructure and outdated internal systems that weren't serving citizens or city employees. Jackson has weathered these challenges with a balanced budget in each of the past four years without increasing citizens' taxes, the mayor pointed out, while still providing raises to city employees.
"We have lived within our means, and we have cut waste, cut overtime and improved efficiency," the mayor said.
The speech also looked forward: The mayor made some fairly major announcements about the future of Jackson.
Johnson said that a hotel developer has approached the city with an interest in building a downtown convention-center hotel. He also announced that the city has been in talks with Costco and Walmart in an attempt to attract a new vendor to replace Sam's Club. Sam's, located off County Line Road, announced earlier this year that it be leaving for Madison despite its large market of Jackson shoppers.
That was music to Lumumba's ears. The presumptive mayor arrived late after holding a press conference at City Hall just an hour before. At the end of Johnson's speech, Lumumba stood and loudly applauded the mayor, who finished his speech by asking that citizens of the capital city to "Stand up!" for Jackson whenever they get an opportunity.
"I think that Harvey Johnson has played an important role in the history of this city and probably an important role in the history of the country, period. Because this is one of the special places in the country where we've seen some successes," Lumumba said. "I think that those successes, we must build upon. We've had some problems, and those are problems which came about naturally, but we must improve upon them."
Lumumba added that Johnson spoke eloquently about some of the things he was able to do since being in office, things that Lumumba would like to emulate.
"We don't intend to raise taxes, either," the councilman said. "Let's make that clear. We don't want to turn Jackson into a ghost town."
Johnson said that he is leaving a detailed transition plan in place to continue forward motion on the convention center hotel and replacing Sam's Club. Lumumba is eager to see the plan.
"We definitely need to make sure that any store that leaves here, we replace," Lumumba said. "... It's hard to draw people to a convention when there's no hotel for them to stay in; however, on the same level, we have to be dedicated to dealing with the infrastructure of the constituents where they live.
"We aren't a huge tourist destination like some of these cities. We're going to get better, and we're going to end up being world-class, but right now, we have to make sure we have a population that is going to use the downtown area, and that is the population for which we have to build the infrastructure."
Read the entire State of the City address at jfp.ms/StateoftheCity2013.
More like this story
More stories by this author
Like independent media outlets around the world, the Jackson Free Press works hard to produce important content on a limited budget. We'd love your help! Become a JFP VIP member today and/or donate to our journalism fund. Thanks for considering a JFP VIP membership or one-time support.