Do muttonchops make the man? They do when you're an immortal superhero struggling to figure out the purpose of eternal life, knowing that death isn't a possibility until someone you saved during the atomic bombing of Nagasaki sends a purple-headed pixie warrior to whisk you out of the arctic freeze and pay tribute to a dying man's last wishes.
Hair defines the mutant, and Logan, aka the Wolverine (played by Hugh Jackman, whose splendid physique is a tribute to his discipline and craft), seems to have gotten a lot hairier since the last wolverine exclusive, "X-Men Origins: Wolverine."
Logan rides the perilous line between lone wolf and grumpy caveman. It's not entirely clear why he's so serious. It's the timeless mystery of an angry mutant whose body self-heals and never ages. Logan's memories haunt him, and his favorite things fit within a small box. He lives while everyone he cares about is dead. The dead people stay in his head, like Jean Grey (Famke Janssen), the love of his life. She guides Wolverine through the tumultuous times.
With a brief Alaskan interlude, where Logan lives among the grizzly bears, the film takes place in Japan. We get to share director James Mangold's vision of urban life on a crowded Asian island. Neo-Tokyo blinks and twinks at night, and the countryside hums with balance and harmony. The extremes are more than a courteous nod to a beautiful country. This is a film that was intended to thrive overseas, and it has. The international revenues for the opening weekend have far exceeded the domestic box office.
Honor, dignity and samurai swords clash, leaving Logan with a unique cast of characters to befriend or defend against. This is one of those well-drilled films in which each of the central players comes supplied with a portable back story. Having survived the bombing of Nagasaki, thanks to Wolverine, Old Yashido (Haruhiko Yamanouchi) wheezes out each breath while lying in his state-of-the-art hospital room nestled in the cozy comfort of home. He's rich—super rich—indeed, the richest man in all of Asia. We know this because Tokyo is littered with neon Yashido signs, and Yashido has armed security men surrounding his property to prevent kidnapping.
Yashido's oncologist (Svetlana Khodchenkova), equipped with stilettos and a slithery tongue, treats his cancer and strives to prolong his life. Yashido's not ready to die. His family, particularly his granddaughter Mariko (Tao Okamoto) and her foster sister Yukio (Rila Fukushima), the mighty warrior with the red hair, need him. Or so he says.
Yukio escorts Wolverine to the dying Yashido, who looks Wolverine up and down, smiles and notes that Wolverine has not changed at all. Yashido coughs and gets to the point.
"I can end your eternity and make you mortal," he says before dying.
Yukio, the family clairvoyant, did not predict Yashido's imminent death.
Japanese mafia types and black ninjas who have protected the Yashido clan for centuries ruin Yashido's funeral, and Wolverine gets pulled into the melee. After an incredible fight sequence on top of a train, Wolverine rescues Mariko from the clutches of bad guys. They go into a love hotel, where Wolverine drips blood on the balcony. He's not healing anymore, and he believes the oncologist has done wicked funny business. Wolverine's right. The doctor's "a chemist, a nihilist, a capitalist ... a Viper," he says.
The whole movie is a burlesque of Westerns, samurai epics and gangster films. It is constructed like a comic essay, with random frivolous touches to inspire giggly cheers from the audience. The characters are agreeable monomaniacs, often speaking in stilted civilized language. The film's greatest charm is in Hugh Jackman's shirtless performance.
To be honest, after two hours, I switched loyalties and rooted for the killer ninjas. They jump like cats and swivel their swords like guillotine operators in revolutionary France. But so does Wolverine. His claws come in handy, and this film is a love letter to those steely appendages and to glorious muttonchops. What more can you ask for in a summer movie?
More stories by this author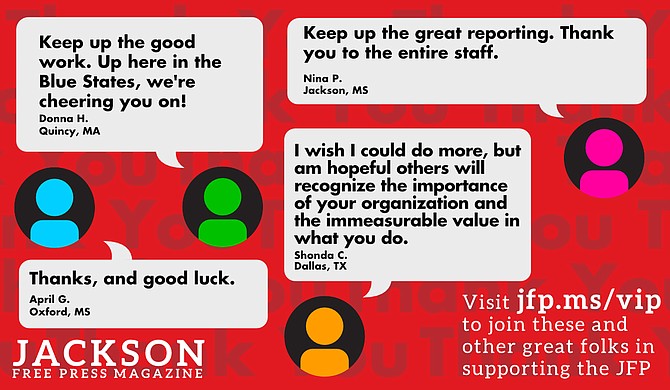 Thanks to all our new JFP VIPs!
COVID-19 has closed down the main sources of the JFP's revenue -- concerts, festivals, fundraisers, restaurants and bars. If everyone reading this article gives $5 or more, we should be able to continue publishing through the crisis. Please pay what you can to keep us reporting and publishing.