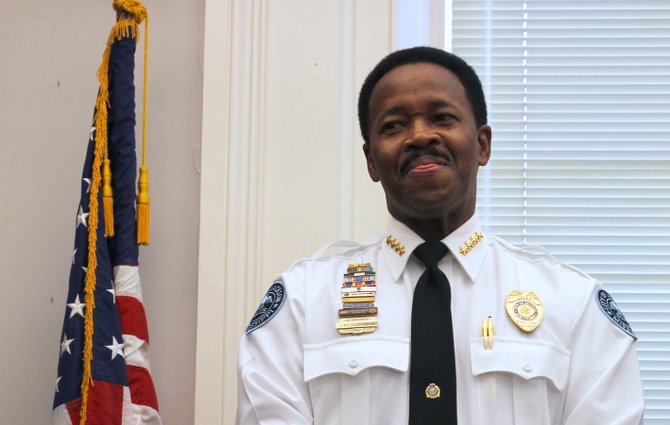 In a classroom-sized, fluorescent-lighted room on the second floor at Jackson Police Department headquarters on Pascagoula Street, the heads of each district and the precinct commanders gather every two weeks to go over numbers and talk crime-prevention strategy. Policemen rib each other in between reports, but you can hear a pin drop when the commanders stand in front of start reading off their crime statistics.
The July 11 meeting, the first since Chokwe Lumumba nominated former Deputy Chief Lindsey Horton to head JPD, was particularly somber toward the end. One precinct saw a rising number of auto burglaries, a common crime in the Bold New City.
Lumumba, Horton and the top police brass want Jacksonians to know they are aware of the problems, and are working to address them. If Horton shapes the kind of department Lumumba has envisioned, they won't have to say much--they'll show it.
When Lumumba was a young man, he saw many police officers as oppressors, not watchful protectors. As he grew older and became a successful lawyer, he made a living trying to keep people who were accused of breaking the law in heinous ways out of prison or off death row.
"I come from a time where there was a lot of tension between the community, especially the black community and the police," Lumumba said. "But now, you've had the demographics of the police department change, and the brothers and sisters and cousins and friends of the people in the community are the officers. We now have the ability to create really good relationships, but there's still a distance. There's still police officers that have that macho (mentality) and overstep their bounds, and there's still a lot of misbehavior in the community."
Now 65, Lumumba has the opportunity to set the tone of the largest police department in the state of Mississippi. If he and his appointed chief have their way, it will be a responsible police department--a more visible, more community-oriented department.
Lumumba called Horton, who previously served as deputy chief for administration under former Chief Rebecca Coleman, an "easy decision" for chief, given his 30-year tenure with the Jackson Police Department and the respect he commands among his colleagues.
"I think (Horton) is a very good choice," Assistant Chief of Police Lee Vance said. "I have known Lindsey since I was 12, so our association predates our tenure on the force. I've always known him to a solid, upstanding individual and a very capable police administrator."
Vance added that he thought Horton gave the department an opportunity to have "a very, very good" police chief.
Horton was not available for comment during a press conference at City Hall on Monday, July 8, at which Lumumba introduced Horton and Willie Owens as his choices for police and fire chief, respectively. But Lumumba said in an interview on July 8 that he believes Horton shares his vision for a friendlier and, therefore, more respectable JPD.
"What I want to see is a police department (that) can, with tremendous firmness, but at the same time with understanding and compassion, help to attack our problems," he said.
While the idea of police officers showing compassion and cozying up to a community that accepts them with open arms seems inviting, crunching the crime statistics paints a less-than-rosy picture of the current situation.
Website BusinessInsider.com recently named Jackson America's eighth most dangerous city. Its report was compiled with preliminary Federal Bureau of Investigation statistics, although the FBI discourages the practice of using its data to do crime rankings due to the voluntary submission of statistics from around the country. Nonetheless, crime statistics from the city of Jackson show that major crimes have been trending downward in the capital city for the past few years.
As of July 7, the 188th day of 2013, police responded to 3,766 acts of property crimes (auto burglary, auto theft, business burglary, grand larceny and house burglary) and 872 violent crimes (aggravated assault, armed robbery, carjacking, homicide and rape) since the start of the year. That's roughly 20 property crimes and just fewer than five violent crimes a day.
But those numbers are trending in the right direction: Data show that total major crimes are down 12.3 percent from this time last year, with property crime down 14.3 percent and violent crime down 2.9 percent.
Vance credits the decrease in crime rates to tools the department has developed to work with the community, instead of against it.
"The John Wayne image of the policeman is outdated--like a dinosaur," Vance said. "What you have to do now is get the public to help you. You have to organize neighborhood watch groups and start tip and drug hotlines. We won't get many people to help us if they are afraid we're going to jump out of our car at a traffic stop and bust some heads open."
While the relationship between the community and the officers who patrol it has come a long way, the new mayor believes it can become stronger.
One idea Lumumba proposed was possibly bringing in the Police Athletic League to have policemen mentoring Jackson's youth and helping them to compete in athletic events. PAL has been around since 1940, and is based in Jupiter, Fla.
Now that he's in a position to push ideas such as PAL, he said he's going to do it.
"I think it would benefit our police department to get involved in programs like that," Lumumba said. "I want to see our police officers out there playing softball with these kids and getting to know them.
"I'd like our department to be totally accepting of things like the anti-racial profiling ordinance and the civilian review board (which we already have). That's nothing that should scare them."
For JPD, striking the balance between keeping the peace and mending fences with a populace that doesn't trust or is afraid of them seems like a monumental task, but as Vance explained, those things go hand-in-hand.
"This is an interesting perspective to see things from," Vance said. "But there's no doubt that police philosophies in the 21st century have to be different from what they were 26 years ago when guys like (Horton) and I started. We have to adapt."
More like this story
More stories by this author
Support our reporting -- Become a JFP VIP.
The news business has changed dramatically in the past year, and we need your help more than ever to keep bringing you important stories about Jackson and the Metro. Become a JFP VIP with an annual membership or you can Sign up as a monthly supporter. Thanks for anything you can do to empower our journalism!