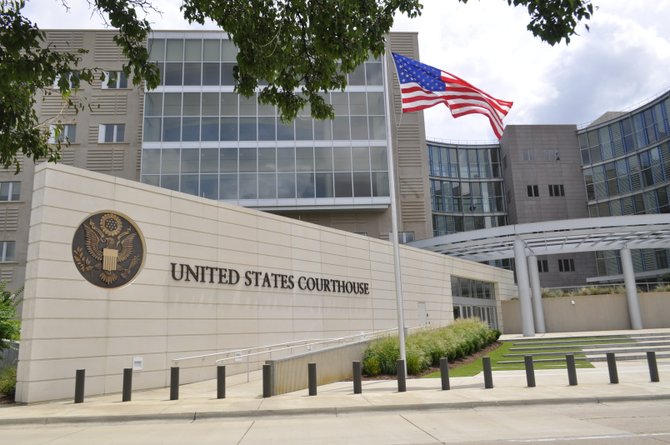 On June 26, 2002, Roger Johnson was alone in a recreation room at the Hinds County Detention Center when a group of fellow prisoners attacked him. Johnson, who is serving a 30-year-sentence for armed robbery at East Mississippi Correctional Facility in Meridian, filed a lawsuit in federal court against then-Hinds County Sheriff Malcolm McMillin and jail guard Delanio Sanders for failing to protect him from the assault.
That was May 2004.
Since Johnson filed his suit, Hinds County has a new sheriff, and Mississippi has a new governor, but one aspect of the lawsuit hasn't changed: It remains on the civil docket of U.S. District Judge Henry T. Wingate.
To the public, Wingate, 66, is best known for becoming the first African American on the federal bench in Mississippi. President Ronald Reagan appointed him in 1985. Wingate, a Mississippi native and graduate of Yale Law School, was only 38 at the time of his appointment, and has presided over several high-profile cases, including the trial of Ku Klux Klansman James Ford Seale for the 1964 kidnapping of Henry Dee and Charles Moore.
In legal circles, Wingate is equally well known for long delay times from his large case backlog. A report, dated March 22, 2013, which the Jackson Free Press obtained, shows Wingate had 49 cases on his docket with 97 different motions pending longer than six months. Wingate's backlog far exceeds that of the judge with the second highest number of motions older than six months—Judge Carlton Reeves, with 17 six-month-old motions pending as of March. Judge Keith Starrett had six motions pending, while the other 11 federal judges had no cases older than six months, the report shows.
The JFP contacted several attorneys who declined to speak on the record about Wingate's lack of urgency in dispensing with his cases, but the consensus among attorneys who practice in federal court seems to be that drawing Wingate is undesirable.
One attorney, who practices in federal court and did agree to speak but asked that we not use his or her name, said Wingate's delays "have a very harmful impact" on plaintiffs who are seeking relief through the courts.
"The old adage that 'justice delayed is justice denied' is very apt here," the attorney said.
One such plaintiff is disability-rights advocate Mary Troupe, who in 2010 lent her name to a lawsuit against then-Gov. Haley Barbour and other state officials. In March of that year, four children who had been in and out of psychiatric hospitals sued the state of Mississippi for not allowing them access to community-based health services. The four named plaintiffs represented a class of thousands of other children in similar situations throughout the state in a federal class-action lawsuit. The case, assigned to Wingate, has had 49 actions, but no trial has taken place or even been scheduled, Troupe said.
"I don't understand it because, in the past, Judge Wingate in his decisions has been very fair," she said.
Wingate did not return phone messages left at his office Friday and Monday afternoon.
Federal judgeships are lifetime appointments; only a congressional impeachment can unseat a federal judge, which happens rarely. Nonetheless, judges on the Fifth Circuit Court of Appeals have criticized Wingate for moving too slowly.
In March 2010, Fifth Circuit Judge E. Grady Jolly advised Wingate to get help from the appeals court if he needed additional resources. In fall 2012, in a case involving an automobile insurance claim, Fifth Circuit Chief Judge Carl Stewart remarked at the length of time the case, assigned to Wingate, had been on the district court docket.
"This is an old case by any kind of calendar, computer or slide rule from the time this was filed in '06. I mean, this is 2012," Stewart said in court.
Later, he added of the case: "This thing sat in the district court under (an order for) summary judgment for two years. It's been heard by a magistrate, by a district judge and now three appellate judges ... Just ruminations from the bench."
Troupe said that so much time has passed on in her case that she is no longer keeping track of it.
"In the meantime, people have suffered." Troupe said. "It is troubling."
De'Arbreya Lee and Dominique Triplett contributed reporting.
More stories by this author
Support our reporting -- Follow the MFP.