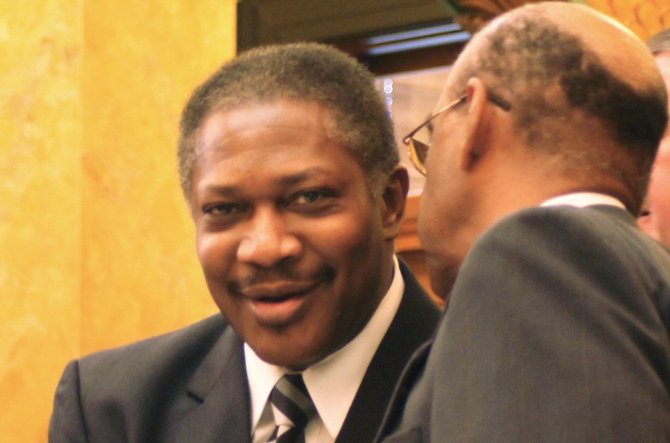 Marsh Cook's body was discovered on a back road in Bay Springs late in the afternoon. Cook's corpse, riddled with 15 rounds of buckshot fired from the shotguns of five men bunkered in a nearby schoolhouse, had been lying in the road all afternoon under the summer sky.
It was July 25, 1890. In less than three weeks, delegates were scheduled to meet in Jackson to craft a new constitution. Mississippi had gone through a lot of changes since the state approved its first governing document in 1817, the same year it obtained statehood. Mississippi was one of the first states to join the Confederacy in order to preserve slavery and, after the war, during Reconstruction was the first state to send an African American to the U.S. Senate. Cook, a Republican, had also run unsuccessfully for a congressional seat and, in the summer of 1890, he declared his candidacy for a delegate's seat at the state's constitutional convention.
The convention's stated purpose was to reshape the state's governing document so that only "intelligent citizens" could participate in the electoral process. Two proposals before delegates involved requiring eligible voters to pass a simple literacy test and pay a modest $2-per-year assessment in order to cast a ballot. However, the real intent of the new constitution was to permanently disenfranchise African Americans. In the weeks leading up to his assassination, despite warnings from committees of white men, Marsh Cook rode his horse between the towns of Jasper County in support of his candidacy, urging blacks to resist whites' anti-suffrage campaign.
One of the more vocal supporters of the proposed voting changes was an African American businessman and politician named Isaiah Montgomery. Born into slavery into the Delta, Montgomery was owned by Joseph Davis, the older brother of Confederate President Jefferson Davis; he later founded the town of Mound Bayou. Unlike fellow Republican Marsh Cook, Montgomery did attend the 1890 Constitutional Convention as a delegate, the only African American to do so.
In his remarks to the convention, Montgomery insisted blacks should accommodate whites by accepting limited suffrage "to restore confidence, the great missing link between the two races; to restore honesty and purity to the ballot box; that the race problem shall become a thing of the past and cease to vex and alarm the public mind; that the two great races shall peaceably travel side by side, each mutually assisting the other to mount higher and higher in the scale of human progress."
The Mississippi Constitution of 1890, which remains in effect today, achieved none of what Isaiah Montgomery hoped.
So Much Work
Mississippi adopted its constitution on Nov. 1, 1890.
Fearing that the very citizens framers wanted to push out of elections would reject the plan, the new constitution went into effect immediately instead of going up for ratification by the people of Mississippi. In practice, the Constitution of 1890 froze African Americans out of the political process until more than halfway through the 20th century, and established the legal foundation for one of history's most brutal, oppressive and violent regimes whose singular purpose was to maintain white supremacy by controlling the ballot box.
After the constitution went into effect, attempting to exercise the right to vote was almost unheard of for African Americans, who met violent resistance if they dared to even try.
Sixty-five years after Mississippi adopted its constitution, a preacher from Belzoni named George Lee challenged the regime by becoming the first African American anyone could remember to successfully register to vote in Humphreys County in the early 1950s. Lee later co-founded the Belzoni NAACP and launched a campaign to register other blacks in the county. In August 1955, a month after Lee delivered a keynote speech at the Regional Council of Negro Leadership conference in Mound Bayou, the Delta town Isaiah Montgomery founded, a car pulled alongside the car Lee was driving, and a gunman fired three shots into the preacher, killing him. The same year, a farmer and World War I veteran named Lamar Smith was also fighting Mississippi's anti-black-voting regime when he was gunned down in broad daylight in front of the Lincoln County Courthouse in Brookhaven.
The Mississippi murders of Lee and Smith preceded some of the best-known tragedies of the Civil Rights Movement. In June 1963, nearly three-quarters of a century after Mississippi officially disenfranchised blacks, Mississippi NAACP field secretary Medgar Evers was assassinated outside his home in Jackson. Evers, who had lived in Mound Bayou and tried to convince the U.S. Department of Justice to investigate his friend George Lee's death, was carrying a box full of T-shirts denouncing Jim Crow at the time of his murder. One year after Evers' murder, James Chaney, Andrew Goodman and Michael Schwerner, all in their early 20s, were lynched in Neshoba County while helping register blacks to vote.
Together, these and countless other events across the South led to the passage of the Voting Rights Act of 1965, which Congress approved Aug. 4, 1965, and President Lyndon Johnson signed the following the day. Relying on language in the 15th Amendment, the VRA prohibits government officials from imposing any "voting qualification or prerequisite to voting, or standard, practice, or procedure to deny or abridge the right of" any U.S. citizen based on race or color.
The VRA was a direct response to states like Mississippi that codified racial disenfranchisement in its founding legal documents. The VRA explicitly prohibits the longstanding practice across the South of levying poll taxes and giving literacy tests as conditions for voting or registering. The VRA also makes it illegal to coerce or intimidate to deter voters, and the power to enforce its provisions rests in three main sections.
Section 2 prohibits most forms of voter discrimination. Section 5 states that certain states and other jurisdictions that had employed discriminatory voting laws in the past must obtain permission from the federal government before imposing any new voting laws through a process called preclearance.
Section 4 of the VRA outlines the formula for which states and other covered jurisdictions must obtain preclearance. Under the formula, contained in Section 4(b), any state or county that as a of Nov. 1, 1964 had a test or other device, such as a tax, in place as a precondition to register to vote or where less than half of eligible voters were registered, must have its election changes precleared.
The VRA also provided a legal tool for civil-rights attorneys to challenge discriminatory voting laws in federal courts. In the late 1970s, while studying at the University of Mississippi Law School, Carroll Rhodes worked as a special community liaison in his hometown, Hazlehurst.
The Lawyers' Committee for Civil Rights Under the Law, a nonprofit organization formed in 1963 at President John F. Kennedy's request, was challenging a Mississippi law that required all municipalities in the state to use an at-large system of electing municipal officers.
"The black folks wanted representation. How to get it is what we had to explain," Rhodes said.
Working under the supervision of Frank Parker and Barbara Phillips, Rhodes helped organize community information sessions in preparation to file a class-action suit on behalf of all African Americans in Hazlehurst. The Lawyers' Committee said the state law violated the VRA in part because the plan was never precleared under Section 5.
"There was so much discrimination going on in the South that you had the NAACP Legal Defense Fund, the Lawyers Committee—all these civil-rights groups, mostly from the northeast—were coming in the South to file cases all over the South in voting cases, school desegregation cases, employment discrimination cases. So much work had to be done," Rhodes said.
'Morally and Ethically Wrong'
On June 25, the U.S. Supreme Court undid much of that work. In the highly anticipated decision in the case of Shelby County, Ala., v. Eric Holder, the court invalidated Section 4(b) of the VRA, which spells out the formula for the cities, counties and states must, obtain preclearance, ruling that the coverage formula is outdated.
The decision hardly came as a surprise given the court's conservative bent and Chief Justice John Roberts' long and public history of opposing the VRA. In the early 1980s, as a young lawyer in President Ronald Reagan's administration, Roberts authored a series of memos questioning the need for the VRA.
Writing for the majority of conservative-leaning justices Antonin Scalia, Clarence Thomas, Anthony Kennedy and Samuel Alito, in the Shelby ruling, Roberts states: "Nearly 50 years later, things have changed dramatically. Largely because of the Voting Rights Act, voter turnout and registration rates in covered jurisdictions now approach parity. Blatantly discriminatory evasions of federal decrees are rare. And minority candidates hold office at unprecedented levels."
Rhodes, who is now 62 and general counsel for the Mississippi State Branch NAACP, insists that Mississippi has changed because of the Voting Rights Act—not in spite of it. Rhodes, who practices law in Jackson, has been involved in virtually each one of the state's voting-rights fights for the past 30 years. Rhodes points to the Hazlehurst campaign as one example of how civil-rights-minded people wielded the VRA to effect electoral change, primarily through getting African Americans into government.
"Most of the black officials are there because of litigation. They didn't wake up and say, 'Oh, the voting rights act is here, we're going to treat black folks right,'" Rhodes said.
Plaintiffs settled their suit in Hazlehurst when the city agreed to dump the at-large city council and draw ward lines. The resulting map produced two majority-black wards and, subsequently, the city's first two African Americans to sit on the five-member Hazlehurst city council.
Around the same time, a man named Henry Kirksey used the VRA to challenge Hinds County Board of Supervisors' maps as discriminatory against blacks. The Lawyers' Committee argued on Kirksey's behalf that the districts were drawn to exclude African Americans, who made up about 40 percent of Hinds County's population, from being elected supervisors.
In 1977, the Fifth U.S. Circuit Court of Appeals sided with Kirksey and forced Hinds to redo its voting map, which produced Hinds County's first African American supervisors: George Smith in District 5 and then-Bolton Mayor Bennie Thompson. Thompson was later appointed to the U.S. House of Representatives in 1993 when then-U.S. Rep. Mike Espy became agriculture secretary. Smith served on the board until 2011, when he lost a Democratic primary challenge. Kirksey went on to serve in the Mississippi state senate.
As it had in Hazlehurst and other cities in Mississippi, the Lawyers' Committee sued another municipality that used at-large commission form of government. Jackson, which was 70 percent white in the early 1980s, had a mayor and three commissioners elected at large rather from designated districts. The city implemented the system in 1912. In 1983, the Lawyers' Committee sued the city of Jackson and its mayor at the time, Dale Danks, on behalf of Henry Kirksey and 16 other plaintiffs, to replace the commission with a city council whose members are elected from equal-size wards. The Fifth Circuit again agreed with Kirksey and his fellow plaintiffs, and Jackson converted to its current mayor-council configuration.
Something else was happening in Mississippi in the 1980s. In 1984, Dick Molpus became Mississippi's secretary of state for the first of three stints. The office oversees corporate filings, regulates securities and manages public lands in addition to overseeing voting regulations.
Molpus describes himself as part of an early wave of progressive state elections chiefs, along with Indiana's Evan Bayh and Ohio's Sherrod Brown, both of whom went on to serve in the U.S. Senate.
"We did not just want to file corporate charters. When I ran (for office) in 1983, I said, 'I'm going to give all my time to public schools and opening up elections,'" Molpus said.
At the time, Mississippi was embroiled in hundreds of voting-rights lawsuits alleging voter harassment and intimidation, particularly in the Delta where white plantation owners employed such tactics as filming at the polls. Previous state officials had fought the claims, but Molpus, along with his Assistant Secretary of State, Constance Slaughter Harvey took a different, approach. In 1985, Molpus pleaded guilty to the charges on behalf of the secretary of state's office, named as a defendant in the suits.
"It is morally and ethically wrong to take the right to vote away from people," Molpus said.
Change of Course
Civil-rights activists flatly reject Chief Justice John Roberts' assertion that things have changed all that much with respect to voter suppression in Mississippi. Carroll Rhodes took over as lead attorney in most of Mississippi's voting-rights lawsuits when Frank Parker left Mississippi in the early 1990s to teach at William and Mary Law School in Virginia. At the time, a quarter century after the VRA's passage, Rhodes said Mississippi was still engaged in many of the same vote-suppression tricks that it perfected under Jim Crow.
The tactics had shifted from the voting tests and poll taxes to the harder-to-detect strategies like gerrymandering voting districts along racial lines. The U.S. Constitution requires voting maps to be redrawn every decade to reflect demographic changes in population to preserve the one-person-one-vote rule of equal representation.
The VRA requires covered states to submit redistricting proposals for preclearance. In 1990, Rhodes challenged Mississippi's legislative redistricting plan on behalf of Mississippi's black citizens. The Legislature's plan created 20 majority-black districts for the state Senate and House out of more than 170 between the Senate and House.
Rhodes and civil-rights leaders believed blacks should have more. President George H.B. Bush's Department of Justice agreed, filing an objection to Mississippi's redistricting map in 1991. Under the agreement reached between the DOJ and the state, Mississippi redrew its map and lawmakers ran for election in the new districts in 1992. In November of that year, African American legislators more than doubled their numbers, from 20 to 42, Rhodes said
In 2010, Rhodes and the NAACP again challenged Mississippi' legislative redistricting plan in federal court to prevent the 2011 statewide elections from taking place with what the civil-rights group considered malapportioned voting districts. The court said the elections could take place, but directed the Legislature to pass a decennial redistricting plan as required by law, the courts gave lawmakers the option of completing the plan during the 2012 session or a three-judge panel would take over the responsibility.
The NAACP again asked a federal court to throw out the results of the 2011 elections in which Republicans gained control of both houses of the Legislature for the first time since Reconstruction.
"The 2012 plans contain fewer black-majority districts and black-voting-age-majority districts than the plans offered by plaintiffs as interim plans in 2011. The 2011 plans are evidence that the 2012 plans result in discrimination," the complaint states. Despite controversy over a plan that diluted the number of primarily white Democrats in the House and Senate, federal elections regulators approved Mississippi's voting maps in May 2013.
Mississippi Secretary of State Delbert Hosemann, who oversees most elections in the state, applauded the Shelby decision and offered the DOJ's approval of the state's redistricting plans as evidence that Mississippi should no longer be governed under the Voting Rights Act.
Matt Steffey, a constitutional law scholar and professor at Mississippi College School of Law, interprets the DOJ's approval of Mississippi's voting maps differently.
"The secretary of state mentioned the Department of Justice responded positively to Mississippi's redistricting, but who knows what those maps would have looked like if they didn't need to get preclearance," Steffey said.
"The elimination of preclearance is a sea change for voting rights."
A 'Rainstorm' of Vote Suppression
Both the majority and dissenting opinions in the Shelby case read like duelling primers on southern civil-rights history. In his opinion, Roberts invokes many of the incidents that convinced President Johnson, a Texas native, sign the VRA.
Specifically, Roberts mentions the three Neshoba County civil-rights murders of three voting-rights workers near Philadelphia, Miss., in 1964 and "Bloody Sunday" in Selma, Ala., in 1965, where police beat and tear-gassed protesters who were marching for voting rights.
Arguing for invalidating Section 4, Roberts said times have changed since those events. He wrote: "Today, both of those towns are governed by African American mayors. Problems remain in these states and others, but there is no denying that, due to the Voting Rights Act, our nation has made great strides."
To underscore his point, Roberts includes a chart of voting participation changes between 1965 and 2004 in the six southern states subject to Section 5 preclearance: Alabama, Georgia, Louisiana, South Carolina, Virginia and Mississippi. In five of the six states, including Mississippi, the black voter registration rate in 2004 exceeded registration among whites. In 1965, 6.7 percent of blacks were registered to vote in Mississippi compared to 69.9 percent of whites, Roberts' chart shows. By 2004, the trend had reversed: 76.1 percent of African Americans registered in Mississippi compared to 72.3 percent of their white counterparts.
Neither high African American registration and turnout or Mississippi's distinction as having the most black officials of all the states has translated into fewer attempts to restrict minority voting.
Even as blacks were making gains in terms of registration, efforts to quash black voting participation continued in Mississippi's small cities and towns, as well as in the state Legislature. In 1987, a federal judge struck down Mississippi laws that forced voters to register twice and banned off-site voter registration, calling the laws racially discriminatory.
Until then, Mississippi required eligible voters to register separately for state and municipal elections. U.S. District Judge Glen Davidson, who oversaw the case, wrote that the dual-registration procedure was a violation of the Voting Rights Act that resulted in "an abridgement of (African Americans') right to vote and in their having less of an opportunity to participate in the political process.''
As recently as 2001, the mayor and all-white five-member board of aldermen of Kilmichael canceled scheduled elections when several African Americans announced they would seek office in city government. But because of the VRA and Section 5, federal authorities ordered the election to take place, and Kilmichael elected its first black mayor. African Americans also won three of the town's five alderman seats.
Ruth Bader Ginsburg, in her opinion for the court's liberal minority, described the majority's opinion invalidating the coverage formula akin to "throwing away your umbrella in a rainstorm because you are not getting wet."
"The sad irony of today's decision lies in its utter failure to grasp why the VRA has proven effective. The Court appears to believe that the VRA's success in eliminating the specific devices extant in 1965 means that preclearance is no longer needed.
She continues: "In truth, the evolution of voting discrimination into more subtle second-generation barriers is powerful evidence that a remedy as effective as preclearance remains vital to protect minority voting rights and prevent backsliding."
Hidden Racism
Sen. Kenneth Wayne Jones, a Canton Democrat and chairman of the Mississippi Legislative Black Caucus, called Roberts' opinion evidence that the U.S. is going in the wrong direction when it comes to protecting voting rights. Jones, who won election to the state Senate in 2007, agrees with Ginsburg that voting discrimination has shifted shapes to take on a more innocent appearance than at the time the VRA passed.
"It seems like hidden racism is worse than overt racism," Jones said.
In the time that he has served in the Legislature, Jones said he can point to a number of efforts by his Republican colleagues that whiff of vote suppression. Most notably, Jones points to the campaign to impose a voter-ID requirement on Mississippi voters. After several legislative failures, in November 2011 voters approved a constitutional amendment to require voters in all future elections to show state-approved identification to cast a ballot. Mississippi Gov. Phil Bryant signed the law in May 2012.
The law was awaiting Justice Department approval, but Hosemann, one of the sponsors of the voter-ID ballot initiative, declared in late June that the Supreme Court decision "removes requirements for Mississippi to travel through the expensive and time-consuming federal application process for any change to state, county or municipal voting law."
The worst-case scenario for civil-rights organizations is that voter ID deters working-class people, the elderly, out of state students, African Americans and other racial and ethnic minorities who tend to support Democrats from showing up at the polls.
Voter ID laws have been popular and gaining steam for about a decade, and have become political rallying point for Republican officials. In June 2012, Pennsylvania House Republican Majority Leader Mike Turzai drew criticism for saying that state's voter-ID law would help Mitt Romney carry the state and defeat President Barack Obama.
Arizona passed the first voter-ID requirement in 2004. The following year, Indiana passed the nation's second state voter-ID law, which became the basis for a lawsuit that went to the U.S. Supreme Court, which upheld the constitutionality of the Indiana law in 2008.
After Indiana showed that voter ID could withstand a federal court challenge, conservative think-tank groups such as the American Legislative Exchange Council set out to expand voter-ID laws even further. ALEC, which develops model legislation for its state lawmaker members to copy and paste into their own laws, helped introduce more than 60 voter-ID bills from 2011 to 2012—including the bill in Mississippi.
Rick Hasen teaches election law at the University of California-Irvine School of Law. In his 2012 book, titled "The Voting Wars: From Florida to the Next Election Meltdown," Hasen systematically debunks the claims that what he calls "the Fraudulent Fraud Squad" uses to justify voter-ID laws. "The Fraudulent Fraud Squad does not focus on election-worker crime or absentee-ballot fraud. It is obsessed with impersonation fraud, the idea that people will go to the polling place pretending to be someone else—either a voter listed on the rolls or someone who has registered with a false name—to throw the results of an election.
"There are virtually no cases of voter-impersonation fraud and no evidence in at least a generation that it has been used in an effort to steal an election. There is a simple reason for this: It is an exceedingly dumb strategy," Hasen writes.
Still, policymakers in Mississippi have insisted that voter-ID is necessary to curb the potential of voter fraud. Hosemann, who will oversee the law's implementation, said his office has to taken care to ensure to that voter-ID would not discriminate against any voter.
"We had meetings with all the political parties and people for and against. We had several different series of concerned citizen meetings about these regulations and how voter ID would be implemented," Hosemann told the Jackson Free Press in a May 6 interview.
"I wanted to make sure we had a meaningful (voter) ID law but, by the same token, we did not by any stretch of the imagination intimidate any voter in Mississippi."
'A Chilling Effect'
Despite the Shelby ruling, voting-rights activists in Mississippi are not ready to give up the fight—nor are the proponents of such measures as voter ID running any victory laps. Hosemann concedes that even without preclearance, Mississippi would still have to comply with Section 2 of the Voting Rights Act, which bars the state from implementing discriminatory voting laws.
"You couldn't say that Catholics can't vote, which we tried to do in Mississippi, or that women can't vote, which we tried to do—or the Jim Crow laws, which we also did. There's a whole series of things that have impeded people's right to vote and that comes under the constitutionality portion (of the Voting Rights Act). So the preclearance would go away, but individuals who may challenge voter ID would still have the ability to question the constitutionality of it," Hosemann said.
But Section 2 mainly applies after the fact. If the state or a municipality implements a discriminatory voting law or procedure, a challenger would have to wait until after an election to argue that the law had a racially discriminatory effect on the outcome. Of course, by then the election would be over, and the lawsuit could take years to move the through the courts.
"It will be very difficult, given the makeup of the court, for ID laws to be struck down under the federal Constitution," said Tray Grayson, former Kentucky secretary of state and executive director of the Institute of Politics at Harvard.
But Rhodes said Mississippi's voter-ID legislation does provide the basis for a court challenge because the bill states the law is effective July 1, 2012—not when it completes federal preclearance.
Rhodes also believes that President Obama could issue an executive order applying preclearance to all jurisdictions nationwide; however, such an order would require a significant budget increase for the Justice Department's preclearance division, something the Republican-controlled House of Representatives is unlikely to grant the White House.
Steffey, the MC law professor, believes norms have changed enough in Mississippi that we are unlikely to see a return of the most egregious statewide forms of voter suppression common before Congress enacted the VRA. It's more likely that the issues will be at the municipal and county levels, Steffey said. State Sen. John Horhn isn't so optimistic about that his legislative colleagues will act with good intentions. "We've seen enough attempts by our colleagues to know that we won't be singing Kumbaya," Horhn said.
Rhodes, who has filed dozens of lawsuits over the years in response to legislative actions, isn't so sure either: "You just wait until the legislative session to see what they come up with."
More stories by this author
Support our reporting -- Follow the MFP.