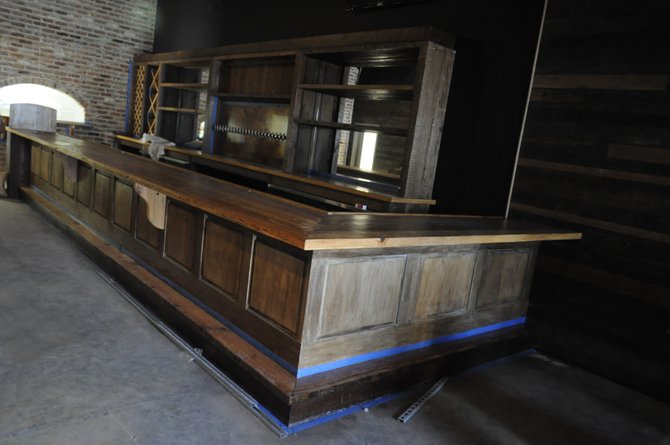 Fondren Public Making Progress
Fondren is closer than ever to having it's own pub, thanks to a group of local businessmen behind soon-to-be-open Fondren Public.
The pub is still in the construction phase, but general manager Andrew Kehoe said the goal is to host a grand opening before the end of the summer.
"We are looking to take advantage of the specialty-brewed beer movement," Kehoe said. "We want to offer products (and) work with southeastern breweries, whether it's Lazy Magnolia or Yazoo up in Nashville, and just be a neighborhood bar for all of the young professionals of Jackson."
The inside of the bar, which Kehoe said is somewhere in the neighborhood of 1,600 square feet, has a rustic feel to it. The long draw features dozens of taps, which are soon to be hooked up to kegs of beer from brewers in Louisiana, Mississippi, Tennessee and Alabama, among others. The back patio, which workers roofed this past week, will include several bocce ball courts and outdoor seating. The menu will include traditional bar staples like hamburgers and sandwiches.
Kehoe said the idea for the pub came from the investors' experiences from all over the country, including trips to pubs in Nashville, Atlanta, Chicago and Seattle. The business is going through the process of passing city inspections, but the kitchen equipment is in place.
"We want to attract patrons from all over the city, but we also want to be a true neighborhood bar," Kehoe said. "We want to get to the point where when a regular walks in, our bartender pours their beer for them and sets it in front of them without the customer having to ask."
Gumbo Fest Returns
Local music promoter Arden Barnett and event producer Bill Bissell are teaming up to bring back the International Gumbo Festival after a decade-long hiatus.
Barnett and Bissell announced the event Tuesday, June 25, alongside Mississippi Director of Tourism Malcolm White on the patio of White's restaurant, Hal and Mal's. The festival date is set for Sept. 28.
"We're proud to announce the return of the International Gumbo Festival," Barnett said. "We are looking forward to bringing back one of Jackson's favorite events, right here, downtown at Smith Park."
The event will feature a gumbo cook-off, which begins at 7 a.m. and ends just before lunchtime; the gates open at 11 a.m.
The festival already has several bands scheduled to perform, including Good Enough For Good Times, Honey Island Swamp Band, Jimbo Mathus and the Tri-State Coalition, Southern Halo, Star and Micey, and the Wild Magnolias Mardi Gras Indians.
Beer will be available for purchase, and Barnett said they are working with the city on acquiring a liquor license for the event, so they can serve margaritas and other libations.
"We have to give kudos to the city for giving us an exemption on the alcohol," Barnett said. "They have been great to work with so far, and it's really going to help us put on a great event, right here in the heart of the city."
BankPlus, Polks' Meats, Howard Wilson, Capital City Beverage and Clear Channel radio stations have signed on to sponsor the event. All proceeds go to the Harold T. and Hal White Memorial Scholarship Fund, which funds one scholarship each year in the Hinds Community College hospitality management program. It is named for Hal and Mal's owner Malcolm White's late father and brother.
"I'm really glad to see this festival come back to Jackson," White said. "We used to have a lot of fun with it, and I'm sure with Arden and Bill in charge, it's going to be a first-class event."
White recalled the last year they held the event, which he used to promote. His brother Hal and he set out to cook the biggest pot of gumbo on record. They even checked with the folks at the Guinness Book of World Records, but he can't recall whether they got there or not.
"With Hal manning this huge crawfish-cooking contraption, we cooked the biggest pot of gumbo any of us had ever even heard of," White said. "I don't know whether we got the record or not, but we had so much gumbo left over, we couldn't find enough people to give it all away."
Advance tickets for the International Gumbo Festival are $10. To purchase tickets or for more information, visit jacksongumbo.com.
Bryant Ranks 14th in Job Creation
Mississippi Gov. Phil Bryant ranks 14th out of 45 governors in total number of jobs created in the private sector, according to The Business Journals "On Numbers."
"On Numbers" analyzed private-sector employment levels for the 45 governors who were in office before this year using seasonally adjusted data from the U.S. Bureau of Labor. The list, published June 27, scored each governor based on a comparison of the annual job growth rate for his or her respective state, and the corresponding figure for the other 44 states.
Bryant came in behind 10 other Republicans and three Democrats. Republicans Jack Dalrymple (North Dakota), Rick Perry (Texas), Gary Herbert (Utah), Bill Haslam (Tennessee) and Bobby Jindal (Louisiana) topped the list. Democrat John Hickenlooper (Colorado), was ranked sixth.
Mississippi ranked just behind South Dakota and just ahead of Minnesota. Matthew Mead (R-Wyoming) was ranked last.
The list did not include governors Steve Bullock (D-Montana), Maggie Hassan (D-New Hampshire), Jay Inslee (D-Washington), Pat McCrory (R-North Carolina) and Mike Pence (R-Indiana) because they entered office earlier this year.
More stories by this author
Support our reporting -- Become a JFP VIP.
The news business has changed dramatically in the past year, and we need your help more than ever to keep bringing you important stories about Jackson and the Metro. Become a JFP VIP with an annual membership or you can Sign up as a monthly supporter. Thanks for anything you can do to empower our journalism!