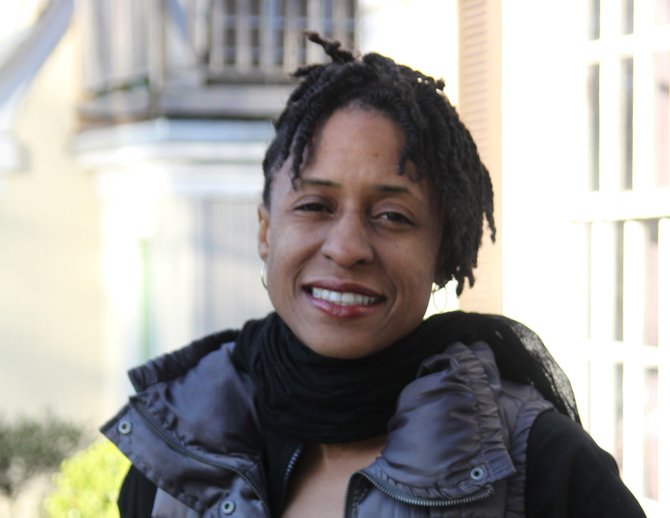 In her first political race, Jackson City Council candidate June Hardwick says she wants to put power back in the hands of the people.
The 37-year-old Bolton native has lived and worked in Ward 7 since 2005. Her 11-year-old son, Raha Maxwell, attends classes at St. Richard Catholic School, in walking distance from her Fondren law office, J. Hardwick Law, PLLC, where see handles criminal and family cases.
In 1997, Hardwick earned an English degree from Spelman College and, in 2001, a master's degree in international affairs and development from Clark Atlanta University. Hardwick was left a single mother after the death of her son's father, when Raha was 13 months old. She worked as a teacher in Siwell Middle School from 2002-2003, and got her law degree at Mississippi College School of Law in 2006.
The 1993 Murrah High School graduate has supported all types of events, from yoga classes to Kwanzaa, through her involvement with the Malcolm X Grassroots Movement and the Ward 2 Peoples Assembly, and volunteers at community gardens.
Hardwick handled criminal cases at the Hinds County Public Defender's office for four years. Her neighborhood, Battlefield Park--economically depressed, under resourced and neglected--made her begin to see the need for change in the city, she said.
With Ward 7 containing areas that are economically strong as well as weaker areas, how do you plan to campaign to those two different groups?
My campaign is taking a grassroots approach that in the past has been useful and effective in any region or area--regardless of class or race--in an effort to form immediate connections with voters throughout the community. Rather than dictate to the people, I want to put the power back in the hands of the people, hear what they want, what they need and work with the people to solve those problems.
There is a need to create more collaborations and partnerships between flourishing communities and under-resourced areas of Ward 7. Neighborhood associations in areas such as Battlefield Park, Midtown and areas that mirror these communities need very much to be empowered, to be better organized and led, and shown how to work with the city to take full advantage of what the city has to offer in the way of city resources.
Councilwoman Margaret Barrett-Simon has held the office since 1985. What would you do differently from her?
One of my major priorities is to be more involved with education through the public school system. I am a product of both private and public schools. I have a goal to devise ways with administrators, educators and parents in an effort to help improve the quality of education children receive here. I also work with different children events and summer programs, including programs at Tougaloo College, doing poetry workshops as well as working with children in the area around Koinonia Coffee House.
I believe there should be a stronger presence of mentoring programs and after-school programs in Jackson Public Schools. While programs like the 100 Black Men and others are in place, the children can also benefit from mentorship from other individual professionals, community organization and Churches throughout the city. Even here at my law office, I believe it would be a great opportunity for a high-school student interested in law to intern here for the summer.
Also, I am very much concerned about health disparities in the community. Through working with the MXGM, I am affiliated with a community garden planted in Ward 2, and we'd like to duplicate those efforts in Ward 7. Community gardens are something that not just elders can benefit from, not just children, not just whites, not just blacks, but everyone can benefit from the concept and the fruit of community gardens.
What do you think should be done about crime in Jackson?
When it comes to handling crime in the city, I believe the solution is multi-fold. First, Jackson needs more jobs, and Jackson needs improved education. It is proven ... that where people have a quality education, finish school, get a trade or go to college, continue on an educational track and get gainfully employed or self-employed, the likelihood of crime plummets. There is a need to improve community-watch programs, like Neighborhood Watch, to be better organized. These types of programs in other major cities are very visible throughout communities.
Along with this, there has been a major historic ambivalence of police terrorism* of urban communities. Something must be done to correct or improve the relationship between the police and the communities that police serve. It's a gap between those two--the police need to work with the community for community policing. I believe more police is not the answer and communities need to become more empowered.
*Hardwick explained that she has represented clients beaten by officers and falsely accused, and police taking money and not using it as evidence. "Generally, in my clients' experience, when they see the police, they run," she said. "There has been a history of violence between the police and the people."
Problems at the Raymond Detention Center have spurred talk of relocating the jail. How do you feel about Jackson having a new jail?
I believe the facility should be repaired and properly staffed. The major solution is: If we improve education and jobs, we would see maybe half the people who end up in the criminal-justice system who would be housed in Raymond at the detention center. I don't know if relocating the detention center back to Jackson is a solution.
What about repairing the streets and areas of Ward 7 prone to flooding?
The streets and infrastructure of Jackson are a major priority but, as Mayor Harvey Johnson (Jr.) has emphasized, the pipes underneath the streets need repairing also. Even where I live now, it is troublesome to me, after roadwork or heavy rains, the discoloration of my water. And when I say discoloration, I mean the brown water. While I know it will be an expensive endeavor, which would require moneys from the federal and city government, it would be counterproductive to repair the streets, then have to tear them back up to fix the pipes.
Regarding the Malcolm X Grassroots Movement, what are your views on this core principle: "We demand reparations or repayment for 400 years of slavery, colonialism and oppression of our people in the United States of America"?
I have been a member of the MXGM for several years. I'm just a general member, an organizer and volunteer. Anyone can become a member and we are always recruiting, and we're always encouraging people to join.
And yes: Reparations are in order. I am a member of the MXGM so all the principles I agree with--the ending of sexist oppression of women in particular, as a woman. I believe sexism is ignored in the black community. It wasn't until during my time enrolled in an all-women's college, that I developed an understanding of sexism in the African American community. Sexism, classism and racism are all issues that should be addressed.
The city recently launched a marketing plan. What do you want to see out of this ?
I hope that the marketing plan would increase tourism. With tourism comes dollars, yet tourists have to have reasons to come to Jackson, and ... Jackson needs more reasons. People still think very negatively of Mississippi and ignore the fact that our issues are not just unique to Mississippi; it's really unique to the American society in general.
What are your concerns about stalled development projects such as the Old Capitol Green and Farish Street?
Any project that would improve the look of Jackson, the sound, the smell, the whole feel of Jackson, then my initial response is: Yes. I am for it. Let's do everything in our power collectively between the private and public sector to move the projects forward. That is if the project is not detrimental to the residents of Jackson.
If elected as Ward 7's councilwoman, what would be the three priorities you would focus on?
Better use of vacant lots and dilapidated buildings; community policing to address crime and education; emphasizing more parental involvement.
Comment at www.jfp.ms.
More stories by this author
Support our reporting -- Become a JFP VIP.
The news business has changed dramatically in the past year, and we need your help more than ever to keep bringing you important stories about Jackson and the Metro. Become a JFP VIP with an annual membership or you can Sign up as a monthly supporter. Thanks for anything you can do to empower our journalism!