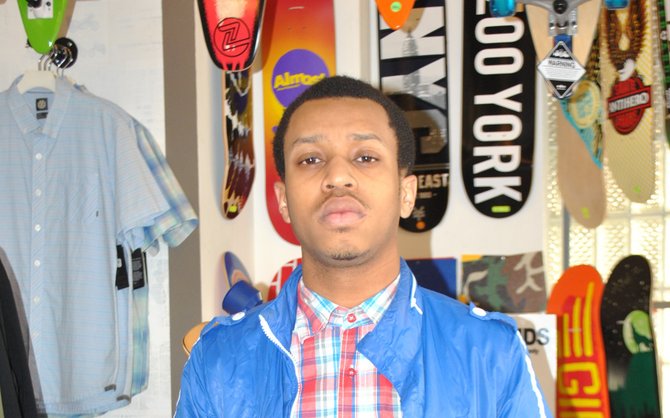 With his high-energy shows, Starkville-based rapper and hip-hop artist Pell is trying to make a name for himself. His current tour, called The Calphonics Tour after his latest mixtape, started off with eight dates scheduled, and now it is up to about 20. The tour includes cities throughout Mississippi, Alabama and Louisiana.
At 20 years old, Pell--born Jared Pellerin--is no stranger to performing and creating his own music. He first started rapping in 7th or 8th grade. In high school at St. Joseph Catholic School, he created beats for his friends using a beat box that his dad gave him. Pell used these skills to help produce tracks on his 2010 mixtape, "That Feel Good."
Later in high school, he and two friends, Jonathan Faulkner and Justin Johnson, formed Homesickk Astronautz. The trio created a chill type of rap music and performed at house parties. Pell remembers recording his first song, "Monkeys in Spacesuits," with them in 9th grade.
"That was really fun because it was new to all of us. We were just experimenting, so the sky was the limit," Pell says.
Now, he is taking a hiatus from attending Mississippi State University to pursue his solo career. Pell has progressed a lot since his Astronautz days; in fact, progress is how Pell describes the difference in his solo work.
"It's developed more. I have a sense of self that I didn't have when I had just started," Pell says. "Obviously, as you get older, you learn stuff. Like, I couldn't imagine all the stuff that I would know now back then. The experience shows in the music."
In his first performance, Pell opened for nationally known rapper Machine Gun Kelly in Starkville last February. "That was my first taste of people (having) all eyes on me. I had performed before, but it was more of a chill environment," he says.
Since then, he has opened for Grammy Award-winning artist Juicy J in Jackson, Ace Hood in Birmingham, Ala., and Nappy Roots in Jackson.
Pell has one EP and three mixtapes out, the latest of which is "Calphonics," released in December. When he was younger, Pell always dreamed of "living the life" in California. That combined with the influence of R&B legends The Delphonics inspired the creation of this mixtape.
"It's all about getting in contact with myself," Pell says about the latest mixtapes, "because I feel like through music I found myself and who I really am."
"(California) is still a dream of mine, but not just to move there," he says about California. "As far as my music--just my musical influence in general to reach there. That would be more important to me than having an actual physical address there. That would signify to me that I've not only touched people down here where I'm from and where I stay, but also people in a different region."
In his music, one can hear influences of pop, indie, rock, hip-hop--basically all genres except country, he says, but that's only because he hasn't been turned on to the right country artist yet. Pell mentions artists such as Jay-Z, Kanye West, Marvin Gaye, Eminem, Michael Jackson and Phoenix as influences. His mixture of tastes comes through in the samples used on "Calphonics." They include "Hands" by the Australian band Alpine and "Psychovision" by Daniele Luppi as well as beats and instrumentals from Japanese hip-hop producer Nujabes and jazz artist Alan Hawkshaw.
Pell strives to write about personal matters and wants his listeners to feel like they know him at the end of the tape. "People want something that they can relate to and also that they can feel. It's easy to talk about whatever the next guy is talking about, but not all the time are my stories how somebody else would tell them, because I have different experiences," he says.
His rapping style is a bit more laid-back and versatile than some artists: "I want to be a storyteller, but at the same time I don't want to over-complicate things. I feel like sometimes simple is good, and I try to show lyricism when it's needed. The degree of intensity depends on the song."
Pell had his first serious video-shooting production last year for "The Actress," featuring Sir FlyWalker. Zach Manuel of the New Orleans-based Greenhouse Collective helped him do it, despite his tight budget, within a month.
Before and after opening for Nappy Roots earlier this month, Pell was with his crew working on the video for "The Wild," which he wrote a year ago. "I would say that it's my most well-received song. There hasn't been anyone who wasn't affected by it who I played it for. That just screamed that we had to shoot a video for that song," he says.
One thing Pell attributes the song's success to is the atmosphere in which he wrote it. "It was more of me just going over to my friend's and just talking about whatever random things I wanted to talk about," he says. "You can't tap into your artistry unless you're comfortable."
While Pell is out there earning fans across the region, he says he is OK with not being signed with any label. "Right now, I'm enjoying the independence of what we're doing, plus there are not a lot of hands in the pot," he says. "I get to work with my friends, which I think I'll come to value when we are faced with big money. I was always taught that you eat with the people that you starve with."
See Pell perform Feb. 23 at Hal & Mal's (200 S. Commerce St., 601-948-0888). Check pellyeah.com for more tour dates. Listen to Pell's music on datpiff.com and livemixtapes.com. Find him on Twitter @PellYeah and on Facebook.
More stories by this author
Support our reporting -- Become a JFP VIP.
The news business has changed dramatically in the past year, and we need your help more than ever to keep bringing you important stories about Jackson and the Metro. Become a JFP VIP with an annual membership or you can Sign up as a monthly supporter. Thanks for anything you can do to empower our journalism!