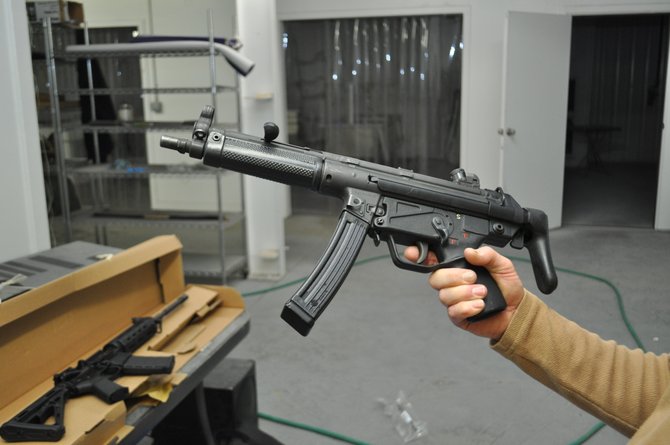 With statewide household gun ownership at 54 percent in Mississippi, it's no secret that heightened gun-control laws aren't likely to get much support from the state Legislature.
Vice President Joe Biden and President Barack Obama's gun control task force are addressing possible gun-control measures on the federal level this month. That has some state and local officials thinking and talking about gun laws.
There seems to be a consensus about the goal: greatly reducing, if not eliminating, mass murders like that of teachers and students at Sandy Hook Elementary School. Getting people to agree on how to reach that goal is far from simple.
In Mississippi, it is as easy as just about anywhere to purchase a firearm. Any resident 18 or older who has not been convicted of a felony can purchase rifles, shotguns and any non-felon 21 or older can buy handguns. The state does not require a waiting period, a permit to purchase guns, licensing of gun owners or registration of firearms.
One prohibitive law on the state's books is one that requires a permit to carry a handgun or concealed weapon, including stun guns, several types of knives, rifles with barrels under 16 inches long and shotguns with barrels less than 18 inches long. The license costs $100 from the Department of Public Safety. The DPS can deny a license to anyone under 21, anyone convicted of a felony, violent misdemeanor in the previous three years, committed to a mental health, drug or alcohol rehabilitation program in the previous three years, or anyone with a physical disability that prevents them from properly handling a firearm.
The state's other major prohibitive law is a requirement for retailers to make a public record of firearm or ammunition purchases, including buyer's name, type of gun or ammunition purchased, and the date.
Rep. John Moore, R-Brandon, is chairman of the House Education Committee. He believes the answer to preventing gun violence is less about getting guns out of the wrong hands and more about getting them in the right hands. "I'm thinking very strongly about introducing a piece of legislation that requires each school district to arm some of their staff so this kind of situation won't happen," Moore told the Jackson Free Press. "When you put a big sign out in front of a school full of children that says, 'This is a gun-free zone,' that means to the person whose intent is to do them hard that he's got a free rein. He can go in there and kill as many people as he can carry the bullets in there for."
Potential gunmen may change their minds if they know there are an unknown number of licensed gun owners with concealed weapons in the school, Moore said. He will think long and hard before introducing such legislation, however, because he knows it will create a lot of backlash.
In 2011, the state passed a law that allows licensed carriers to have concealed guns on college campuses. Previously, guns were not allowed on any campuses in the state. On elementary and secondary campuses, only non-students can possess weapons, and only if the weapon remains in a motor vehicle and no one brandishes the weapon.
Gov. Phil Bryant told the Jackson Free Press Jan. 7 that he would like to see legislation that would require armed guards on school campuses. All other state buildings already have armed guards, he said.
A 2011 study by the non-profit Violence Policy Center shows the numbers don't support Moore's claim that more guns equal less gun violence. The study showed that Mississippi, which has some of the nation's loosest gun laws and one of the highest percentages of household gun ownership, ranked second in the nation in gun deaths at 19.32 per 100,000 deaths.
All of the top five states--Alaska, Mississippi, Louisiana, Alabama and Wyoming--had a household ownership greater than 45 percent. In contrast, the bottom five states in gun deaths all had household ownership of less than 19 percent.
Rep. Edward Blackmon Jr., D-Canton, believes the state needs to push for bans on assault-style rifles and high-capacity magazines. Such weapons are clearly not made for sport hunting but maximizing human casualties, Blackmon said.
Such weapons were illegal for civilian ownership in the United States under the Public Safety and recreational Firearms Use Protection Act from September 1994 through September 2004, when the act expired.
Federal legislators have made several attempts to reinstate the law, often called the assault-weapon ban, but no legislation regarding the weapons has reached the House floor for a vote in the eight years since.
Can Felons Own Guns?
State law makes it a felony for anyone who has been convicted of a felony to possess a firearm. However, convicted felons can apply for a certificate of rehabilitation from the court that convicted him or her. If the court finds that the felon has been rehabilitated and has led a production, law-abiding life since serving his sentence, it can issue a certificate that would allow that person to purchase and possess a firearm.
Felons can also regain their right to possess a firearm by way of gubernatorial pardon. In 2012, former Gov. Haley Barbour issued 208 such pardons, 41 of them to convicted murderers, sex offenders or child molesters. One of the reasons Barbour cited to give these felons clemency is so they could buy guns and hunt.
In 2007, Barbour seemed to hold a different stance on gun violence when he made his State of the State address.
"This year I ask you to do three more things: To pass laws that lengthen the mandatory prison sentence for committing a felony with a gun, and to lengthen the prison sentence for a felon possessing a gun," Barbour said in the speech. "These changes will give prosecutors better tools to punish criminals who use guns to commit crimes, and they will not violate the constitutional rights of law-abiding citizens to keep and bear arms.
More stories by this author
Support our reporting -- Become a JFP VIP.
The news business has changed dramatically in the past two years, and we need your help more than ever to keep bringing you important stories about Jackson and the Metro. Become a JFP VIP with an annual membership or you can Sign up as a monthly supporter. Thanks for anything you can do to empower our journalism!