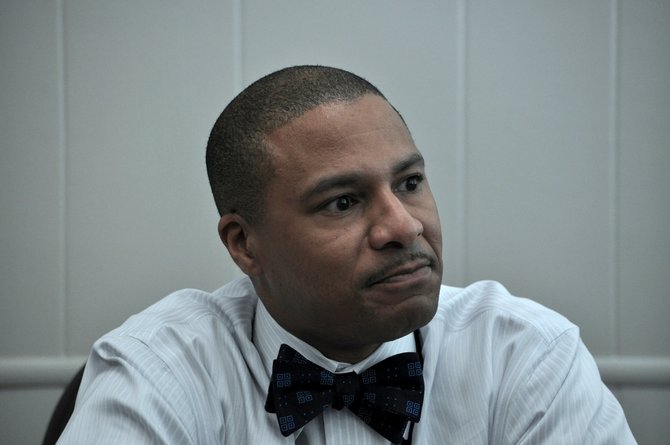 Jackson Public Schools Superintendent Cedrick Gray wants the district to focus on two key areas: reading and early childhood education.
Gray met with the Jackson City Council's Education Committee Jan. 7 at City Hall. Gray said JPS will soon communicate its plan for the next several years. He said the district must expand education for children before they reach first grade.
"There are students that show up to school at age 5, and some of them don't know how to properly hold a book," Gray told the committee. "It's hard to believe, but it's absolutely true."
If students are behind when they enter K5, it continues throughout their education, Gray said, leading to reading problems all the way through high school. Ward 7 Councilwoman Margaret Barrett-Simon said when she chaired the advisory committee of the National League of Cities, they studied education for children from birth to 5 years old.
"The numbers are just absolutely conclusive that a child who gets to school at age 5, who has had no preparation at all--and it can start at birth if parents are educated to know what to do--they're 10 years behind before they start," Barrett-Simon said. "These are little sponges until 5 years old."
Barrett-Simon said it has been hard to convince people just how important early childhood education is. The state does not require students to attend school until age 6, Gray said, which for most means first grade. One-fourth of 5-year-olds in Jackson are not in kindergarten, Gray said. He drew a comparison from those numbers to the approximately 22 percent high school dropout rate in the district.
To address the reading problems that continue once children are in school and often contribute to high dropout rates, Gray is looking to specialists. In particular, Gray is working with Jackson State University faculty to begin residencies at JPS elementary and middle schools, where university professors will instruct teachers on how to more effectively teach reading to students in an urban environment.
"There is no one thing that works everywhere, all the time. It really takes diving in, like we've endeavored to do that last six months, to figure out what will work here," Gray said.
Ward 5 Councilman Charles Tillman, a former public-school administrator and counselor for more than 30 years, asked Gray how the city council can become more closely involved in schools.
Gray said he would welcome any council members to visit schools in the district at any time. "What I would encourage you to do is come and check in with me--you've got my number, just give me a call--and I'd like to go with you," Gray said to Tillman. "I'd love to see what you see, and I'd also love to communicate exactly what I think the adjustments can be."
More stories by this author
Support our reporting -- Follow the MFP.