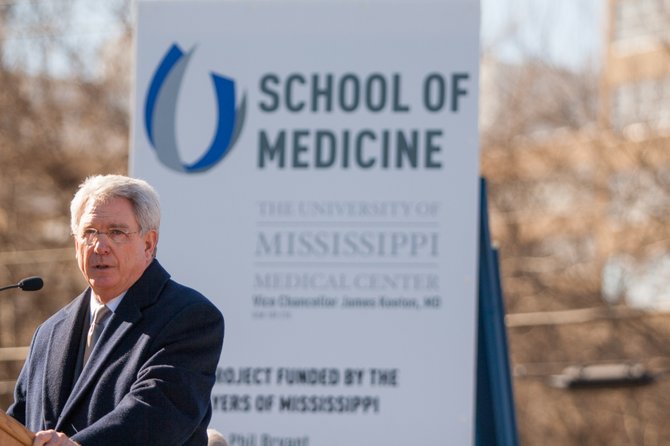 Mississippi ranks near or at the bottom of almost every health indicator. Gov. Phil Bryant hopes a new School of Medicine will be the remedy not only for health issues, but for some of the state's economic issues as well.
On Monday, Bryant, University of Mississippi Chancellor Dan Jones, Mayor Harvey Johnson Jr., and other state and local leaders came together for the ceremonial groundbreaking of the University of Mississippi Medical Center's new School of Medicine. Bryant hopes the 151,000-square-foot, $63-million facility will draw in some of the nation's top medical students and provide a vital tool in reversing the state's poor health trends.
"We just simply don't have enough doctors, and so people are dying," Bryant said at the ceremony. "This is for every citizen that needs a physician. This is for the young men and women in the white coats ... that seek to be a physician. And it is for the economy of this state."
The new facility will increase the school's incoming class size from 135 to more than 160 students. It will replace the university's current School of Medicine, which the state constructed in 1955. That, Bryant said, is unacceptable in 2013.
"We are going to move forward with the latest, greatest technology, the most advanced medical school," Bryant said.
In October, Bryant authorized $10 million in Community Development Block Grants to help fund the facility. He hopes the state will receive more help from the federal government to finance the construction of the facility. The state will sell bonds for the remainder of the funding.
"This is taxpayers' dollars," Bryant said at the ceremony. "I know it's not free, but it's federal taxpayers' dollars that we can put toward the construction of this medical school."
Bryant said the facility, through the doctors it will train, will create 19,000 new jobs and generate $1.7 billion in the state by 2025. Those jobs include administrative, nursing, pharmaceutical and other jobs which doctors support. Currently, UMMC-trained physicians generate $6.3 billion in economic activity and support 60,000 jobs in hospitals, clinics and private practices in the state, Bryant said.
Middleby Buys Viking for $380 Million
Middleby Corp. announced Dec. 31 that it had come to an agreement with Viking Range Corp. to buy the company and all its holdings for $380 million in cash.
The Elgin, Ill.-based commercial food-service and processing giant has been gobbling up culinary equipment manufacturers like popcorn lately. The company's latest acquisition is Greenwood-based Viking.
Viking manufactures high-quality, commercial-style cooking ranges and kitchen appliances for the residential market. It also operates nine cooking schools in six states. Viking has about $200 million in annual revenues.
The venture into the residential appliance market is a relatively new one for Middleby, which owns more than 40 brands in the commercial food-service and food processing equipment industry.
"This acquisition strategically positions Middleby as a leading manufacturer in the sector with a top brand," Middleby Chairman and CEO Selim A. Bassoul stated in a press release.
Recent acquisitions accounted for a $17.6 million, or 8 percent, increase in Middleby's total net sales during the third quarter of 2012.
During the 2011 and 2012 fiscal years, Middleby acquired food processing equipment manufacturers Auto-Bake, Maurer-Atmos, Drake, Armor Inox, Baker and Stewart. Those acquisitions helped Middleby increase its food processing equipment net sales by 99.7 percent in the third quarter of 2012, as compared to the previous year.
Bassoul said he plans to integrate some of Middleby's other brands, such as TurboChef, Jade and MagiKitch'n with Viking.
Viking operates four manufacturing plants and one distribution center, and employs 650 people, almost entirely in Greenwood. Viking operations will continue to be based in Greenwood.
"One of the things that was important to (President and CEO Fred Carl Jr.) was that what is happening here in Greenwood continues," Viking Director of Marketing Bill Andrews told the Jackson Free Press.
Middleby estimates the worldwide luxury residential appliance market, Viking's specialty, at greater than $1 billion. The company hopes to vastly expand Viking's presence in that market with organic growth and by introducing new products and technologies under the Viking name.
Carl, a Greenwood native, first began work on creating commercial cooking ranges for the home in 1980. In 1987, Viking shipped the world's first commercial-style home range. Carl serves as chairman, president and CEO of Viking Range. Middleby stated it plans to keep Carl as president and CEO in the near future.
Team Jackson Looking to the Future
Schools, businesses, individuals and organizations from around the city are coming together to seek a common vision for the future of Jackson.
Team Jackson is the product of teamwork from two sponsors: Downtown Jackson Partners and the Jackson Chamber of Commerce, and more than 100 partners who will meet once every other month to assure the city's leadership is headed in the same direction.
"(Team Jackson) was an idea that came together from Baton Rouge and some other cities that have done some cool things in terms of bringing people together around a mission of moving a city forward," Marika Cackett, co-chairwoman of the Team Jackson news committee, told the Jackson Free Press.
The organization will hold its next meeting Jan. 15 at 11:30 a.m. at The South on State Street. The meeting will feature development and non-profit speakers. Team Jackson will provide lunch for those who make a $20 reservation ahead of time. Anyone can join Team Jackson. The membership fee is $100. For more information, visit teamjacksonms.com
A New Film Festival
The Negro in Mississippi Historical Society has produced several documentaries focused on the contributions of African Americans in the state. Next month, the non-profit will host a film festival based on the same goals.
NMHS Unlimited has teamed with the City of Jackson, The Russell C. Davis Planetarium Jackson State University and Tougaloo College to host the "It's All About You" Film Festival Feb. 23 through March 2.
The festival will showcase films made by and/or about people of African descent from around the world. The goals of the festival are to display films that express the African-American experience in a positive manner; offer networking opportunities with industry professionals; and provide opportunities to sharpen film production and marketing skills through workshops.
Sponsorship packages are still available. For more information, call 601-259-7598, 769-226-3725 or email [email protected]
Rainbow Offering Food Education
Rainbow Natural Grocery Cooperative is offering free food education.
The organic and local grocer is distributing free CDs featuring interviews with food experts between now and Feb. 10.
On Feb. 10 at 6:30 p.m., Rainbow will host a test based on the information in the interviews. Prizes will go to the top 10 scorers on the test, including $500 cash to first place, $250 Rainbow gift certificate to second, $100 Fair Trade Green gift certificate to third. Fourth through sixth place will receive $50 gift certificates from Rainbow and seventh through tenth place will receive $25 gift certificates.
The CDs feature interviews with Dr. Dean Ornish, Dr. Caldwell Esselstyn, Vandada Shiva, Marianne Williamson and others.
Main Street Conference Set
The Mississippi Main Street Association announced Dec. 31 that the 2013 Destination Downtown event will merge with the National Main Street Conference in New Orleans, La. from April 13-16.
Mississippi and Arkansas Main Street associations will co-host the event, as well as multiple tours that will visit all three states. Mississippi will host Destination Downtown in 2014.
Participating Main Street communities in the state reported big numbers in the first half of the fiscal year, from July through December, 2012, including:
• 89 net new businesses
• 336 net new jobs
• 14 business expansions
• $8.3 million in public investments
• $8.03 million in private investments
• 43 buildings/facades rehabilitated
• 28 new residential units
• and 18,759 volunteer hours logged.
More stories by this author
Support our reporting -- Follow the MFP.