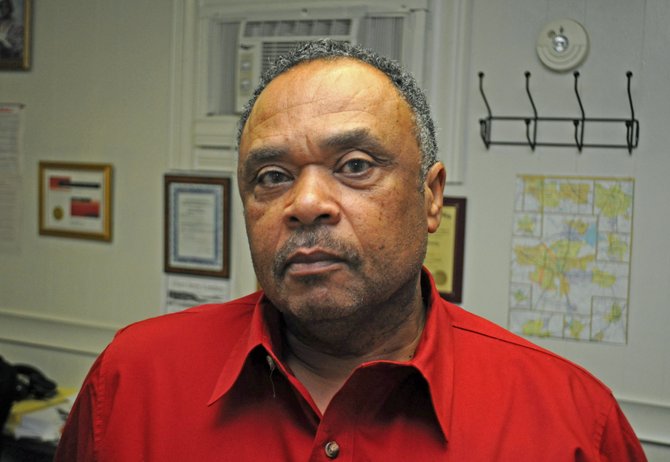 Jerry Lindsey
Born: Fannin, Miss.
Age: 61
Running for: Ward 4 City Council
Party: Democrat
Education: Carter High School, 1970; studied math and computer science at Jackson State University, no degree
Political Experience: None
Family: Wife, Notrie, and two children, Zabriel, 38, and Keshia, 37
Jerry Lindsey never thought about running for public office until, he said, God stepped in and changed his mind.
Pastor of Pathway of Life Church on Terry Road, Lindsey is less than 30 days from retiring from his job as a sales rep for food manufacturer Nabisco. Lindsey told the Jackson Free Press that he was driving in his car last December when God told him he needed to run for public office.
"After 61 years, I never thought about it before, but it hit my spirit that this is what I need to do: run for public office," Lindsey said.
After exploring what public offices would soon be open, Lindsey decided to run for Jackson's Ward 4 city council seat. He said he wants to become a councilman not because he wants another job, but because he wants to help other people.
"I'm retiring. What do I need something else to do for?" Lindsey said. "I'm basically going to make as much money as I was working. Why would I need to work? I'm not (running for office) for pay."
The JFP sat down with Lindsey in his church office Feb. 21 to ask about his plans for the city council.
If elected, what will be your No. 1 priority on your first day in office?
We have some ideas of what needs to happen. (One) of the things that really needs to happen is we need to get the men associated with their children. That's the number-one thing, the ultimate goal.
As we work on that, (we'll work on) getting families back together. All the divorce and people who've never been married have got kids and all that; so many things are happening. Because these things are out of line, it causes everything else to be out of line.
I know you can't just make people do things, but we can work towards 
that objective.
How, specifically, could you work toward that as a city councilman?
We (would) talk to one another, the mayor and citizens, and get output from every aspect of life. There are always some possibilities that we may not have considered before. We need to ask the right questions. If we ask the right questions, we'll get the right answers.
The city is looking at hundreds of millions of dollars in water and sewer repairs. There's obviously problems with the streets. As a city councilman, what would be your top 
infrastructure priority?
We need to work with what we can do right now. It's just like if you've got so much money, work with what you can do. Then, as you do that and improve things; and people see improvement, they want to work with that more. So you'll be able to get more financing because you've caused people to come back.
One thing brings about the other. As we work toward getting the things we can do in line first, those other things will be begin to come in line. It's like pulling a chain. If you pull the chain, everything (attached) is going to fall (in line). If you try to push it, it's just going to ball up.
Jackson has, if not a crime problem, at least a crime perception problem. What are your thoughts on the crime issue and what could you do from City Hall to change the trend?
Of course, we love to arrest people and put them in jail, and build more jails. That's not the answer. That's the result of when things don't work.
For example, if you've got a clean house, you can notice the instant the rats come in and start doing things. If you've got a dirty house, rats can come in and do all kinds of stuff and you never really notice it, because everything is bad there anyway.
First thing we need to focus on is when people come into the city, what are they looking at? It gives us a bad impression when we come in, and we see nothing. We see woods, raggedy houses, all these things.
We need to implement some stuff, (such as) if a house is abandoned over a year, it needs to be torn down. Whatever way we can get those things torn down. Maybe somebody might even want to pay for the cost of tearing them down to get rid of them.
It does no good if you've got a house, and you're not going to use it. People board it up, and (other people) break in and use it, set it on fire and burn it up. It sits there and sits there, and all it's doing is badly influencing the city as a whole.
We need to have different things for amusement. I know we can't do something grand, but we need to do what we can do. We've forced all the movie theaters and different things outside the city limits. We need to bring some stuff back. We can't bring it back in garbage. We need to clean up and make it attractive.
Give me an example.
One of the things I've always looked at, for years, is the river area by (Interstate 20). There's an opportunity to do some things there. I know you don't want to put something off in the (Pearl) River, but you could put something close by, eliminate those trees there, (and) make an attractive view right there at the (bridge) area. That way, you've got something to look at.
There needs to be something attractive—hotels or whatever—there along the interstate. I noticed they put a new Holiday Inn Express right there in Pearl. It's packed out. They just opened it up, and it's packed out. Why? Because that's a better area for (customers). They feel safer, so they load that up.
We have hotels right off the interstate in Jackson that are just abandoned. We need to do something about those things.
The longer we wait, the more there's going to be to fix.
It sounds like what you're talking about doing is close to what they're calling the One Lake plan. Do you think the grand tourist-attraction plans like that could work in Jackson and that can actually help the crime problem?
The more people you have here that are working together, the less likely (it is) crime will happen. As you get more money, you're going to produce more money to do more things.
We're like the crossroads of the South. If we had something that would draw people from every direction, it would make (Jackson) more exciting. When the only words that we have going out are bad words, nothing good, people are always going to stretch it and make it sound like it's worse than it is. That just causes the one who hears to feel bad all the time, rather than to feel better.
If we do some things to encourage people, (we can) get them excited about Jackson, Mississippi. (We need) to let the good word out and overcome the bad images and reputations. People have drawn conclusions that are not right. Just like if somebody talks about you, you kind of begin to fit into what they're saying, whether it's true or not.
Comment and read the rest of the interview at www.jfp.ms. Email Jacob D. Fuller at [email protected]
More stories by this author