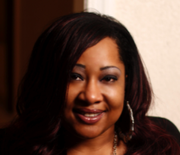 We often find ourselves in situations that—if we had a choice in the matter—we'd certainly not choose for ourselves. It's during these times that we begin to question our value and wonder what we've done wrong.
That's a natural response; however, what we might miss is the diamond in the rough, the relief that hides in the midst of the storm. When we dwell in a place that doesn't welcome budding positivity, we miss it.
Recently, I sat on the edge of my bed drenched in self-doubt and worry. I stood to face myself in the mirror. I don't know why I wanted to see my face, but I did. As I looked, I realized that the person staring back at me was not familiar. I didn't recognize this woman, though the features were the same. What was different? Who was this woman?
I ran to check my reflection in another mirror. Again, the woman who looked back at me was different. This time though, I saw lines in my face that I'd never seen before. I saw blackened lips from years of smoking cigarettes. I saw pain and anxiety. I saw hurt and frustration.
Finally I decided I wouldn't fight my emotions. I began to sob and scream. I yelled at my mother for leaving me. I screamed at myself for not being focused in school when I had the chance. I begged to the heavens for relief from the bad thoughts I've had about people, places and things. I didn't like the person that was looking back at me. I don't think I've liked her for a while now, but I never bothered to face her.
That day, she would stand for that no more.
It's then I saw that the young woman who danced her nights away and partied like a rock star no longer lives in my world. The college dropout without a sense of responsibility who didn't care about anything—she's a stranger in this new world. The young mother who allowed her son to leave her tender arms to live with his father? That woman is dead. The teenage daughter who searched for her daddy in an abusive man, that girl is no more. The opinionated woman who knew too much to listen and didn't care enough to pay attention has resigned.
We often miss the opportunity to grow into life's new phases. I am thankful for the mistakes I've made in the past, but I am more than happy to give them up. I am elated to know that I can let go of all that I've done and put those experiences away in the pit of my soul. I can reach out to them to remind myself of the things I've done, but I don't have to be led by my mistakes. And I don't have to find a place for those experiences in my new life. 
Like a budding flower, I stood in my bedroom and watched pieces of the person I was fall away, as I embraced the next phase of life. This time, I know to be more intentional in my decisions. I know not to take opportunities for granted, no matter how unimportant they seem at that moment. I know now that it's necessary for me to grow with my child, and, thankfully, I've been favored enough to have another shot at motherhood. This time, I won't be so fickle in my choices. I recognize that all people, places and things have value; it's up to me to recognize the value and to know how much relevance it has in my life.
While I didn't choose to have a breakdown in front of my mirror, I am happy that it happened. I never turn away from enlightenment or growth. I ventured along this journey long enough and made enough mistakes to know that change is exactly what living should be—undeniably and unapologetically.
It seemed like an eternity, but the entire episode lasted minutes. I was refreshed and given new breath.
I was taught that this type of thing doesn't happen unless there's a preacher and other church folk with fans surrounding you, speaking in tongues and wiping your forehead. That's one more thing I learned from this experience: No one can teach you how to have a spiritual awakening. That's what this was, and I was alone in my room. Right in the center of all that basking and bleeding was a connection to my spiritual guide.
Call it what you want: I know what happened. It was real, and it was holy. I watched myself transform from a girl to a woman.
It's funny. I left home at age 16. I thought that I'd become a woman years ago.
Funmi "Queen" Franklin is a word lover, poet and advocate for sisterhood. She has a weakness for reality shows.
More like this story
More stories by this author
Like independent media outlets around the world, the Jackson Free Press works hard to produce important content on a limited budget. We'd love your help! Become a JFP VIP member today and/or donate to our journalism fund. Thanks for considering a JFP VIP membership or one-time support.